Indiana Governor Noah Noble (1794 - 1844)
Noah Noble
Governor of Indiana
December 7, 1831-December 6, 1837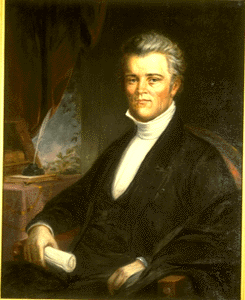 Artist: Jacob Cox, American, 1810-1892
oil on canvas, 36 x 29 (91.5 x 73.7)
Unsigned
NOAH NOBLE was born in Virginia and moved to Brookville, Indiana, in 1811 to join his brother James, a prominent lawyer and later United States senator. Largely self-taught, his business ventures in Brookville included land speculation and the operation of wool carding machines. He was commissioned a lieutenant colonel in the 7th Regiment, Indiana militia, in 1817 and a colonel in 1820.
Noble's political career began in 1820 when he was elected sheriff of Franklin County. He was elected to the Indiana House of Representatives in 1824 and was appointed receiver of public moneys for the Indianapolis land office in 1825. As a Whig, Noble was elected to the governorship in 1831 and was re-elected in 1834. It was during Noble's administration that a state bank was created and an internal improvements program was begun. Noble, who longed to succeed his brother in the Senate, was a candidate in 1836 and 1838 but was defeated in both elections. He continued in public office, however, as a member of the State Board of Internal Improvement from 1839 to 1841 and as a fund commissioner from 1841 until 1842.
Noble and his wife were well known for their lavish hospitality, entertaining public figures frequently. Oliver H. Smith, his opponent in the senatorial race, described Noble as "tall and slim, his constitution delicate, his smile winning, his voice feeble, the squeeze of his hand irresistible."
Source: Peat, Wilbur D. Portraits and Painters of the Governors of Indiana 1800-1978. Revised, edited and with new entries by Diane Gail Lazarus, Indianapolis Museum of Art. Biographies of the governors by Lana Ruegamer, Indiana Historical Society. Indianapolis: Indiana Historical Society and Indianapolis Museum of Art, 1978.