Indiana Governor Joseph Albert Wright (1810 - 1867)
Joseph Albert Wright
Governor of Indiana
December 5, 1849-January 12, 1857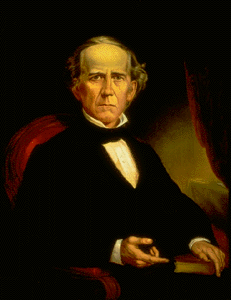 Artist: Jacob Cox, American, 1810-1892
oil on canvas, 36 3/16 x 29 1/8 (92.0 x 74.0)
Unsigned
JOSEPH WRIGHT was born in Pennsylvania, the son of a brick manufacturer, and moved as a boy to Bloomington, Indiana. His father died when Joseph was fourteen years old, and Wright worked his way through Indiana Seminary (later Indiana University) as janitor, bellringer, and occasional bricklayer. He was admitted to the bar in 1829 and opened a practice in Rockville.
Wright served in the Indiana House of Representatives (1833-1838), the Indiana Senate (1839-1842), and the United States Congress (1843-1845). In 1849 he was elected governor on the Democratic ticket, and in 1852 was re-elected under the state's new constitution for a term of four years.
Wright's administration was highlighted by the adoption of a new state constitution and by the formation of a State Board of Education and a State Board of Agriculture. After his term as governor Wright served as minister to Prussia from 1857 to 1861. A firm supporter of the Union in the Civil War, he was appointed United States senator to the vacancy caused by the expulsion of Senator Jesse D. Bright, and served from February 1862, until January 1863.
A zealous Methodist and Sunday school supporter, Wright was "tall and raw-boned . . . and an effective speaker, mainly on account of his earnestness and simplicity." He composed Indiana's contribution to the words on the Washington Monument in Washington, D.C.: "Indiana knows no East, no West, no North, no South, nothing but the Union."
Source: Peat, Wilbur D. Portraits and Painters of the Governors of Indiana 1800-1978. Revised, edited and with new entries by Diane Gail Lazarus, Indianapolis Museum of Art. Biographies of the governors by Lana Ruegamer, Indiana Historical Society. Indianapolis: Indiana Historical Society and Indianapolis Museum of Art, 1978.