Indiana Governor James Putnam Goodrich (1864 - 1940)
James Putnam Goodrich
Governor of Indiana
January 8, 1917-January 10, 1921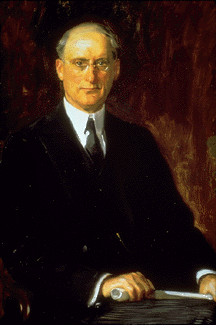 Artist: Wayman Adams, American, 1883-1959
oil on canvas, 43 x 35 7/8 (109.0 x 91.2)
Signed u.l.: Wayman Adams
JAMES GOODRICH was born and raised in Winchester, Indiana. He attended public schools and the DePauw preparatory department in 1885. After his admission to the bar in 1887, Goodrich practiced law in his home town and quickly moved to prominence in Republican politics, serving as state chairman from 1901 to 1910 and national committeeman, 1912 to 1916. A highly successful businessman, he moved his practice to Indianapolis in 1910 and accumulated a large fortune in farmland, coal mines, grain elevators, and banks. He was elected governor in 1916 and served during the demanding years of World War I. Major achievements during his administration included planning a state highway system and creating the Department of Conservation.
In 1920 Goodrich was a favorite son candidate for the presidential nomination, losing to Warren G. Harding, who put him to work as special emissary to Russia. By 1922 Goodrich was considered one of America's best informed observers of Russian conditions. Goodrich also served on Hoover's American Relief Administration and commissions to plan for the St. Lawrence seaway. For many years he was an important figure at the Republican national conventions as the friend of presidents and the man behind the scenes in the Indiana delegation.
Goodrich devoted considerable attention and money to philanthropy in his last years, giving Wabash College more than a quarter of a million dollars in addition to smaller gifts to other schools.
Source: Peat, Wilbur D. Portraits and Painters of the Governors of Indiana 1800-1978. Revised, edited and with new entries by Diane Gail Lazarus, Indianapolis Museum of Art. Biographies of the governors by Lana Ruegamer, Indiana Historical Society. Indianapolis: Indiana Historical Society and Indianapolis Museum of Art, 1978.