Indiana Governor James Brown Ray (1794 - 1848)
James Brown Ray
Governor of Indiana
February 12, 1825-December 7, 1831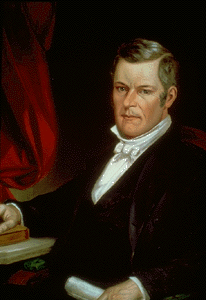 Artist: Jacob Cox, American, 1810-1892
oil on canvas, 36 1/8 x 29 1/8 (91.7 x 74)
Unsigned
JAMES BROWN RAY was born in Kentucky, studied law in Cincinnati, and moved to Brookville, Indiana, in 1818. In 1821 he was elected to the Indiana House of Representatives and in 1822 to the Indiana State Senate. When Ratliff Boon, the lieutenant governor, resigned in January 1824, to run for Congress, Ray was elected president protempore of the state senate, and then Ray filled out the unexpired term of Governor William Hendricks when the latter was elected to the United States Senate in January 1825. Ray was subsequently elected twice to his own term as governor. He was quite young when first elected governor and was accused of being younger than the constitutionally required thirty years old. Ray was the last nonpartisan candidate to be elected governor in Indiana.
During Ray's administration the construction of the Michigan Road and the Wabash and Erie Canal was undertaken, and Ray served as a commissioner to negotiate treaties with the Potawatomi and Miami Indians in 1826. A hotheaded man, he engaged in long, rancorous public altercations with his political opponents during his second term. After his terms as governor he practiced law in Indianapolis with little success.
Ray was tall and wore his hair long and tied in a queue. A man described as "striking" and "egotistical," he was eccentric in his later years. No matter where he went, Ray always signed himself as "J. B. Ray, governor of Indiana and commander in chief of the army and navy."
Source: Peat, Wilbur D. Portraits and Painters of the Governors of Indiana 1800-1978. Revised, edited and with new entries by Diane Gail Lazarus, Indianapolis Museum of Art. Biographies of the governors by Lana Ruegamer, Indiana Historical Society. Indianapolis: Indiana Historical Society and Indianapolis Museum of Art, 1978.