Indiana Governor Henry Smith Lane (1811 - 1881)
Henry Smith Lane
Governor of Indiana
January 14-16, 1861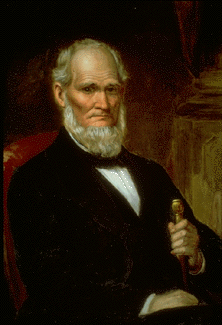 Artist: Jacob Cox, American, 1810-1892
oil on canvas, 36 1/8 x 29 1/16 (91.8 x 73.8)
Signed and dated l.l.: J Cox/1869
HENRY LANE, who served the briefest term as governor (two days), was born in Kentucky where he was educated by private tutors and studied law. In 1835 he moved to Crawfordsville. He served in the Indiana House of Representatives from 1837 to 1838, and in the United States Congress from 1840 to 1843.
Lane was active in the formation of the Republican party and in 1860 was elected governor. Both Lane and Morton had been active candidates for the nomination. Morton, who had been the nominee in 1856, had strong backing, but it was felt that Lane would better insure the support of conservative old-line Whigs. A compromise was worked out between the two whereby if Lane and Morton were elected and if the Republicans gained control of the new legislature, Lane would be elected to the United States Senate and Morton would succeed to the governorship. Thus, Lane was sworn in as governor on January 14, 1861, and two days later resigned the governorship upon his election to the United States Senate. He served as senator until 1867 as a strong advocate of union ideas and then returned home to private life in Crawfordsville.
One biographer wrote: "His public speeches glowed and scintillated with gems of original wit and fitly chosen anecdote." Another pointed out gently that Lane "was not a logical speaker, and as a debater he was excelled by many of far less reputation as an orator than he."
Source: Peat, Wilbur D. Portraits and Painters of the Governors of Indiana 1800-1978. Revised, edited and with new entries by Diane Gail Lazarus, Indianapolis Museum of Art. Biographies of the governors by Lana Ruegamer, Indiana Historical Society. Indianapolis: Indiana Historical Society and Indianapolis Museum of Art, 1978.
Visit the Indiana History Blog to learn more about the architect of Indiana's Republican Party.