Indiana Governor George N Craig (1909 - 1992)
George N. Craig
Governor of Indiana
January 12, 1953-January 14, 1957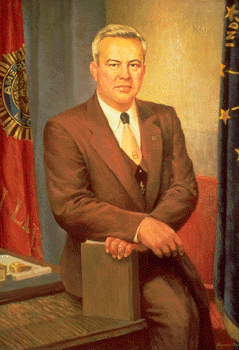 Artist: Frances Norris Streit, American, b. 1919, painted 1954
oil on canvas, 44 x 36 1/4 (111.7 x 92.0)
Signed and dated l.r.: Frances Norris Streit 1954
GEORGE CRAIG was born in Brazil, Indiana. He received his law degree from Indiana University and practiced with his father, a staunch "Jeffersonian" Democrat. During World War II he attained the rank of lieutenant colonel while serving in Europe, and after discharge he became involved in the American Legion on local and state levels, finally as national commander. He initiated the American Legion's "Tide for Toys" campaign, designed to distribute toys to foreign children.
Craig was elected governor on the Republican ticket in 1952. The Department of Corrections was created during Craig's administration, and the State Department of Health was reorganized to provide greater mental health care. He was featured on the cover of Time magazine in 1955-characterized as one of Eisenhower's favorite young Republicans, "a swift-footed, swashbuckling lawyer politician." However, Craig's political future was subdued when several of his close advisers were convicted in 1958 of bribery in acquiring state highway construction contracts.
Following his term as the "travelingest governor" in the state, Craig continued to travel, directing several business corporations and practicing law in Washington, D.C., and Los Angeles. In 1967 he returned to his quiet Brazil law practice and Clay County farm.
Source: Peat, Wilbur D. Portraits and Painters of the Governors of Indiana 1800-1978. Revised, edited and with new entries by Diane Gail Lazarus, Indianapolis Museum of Art. Biographies of the governors by Lana Ruegamer, Indiana Historical Society. Indianapolis: Indiana Historical Society and Indianapolis Museum of Art, 1978.