Indiana Governor Alvin Peterson Hovey (1821 - 1891)
Alvin Peterson Hovey
Governor of Indiana
January 14, 1889-November 23, 1891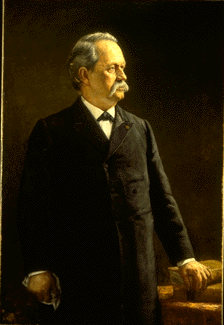 Artist: Theodore Clement Steele, American, 1847-1926
oil on canvas, 50 1/8 x 34 (127.3 x 86.4)
Signed and dated l.r.: T. C. Steele/1889
ALVIN HOVEY was the son of impoverished Posey County pioneers who had come west to recover lost fortunes. Orphaned by the time he was fifteen years old, he received an education in the common schools and taught himself the law with books borrowed from a local lawyer. He began his legal career in Indiana by fighting to uphold the will of educational reformer William Maclure of New Harmony, bequeathing libraries for workingmen.
After serving in a company in the Mexican War that did not see action, Hovey was elected to the Indiana Constitutional Convention of 1850 and later as circuit court judge. He was Indiana Supreme Court judge for one year and United States district attorney for two. Hovey ran for Congress on the Republican ticket in 1858 and lost. He had a distinguished military career during the Civil War and was brevetted major general in 1864. After the war Hovey was appointed United States minister to Peru, Where he served until 1870. He was elected to Congress in 1886 and governor in 1888. His administration was notable for the passage of election reform laws. He died in office, on November 23, 1891.
Indiana historian Jacob P. Dunn reported that some of Hovey's friends said that he believed himself to be Napoleon's reincarnation and honored the anniversary of Napoleon's death in solitary retreat. He was a distinguished-looking man with a military bearing.
Source: Peat, Wilbur D. Portraits and Painters of the Governors of Indiana 1800-1978. Revised, edited and with new entries by Diane Gail Lazarus, Indianapolis Museum of Art. Biographies of the governors by Lana Ruegamer, Indiana Historical Society. Indianapolis: Indiana Historical Society and Indianapolis Museum of Art, 1978.