Indiana Governor Albert Gallatin Porter (1824 - 1897)
Albert Gallatin Porter
Governor of Indiana
January 10, 1881-January 12, 1885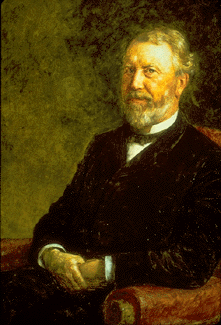 Artist: Theodore Clement Steele, American, 1847-1926
oil on canvas, 40 1/4 x 30 (102 x 76.1)
Signed and dated l.r.: T. C. Steele/1885
ALBERT PORTER was born in Lawrenceburg, the son of a bank cashier and county recorder. He was educated at Hanover and Asbury colleges and studied law in Lawrenceburg. Originally a Democrat, he established himself in Indianapolis and quickly moved into political life as private secretary to Governor Whitcomb and reporter of the Indiana Supreme Court. In the storm over the expansion of slavery provoked by the Kansas-Nebraska Act of 1854, Porter joined the newly formed Republican party and was elected to Congress in 1858 and 1860 as a Republican.
Retiring from politics in 1862 he spent the next fourteen years building his personal fortune and establishing himself as an outstanding lawyer. He was appointed comptroller of the United States Treasury in 1877 and served until 1880. A suave and persuasive speaker, he overshadowed his opponent and was elected governor in 1880. Porter's administration was distinguished for public health measures, such as building state hospitals for the insane, establishing a state board of health, and draining large areas of marshland. President Benjamin Harrison appointed Porter minister to Italy, and he served in that office from 1889 to 1892.
After his term as governor, Porter collected materials for an extensive history of Indiana, but he died before he was able to complete the project. Porter was characterized by considerable energy and civic spirit. His name appears on almost every list of trustees for public projects in Indianapolis for many years.
Source: Peat, Wilbur D. Portraits and Painters of the Governors of Indiana 1800-1978. Revised, edited and with new entries by Diane Gail Lazarus, Indianapolis Museum of Art. Biographies of the governors by Lana Ruegamer, Indiana Historical Society. Indianapolis: Indiana Historical Society and Indianapolis Museum of Art, 1978.