How a WWII Fighter Aircraft Saved Evansville
In 1943 United Aircraft News proclaimed "air combat is no longer the hit or miss dog fighting of 1918." In the thick of World War II, the Office of War Information lamented that U.S. defense aircraft was "'badly designed or ill matched'" against enemy aircraft, prompting a demand for an impenetrable fighter plane with the speed to challenge the German Focke-Wulf 190. The P-47 "Thunderbolt" met these demands. The heaviest fighter in 1943, the Thunderbolt became renowned for its ability to survive extreme battle damage, and its speed enabled it to become the first American fighter to accompany Flying Fortress and Liberator bombers on roundtrip flights to Germany. The P-47 had a profound effect on combat in two theaters, disrupting communication lines between Italians and Nazis through bombing and literally blowing Japanese "lightly built aircraft out of the sky" with machine guns.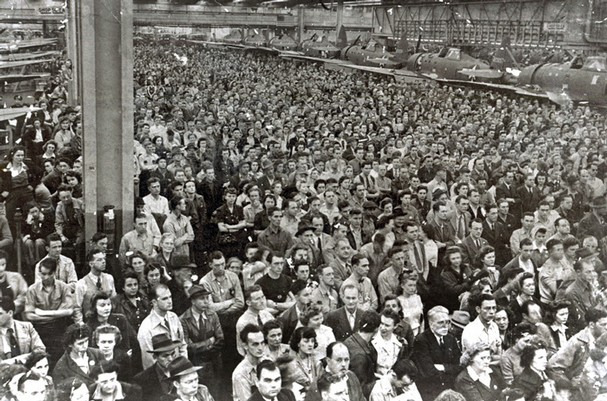 Photo courtesy of Evansville Courier and Press
The indisputable utility of the Thunderbolt helped resurrect Evansville's faltering economy after April 7, 1942, when Republic Aviation opened a plant to manufacture the planes. Along with Republic's plant in Farmingdale, New York, the Evansville factory built over 6,000 P-47s. The Evansville plant employed thousands of workers and, along with local companies like Chrysler and Sunbeam (which developed steel cartridge jackets), transformed Evansville from "economic disaster to nationally touted success," according to historian Darrel E. Bigham. Thomas W. Bennett, former Manager of the United States Employment Service, described the "ghostlike appearance" of the town's "closed factories and deserted homes," prior to the acquisition of war contracts by fifty local companies. Evansville defense factories like Republic Aviation drew 25,000 permanent citizens to Vanderburgh County, employing African Americans, women and the physically handicapped, who might not have found work otherwise. Evansville's transformation "from rags to riches in less than one year's time" represented the national shift from Depression to prosperity as the result of World War II. For more information about Republic Aviation's P-47 plant see the P-47 Thunderbolt Factory marker and the corresponding marker review.