The Trail Brothers and Their Civil War Service in the 28th USCT
Wilma L. Moore
Indiana Historical Society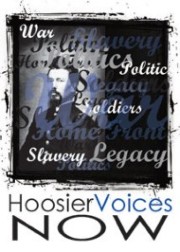 Four brothers from the Trail family of Henry County, Indiana served in the 28th United States Colored Troops regiment, a unit recruited primarily of African American men from Indiana. The Trail brothers came from the vibrant and thriving African American community in Henry County made up of former Southern free blacks and ex-slaves who migrated to Indiana prior to the Civil War. They were the sons of William, Sr. and Sarah McCowan Trail. The Trails were the parents of seven sons: Archibald, James, William, Joseph, Barzillai, David, and Benjamin.
William Trail, Sr. (1784–1858), enslaved from birth, was born in Montgomery County, Maryland. As a boy, he moved with the slave owners to Spartanburg, South Carolina where his owner eventually sold him to other owners within the state. From South Carolina, Trail escaped to the Indiana Territory in 1814 where he settled in Wayne and Fayette counties. In 1825 he married Sarah McCowan (1800–1877). Sarah's family moved from Virginia to Rush County, Indiana in 1821. Around 1833 the Trails moved to the western part of Greensboro Township in Henry County, Indiana, where they entered 160 acres of land.
The United States War Department issued General Orders number143 creating the Bureau of Colored Troops on May 22, 1863. Under the direction of Major Charles Foster, the Bureau's task was to handle recruitment, training, and placement of troops and officer selection for African American units raised to serve in the Union Army. In November, 1863, Foster informed Indiana Governor Oliver P. Morton that the Secretary of War had authorized him "to raise one regiment of infantry to be composed of colored men, to be mustered into the United States service…." The regiment raised in Indiana became the 28th United States Colored Troops (USCT) regiment. Prior to the authorization, many Indiana blacks travelled to other states to join the Army. For example, Indiana men fought with the 54th and the 55th Massachusetts Infantry regiments, two African American units organized by that state.
The 28th USCT initially organized in December, 1863 in Indianapolis . The men counted towards the state's volunteer and draft quotas. The regiment trained at Camp Frémont located on Indianapolis's south side. Attorney and businessman Calvin Fletcher donated the land for the camp. Colonel Charles S. Russell (later promoted to Brevet Brigadier General of Volunteers), who had served with the 11th United States Infantry, assumed command of the 28th USCT. The regiment went east to join the Army of the Potomac in Virginia during the late spring of 1864. While African American men from Indiana composed most of the regiment, the unit filled out with recruits from Delaware and Maryland. In July, 1864, during the Siege of Petersburg, the 28th USCT and many other regiments saw their numbers decimated during the assault on rebel fortifications at the Battle of the Crater. Later during the war, commanders assigned the 28th USCT to the 25th Corps, Army of the James. It was one of the first regiments to enter Richmond, Virginia in April, 1865, and accompanied the 25th Corps to Texas. The regiment mustered out of service in Texas on November 8, 1865, and was discharged in Indianapolis on January 9, 1866.
The four Trail brothers mustered in with the 28th United States Colored Troops (USCT). Benjamin and James were assigned to Company C and William, Jr. was assigned to Company I. David, an unassigned recruit with the 28th eventually served with the 14th USCT, Company A.
Benjamin F. Trail (1840-1864) volunteered and mustered into service on December 29, 1863, the first of the brothers to enlist. A schoolteacher in his Henry County community, he became regimental sergeant major, the highest-ranking African American in the regiment (all commissioned officers were white). At Camp Frémont and in the field in Virginia, his many responsibilities included compiling morning reports, issuing uniforms, copying and filing correspondence, and making out the details for guard and police duty. He was killed in action at the Battle of the Crater on July 30, 1864.
After the death of their brother, William, Jr. and James Trail volunteered to serve in the 28th USCT. James Trail (1828–1865) mustered into service on August 10, 1864. By August 1865, like many Civil War soldiers, he suffered from scurvy (a disease caused by a lack of vitamin C) and never returned home. He died in Corpus Christi, Texas on September 24, 1865. William Trail, Jr. (1830–1914) mustered in at Richmond, Indiana, on February 20, 1865. After the war, William, Jr. returned home. He and his wife, Sarah Johnson Trail (ca.1833–1910), had four children. William, Jr. farmed and the family lived and owned property in Greensboro Township, Henry County, Indiana.
David Trail (1838–1869) was drafted into the U.S. Army on September 24, 1864. He mustered into service at Richmond, Indiana on October 17, 1864. He joined the 14th USCT, which served in Georgia, Alabama, and Tennessee. David was promoted to corporal in January, 1865. He mustered out of service on October 16, 1865.
Much of what is known about the Trail brothers' Civil War service comes from official records and family correspondence written during the time period. Their correspondence includes information about their military duties; how their time was spent; inequity of military pay for black soldiers; home front news; their health and the well being of other soldiers, especially those serving from Henry and other nearby Indiana counties. It is obvious from the letters exchanged between the Trail brothers that they had close family ties to the Beech Settlement, a black rural community located in Rush County, Indiana, and home of their mother, Sarah McCowan Trail.
Bibliography
Benjamin Trail Correspondence, 1863–1866 at the Abraham Lincoln Library and Museum, Lincoln Memorial University [80.2411.1 through 80.2411.11] http://www.lmunet.edu/museum/collection/TrailGuide.html
Forstchen, William Robert. The 28th United States Colored Troops: Indiana's African-Americans go to war, 1863-1865. Thesis (Ph. D.)--Purdue University, 1994.
Heller, Herbert L. Historic Henry County. [New Castle, Ind.]: Courier-Times Inc., 1981-1982.
Indiana. Adjutant General's Office. Report of the Adjutant General of the State of Indiana. Indianapolis: A.H. Connor [etc.], State Printer, 1866-67 [volumes 3 and 7].
[William Trail, Jr.] History of William Trail, n.p., n.d.
ALS, William Trail, Jr. to David Trail, September 25, 1865. SC2883, William Trail Letter, William Henry Smith Memorial Library, Indiana Historical Society. www.ancestry.com accessed on August 25, 2011.