Main Content
Article
2017 Hoosier Women at Work Conference
2017 Hoosier Women at Work Keynote Address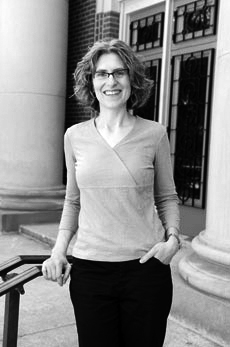 Keynote Speaker:
Sharra Vostral, Associate Professor of History, Purdue University

Address:
Toxic Shock Syndrome, Tampon Technology, and Absorbency Standards
Audio:
Did you miss the 2017 Conference? You can still listen to Dr. Vostral's Keynote Address:
ABOUT
Building on the success of last year's Hoosier Women at Work conference, the Indiana Historical Bureau and the Indiana State Library will host "Hoosier Woman at Work in Science, Technology, and Medicine," a women's history symposium, on April 1, 2017, at the Indiana State Library and Historical Building in downtown Indianapolis.
This one-day conference will explore and expand our knowledge of women's contributions to Indiana's science, technology, and medical fields via speakers, presentations, and panel discussions. Possible topics include: inventors/inventions; medical breakthroughs; agriculture and technology; public health; sanitation; exposure to hazardous materials in the work place; access to medical care; hospitals; women's access to training and employment in any of these fields; and the impact of science, technology, and medicine on complicating or improving women's lives.
Registration - Now Open!
The Hoosier Women at Work 2017 conference REGISTRATION FORM.
REGISTER BY MAIL:
Send completed form and payment to:
Indiana Women's History Association
c/o Jeannie Regan-Dinius, DNR-DHPA
402 West Washington Street, W274
Indianapolis, IN 46204
REGISTER ONLINE:
Click here to pay with a credit card through Eventbrite. Then, email your registration form to Jeannie Regan-Dinius at: jrdinius@dnr.in.gov

Schedule
The conference will be held Saturday April 1, 2017 at the Indiana State Library, 315 W. Ohio Street, Indianapolis, Indiana 46204.
The keynote speaker is Sharra Vostral, Associate Professor of History, Purdue University, and author of Under Wraps: A History of Menstrual Hygiene Technology.
See the FULL SCHEDULE of Sessions, Speakers, Papers, and Moderators
General schedule follows:
Registration: 8:30-9:00
Welcome: 9:00-9:25 / Opening remarks by Jeannie Regan-Dinius, DNR
Session One: 9:30-10:45
Session Two: 11:00 -12:15
Lunch w/ Keynote Speaker: 12:30-2:00 / Sharra Vostral, Purdue University
Session Three: 2:15 - 3:30
Reception and Student Paper Award
Call for Papers - Closed for 2017
Conference papers (approximately 10 pages) may be based on original research or a synthesis of scholarship. Sessions will consist of two or three papers with time for audience discussion.
To submit an individual proposal, send a one-page explanation of your paper and a one-page c.v. Panel proposals should include a one-page description of the panel which specifies the topic each participant will discuss and a one-page c.v. per participant. Academic, public, and independent historians, as well as undergraduate and graduate students, are eligible to present papers. All presenters must be present at the conference. The deadline for submitting paper and/or session proposals is December 1, 2016. E-mail submissions to MCaudell@library.IN.gov are encouraged and will be accepted until the deadline.
For more information, call the Indiana Historical Bureau at 317-232-2535.
A $500 prize will be awarded for the best original scholarship offered by a presenter currently enrolled in a graduate program.
Print-friendly version of the 2017 Hoosier Women at Work conference info and call for papers.
Questions and More Information
General: Marcia Caudell, MCaudell@library.IN.gov
Registration: Jeannie Regan-Dinius, JRDinius@dnr.in.gov
Partners and Sponsors