Article
Section
Christmas (Noel) Dagenet - Footnote 9
Christmas (Noel) Dagenet (1) Historical Marker
(61.2004.1)
Footnote 9
Dagenet employed in the last removal of Miamis from Indiana beginning 1846.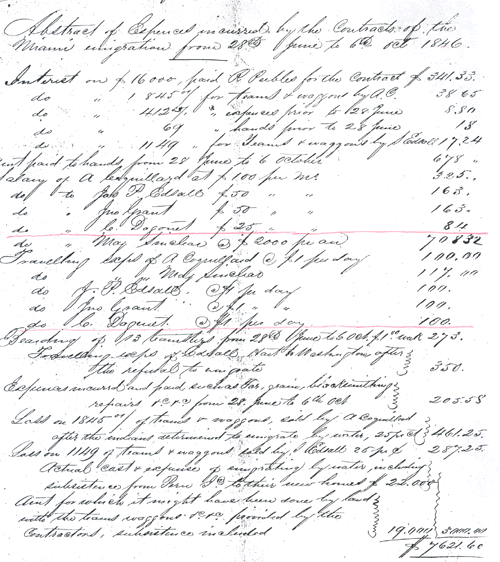 Sources have been located to document only the limited statement in the text. "Removal Contractors Miami Claim," Ewing Collection, Manuscript Section, Indiana State Library. The actual removal of the Miamis began October 6, 1846. Quoted from the document above is the following entry:
Abstract of Expenses incurred by the Contracts of the Miami emigration from 28th June to 6th Oct 1846
…………………..
Salary of A Coquillard at $100 per mo. 325
do to Jas P. Edsall $50 per mo. 163
do to Jno Grant $50 per mo. 163
do to C. Dagenet $25 per mo. 84
do to Maj. Sinclear @ $2000 per an 708.32
Travelling expenses of A Coquillard@ $1 per day 100.00
do Maj Sinclear @ $1 per day 117.00
do J. P Edsall @ $1 per day 100.00
do Jno Grant @ $1 per day 100.00
do C. Dagenet @ $1 per day 100.00
Clearly Dagenet is not in charge, based on the salaries.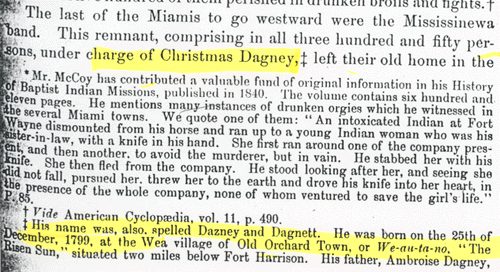 Beckwith (133-34) states that the last of the Miamis to move west were the Mississinewa band of about 350 people under charge of Christmas Dagenet. They left in the fall of 1846 on canal boats to Cincinnati, then were put on a steamboat to Westport, near Kansas City. no evidence has been located to substantiate the claim that dagenet was in charge.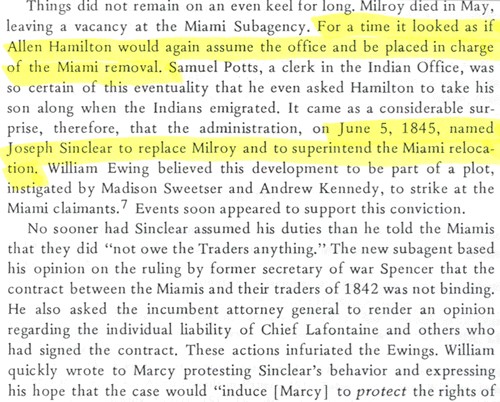 According to Trennert "For a time it looked as if Allen Hamilton would again assume the office [Miami Subagency] and be placed in charge of the Miami removal. . . . the administration, on June 5, 1845, named Joseph Sinclear to replace Milroy and to superintend the Miami relocation." Robert A. Trennert, Jr., Indian Traders on the Middle Border: The House of Ewing, 1827-54 (Lincoln, Neb., 1981), 122.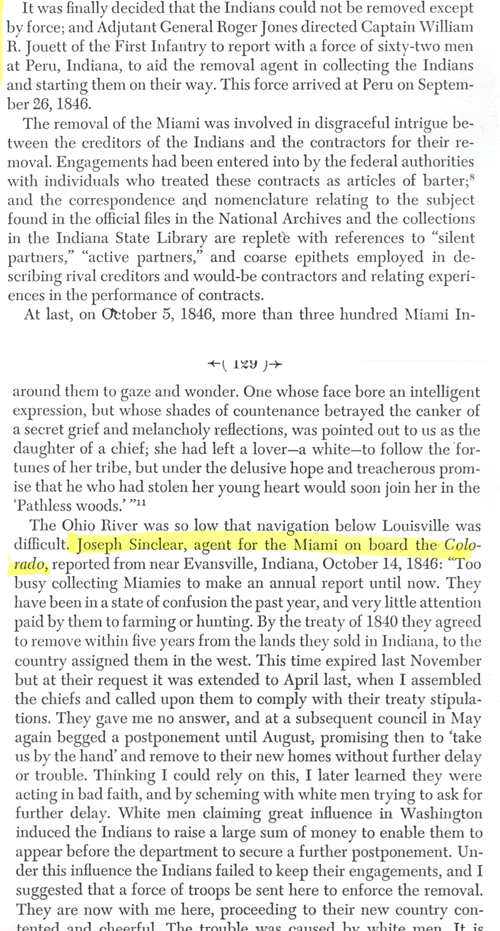 Grant Foreman, The Last Trek of the Indians (Chicago, 1946), 128-129.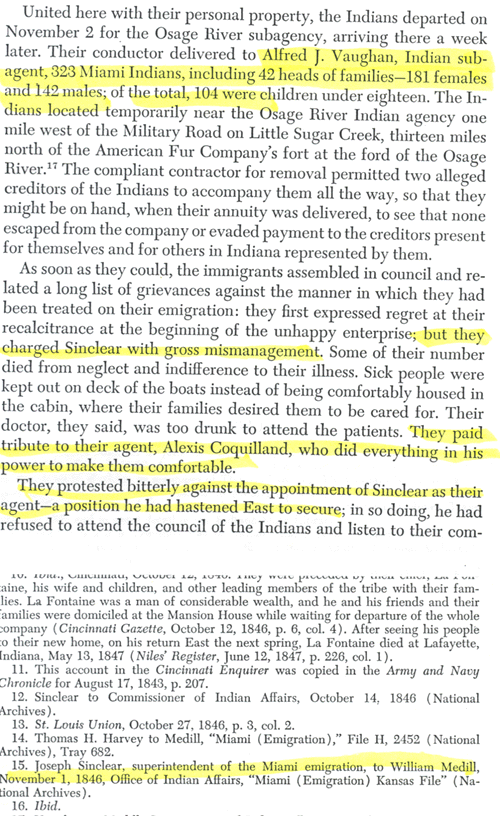 These statements are based on primary sources. Grant Foreman, The Last Trek of the Indians (Chicago, 1946) 130, 132 also provides excellent information on the Miami removal in 1846, again based on primary sources.
Bureau staff also searched significant resources at the Indiana State Library (Ewing Collection, Allen Hamilton Collection, Tipton Papers, William Prince Collection, Miami Emigration microfilm) and the indexes of the Indiana Magazine of History.