Article
Indiana Governor Portrait Artist: Marie Goth (1887 - 1975)
Marie Goth
Artist, Indiana Governors' Portrait Collection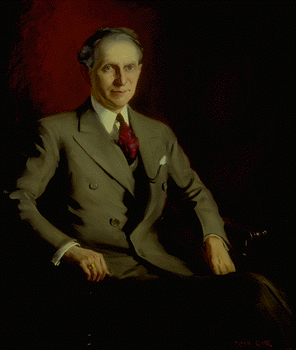 Henry Frederick Schricker (1883-1966), painted 1952
Governor of Indiana
January 13, 1941-January 8, 1945
January 10, 1949-January 12, 1953
Artist: Marie Goth, American, 1887-1975
oil on canvas, 42 x 36 (106.7 x 91.5)
Signed l.r.: MARIE Goth
THE FIRST PORTRAIT of Governor Henry F. Schricker was approved and accepted for the collection on April 27, 1943. It is the work of Marie Goth, the first woman commissioned by a governor to paint his official portrait.
Born in Indianapolis in 1887, Marie Goth attended Manual Training High School where she received sound instruction in drawing under Otto Stark. Later studies took her to New York where she attended the Art Students' League and painted under the best-known artists in the East. In 1923, she moved to Brown County, Indiana, and she became a charter member of the Brown County Art Gallery Association in 1926. Governor Schricker, James Whitcomb Riley, Paul V. McNutt, and General MacArthur were a few of her many prestigious sitters. She died in Brown County in 1975.
Governor Schricker sits erect in a Windsor chair, a favorite of Goth's in her Brown County studio where the sittings were held. She has portrayed Governor Schricker in a cordial mood, his eyes fixed on the observer with an interested, sympathetic look. A twinkle in his eye and the upward curve of his mouth suggest his droll humor. The governor's trim gray suit is seen against a deep maroon curtain, and his necktie repeats the color of the background. Goth's style is bold, combining skillful brushwork with a good knowledge of color and design.
Source: Peat, Wilbur D. Portraits and Painters of the Governors of Indiana 1800-1978. Revised, edited and with new entries by Diane Gail Lazarus, Indianapolis Museum of Art. Biographies of the governors by Lana Ruegamer, Indiana Historical Society. Indianapolis: Indiana Historical Society and Indianapolis Museum of Art, 1978.