Main Content
Article
The Underground Railroad in Indiana
Purchases may be made via a visit to our office, by telephone (317-232-2535), fax (317-232-3728), or e-mail (ihb @ history.in.gov). More info on purchasing here.
No additional discounts are available on DHPA publications because IHB sells them at cost.
Bound for Canaan: The Underground Railroad and the War for the Soul of America
Fergus M. Bordewich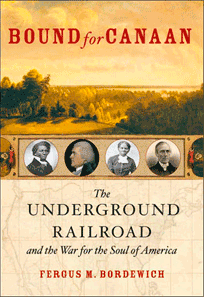 The civil war brought to a climax the country's bitter division. But the beginnings of slavery's denouement can be traced to a courageous band of ordinary Americans, black and white, slave and free, who joined forces to create what would come to be known as the Underground Railroad, a movement that occupies as romantic a place in the nation's imagination as the Lewis and Clark expedition. The true story of the Underground Railroad is much more morally complex and politically divisive than even the myths suggest. Against a backdrop of the country's westward expansion arose a fierce clash of values that was nothing less than a war for the country's soul.
paper / 576 pp. / 2006 / ISBN 9780060524319 / $27.95
Order no. 2532

Gateway to Freedom: The Hidden History of the Underground Railroad
Eric Foner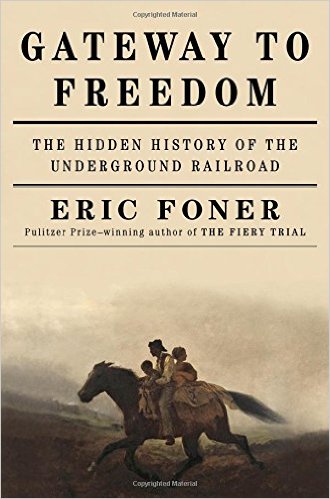 The dramatic story of fugitive slaves and the antislavery activists who defied the law to help them reach freedom. Building on fresh evidence, Foner elevates the underground railroad from folklore to sweeping history. The story is inspiring―full of memorable characters making their first appearance on the historical stage―and significant―the controversy over fugitive slaves inflamed the sectional crisis of the 1850s. It eventually took a civil war to destroy American slavery, but here at last is the story of the courageous effort to fight slavery by "practical abolition," person by person, family by family.
paper / 320 pp. / 2015 / ISBN 978-0393244076 / $26.95
Order no. 1495
Front Line of Freedom: African Americans and the Forging of the Underground Railroad in the Ohio Valley
Keith P. Griffler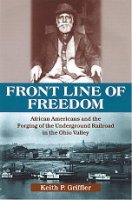 In turbulent antebellum America, the Ohio River was both a river of slavery and a river of freedom. The Ohio was a crucial conduit for the trade that linked farmers and merchants of the Northwest to the slave plantations of the South, and it also carried African American men, women, and children caught up in the slave trade downriver to Cotton Belt markets.
cloth / 206 pp. / 2004 / ISBN 0-8131-2298-8 / $35.00 - OUT OF STOCK
Order No. 2453
Fleeing for Freedom: Stories of the Underground Railroad As Told by Levi Coffin and William Still
Edited by George and Willene Hendrick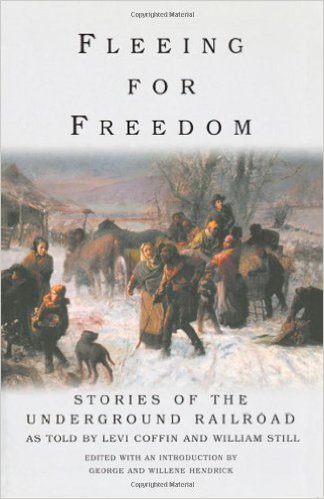 Fleeing for Freedom includes selected narratives from the two most important contemporary chroniclers of the Underground Railroad, Levi Coffin and William Still. Here are firsthand descriptions of the experiences of escaped slaves making their way to freedom in the North and in Canada in the years before the Civil War. George and Willene Hendrick have chosen a broad range of stories to reflect the strategies, tactics, heartbreak, and dangers―for both the slaves and the "conductors"―of the secret network. Fleeing for Freedom offers gripping personal accounts of one of the great collaborations between whites and blacks in American history.
paper / 224 pp. / 2003 / ISBN 978-1566635462 / $14.95
Order no. 1328


Audio, Visual, and Supplemental Resources
Southeast Indiana Trails to Freedom: Underground Railroad Driving Tours
This thoroughly illustrated guide contains photographs, maps, and a wealth of information on visiting underground railroad sites in southeast Indiana. Produced by the Indiana Underground Railroad Coalition in cooperation with the Indiana Office of Tourism Development through the Lt. Governor's Quality of Place Initiative.
paper / 58 pp. / $5.00
Order no. 2602
Freedom is My Home
Charlotte Battin Productions
"Freedom is My Home" is a play about the Underground Railroad told from the point of view of a Quaker woman. Margaret Ella Scott is an abolitionist and active participant in the Underground Railroad activities in 1853. She has called together a group of interested people (the audience) who are there to learn about the "Railroad" and how they can help. She tells stories of daring escapes and of friendships born in the course of helping runaways.
DVD / 45 min. / $15.00
Order No. 2918
Ordinary People, Extraordinary Courage
Carnegie Center for Art & History
Meet the ordinary people who changed history. Through an artful blend of historical narratives and re-enactments, this unique program draws viewers into the lives of real people, both free and enslaved, whose selfless acts of courage helped fugitive slaves find hope and freedom.
DVD / 60 mins / 2012 / $24.95
Order No. 2936
Songs of Freedom: Music from Ordinary People, Extraordinary Courage (CD)
Produced by Solid Light, Inc. for the Carnegie Center for Art History, Inc.
"Songs of Freedom was created to complement the permanent exhibit Ordinary People, Extraordinary Courage: Men and Women of the Underground Railroad at the Carnegie Center for Art History in New Albany, Indiana."
compact disc / $16.00
Order No. 662





Resources from the Indiana Department of Historic Preservation and Archaeology
The Role of Free Blacks in Indiana's Underground Railroad
Maxine F. Brown

The case of Floyd, Harrison, and Washington Counties.
paper / 23 pp. / $5.00 (no additional discount)
Order No. 6095
Southeastern Indiana's Underground Railroad Routes and Operations
Diane Perrine Coon
Details Underground Railroad activity with photographs, maps, and reminiscences in the counties of Southeastern Indiana.

paper / 325 pp. / 2001 / $5.00 (no additional discount)
Order No. 6096
Underground Railroad
Hurley C. Goodall
The invisible road to freedom through Indiana as recorded by the Works Progress Administration Writers Project.
paper / 341 pp. / 2001 / $5.00 (no additional discount)
Order No. 6094
Walkin' the Wabash
Marlene K. Lu
An exploration into the Underground Railroad in west central Indiana.
paper / 134 pp. / $5.00 (no additional discount)
Order No. 6097
Concerning Underground Railroad Activity in Southwestern Indiana
Randy Mills, et. al
This report locates Underground Railroad sites in southwestern Indiana and provides information about the people involved and locations of activities.
paper / 34 pp. / 2001 / $5.00 (no additional discount)
Order No. 6092
The Underground Railroad and the Antislavery Movement in Fort Wayne and Allen County, Indiana
Angela M. Quinn
Extended and detailed examination of the lives of African Americans in Fort Wayne and Allen County during the antebellum period, including the underground railroad and antislavery movement and relationship with the Quaker community.
paper / 275 pp. / 2001 / $5.00 (no additional discount)
Order No. 134

Underground Railroad Research in Select Indiana Counties
Jeannie Regan-Dinius et al.
There are many images of documents and places and each chapter concludes with endnotes and a bibliography. The following are the essay titles:
"Federal Court Cases: Holdings at the National Archives, Chicago" by Jeannie Regan-Dinius "Gateway to Freedom: New Albany-Floyd County, Indiana" by Pam Peters "Grant County" by Students at Marion High School "Huntington and Wabash Counties" by Jeannie Regan-Diniius "Kankakee & St. Joseph river Valleys of Indiana" by Terry Goldsworthy
Several authors describe activities in Lake, Porter, La Porte, St. Joseph, Wabash, Huntington, and Grant Counties.
paper / 122 pp. / 2003 / $5.00 (no additional discount)
Order No. 6103
Interpretive Stories Associated with the Underground Railroad in the Indianapolis Area
Dona Stokes-Lucas et al.
Several churches and other sites were visited and their Underground Railroad activities researched.
paper / 50 pp. / 2001 / $5.00 (no additional discount)
Order No. 6093