Main Content
Article
Lewis and Clark--Indiana connections - Focus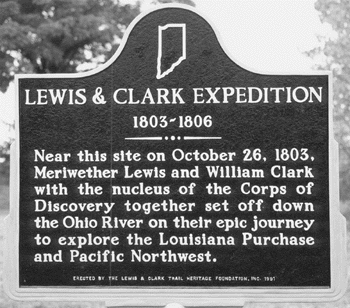 Marker is located at the Falls of the Ohio State Park, Clarksville, Clark County.
Image: Indiana Historical Bureau
As the marker here indicates, the state of Indiana has an important, recognized connection to the Lewis and Clark Expedition. That connection is being reinforced with a National Signature Event in Clarksville in October 2003.
There is more to it than that, however. What many people forget is that until the party left its winter camp in May 1804, it remained in Indiana Territory, governed from Vincennes by William Henry Harrison. Harrison and Vincennes were an important juncture for contact between the party and President Thomas Jefferson.
Some core members of the expedition party--the so-called "nine young men from Kentucky"--left with the party from the Falls of the Ohio, which referred to both Kentucky and Indiana Territory across the Ohio River. The lives of these men--and their roles on the expedition--are briefly reviewed in the chart on pages 12-13. Some of these men had personal, military, and/or family connections with each other and with Meriwether Lewis and William Clark, who trusted them for this mission. Lewis, Clark, Harrison, and Jefferson had close ties and confidence in each other through military experience, family and other networks, and their visions for the future of the new United States. These connections helped make the expedition succeed and helped advance Jefferson's vision during and after the expedition.
The specific focus of this issue of The Indiana Historian is Indiana connections. The organizing unit is a timeline occupying pages 3-11. Also on these pages are maps, biographical sketches, excerpts from letters, and newspaper articles which enlarge upon the timeline. Blue dates on the timeline indicate that items are included specifically related to the timeline entry. Timeline references and other selected materials are intended to enhance an understanding of the importance of the Falls of the Ohio area at the start and its part at the end of the expedition. They are also intended to indicate the involvement of Governor Harrison and Indiana Territory--including the area that is now the State of Indiana--with the expedition.
The essay on page 14 provides a brief overview of the context of the expedition, especially with regard to the American Indians and Jefferson's vision.
There are extraordinary primary resources on the expedition, including Moulton's thirteen volumes of the journals and Jackson's two volumes of the letters of the expedition. Holmberg's recent volume of letters from William Clark to his brother Jonathan provides additional valuable insights. The Resources section on page 15 indicates many of the basic sources documenting the expedition and its importance in United States and world history.
Indiana's citizens should take pride in the role that Indiana and Indiana's men played in this monumental event.