Main Content
Article
Expedition Continues - October 1, 1804 through August 9, 1805
October 1, 1804. Harrison, governor of Indiana Territory, is also named administrator of the District of Louisiana (Clanin, Reel 1, p. lxxxvii).
October 2, 1804. Harrison leaves Vincennes for St. Louis to set up a new government in the District of Louisiana (Clanin, Reel 1, p. lxxxvii).
April 7, 1805. (Fort Mandan). Small party is sent back to St. Louis with specimens for Jefferson, letters and gifts, and Indian chiefs to visit Washington; Clark included letters to his brother and Harrison (Moulton, 3: 327-32). See other items this page.
April 2, 1805. William Clark to William Henry Harrison

"By the return of a party which we send from this place with dispatches, I do myself the pleasure of giving you a summary view of the Missouri, &c.

. . . The country on both sides of the Missouri . . . has . . . extensive fertile plains, with but very little timber, and that little principally confined to the river bottoms and streams. . . . this country abounds in a great variety of wild animals but a few of which the Indians take, many of those animals are uncommon in the U. States, such as white, red and grey bears, long ear'd male or black tailed deer (black at the end of the tail only) large hare, antelope or goat, the red fox, the ground prairie dog, (burrows in the ground) the braroca, which has a head like a dog, and the size of a small dog, the white brant, magpye, calumet eagle, &c and many other are said to inhabit the rocky mountains" (Jackson, 1: 227-30).

April 1805. William Clark to Jonathan Clark.

"I send to you three Boxes containing the following articles viz: 1 Shirt worn by the mandan Indian women . . . made of the Skins of the Antilope or goat, 1 pr. Chiefs mockersons with white Buffalow Skin tops (a white buffalow Skin Sels in this Countrey for about fifteen horses) 2 pr. of Summer & 1 pr. of winter mockersons Com all of Buffalow Skin, The Skin & horns of an Antilope or goat . . . 1 pr. of Mandan legins of the Antilope Skins,_The Skins of 2 Burrowing Dogs or barking Squirels . . . . The Skin of a Brarow, which burrows in the grown 2 white hare Skins . . . . Some Specimons of the Corn of this Countrey . . . . Ricara Tobacco Seed, the flowr, leaves & Stems of which they Smoke. . . .

3 horns of the mountain Ram all Small one a faun . . . much prized by the Indians (one for Govr. Harrison) a parchment Case Dressed and used by the mandans to carry their valueable articles in. . . . 1 Skin of a Red fox . . . . a Specimon of Indian artachokes common in the plains . . . . 1 Small pot in the Mandan fashion. 1 Spoon of the horn of the mountain Ram" (Holmberg, Brother, 84-86).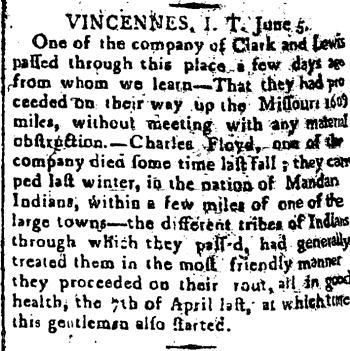 One of the party sent back from Fort Mandan on April 7 by Lewis and Clark traveled through Vincennes, probably delivering Clark's letter to Harrison, and then to Louisville with a letter for Jonathan Clark.
Cincinnati (Ohio) Western Spy, June 26, 1805.
May 22, 1805. (St. Louis). Pierre Chouteau writes to Harrison requesting instructions for conducting the Indian chiefs from Fort Mandan on to Washington (Jackson, 1: 242-44).
May 27, 1805. (Vincennes). Harrison writes back to Chouteau agreeing that the Indians' trip to Washington should be postponed, if the Indian chiefs agree, until cooler weather arrives (Jackson, 1: 247-48).
May 27, 1805. Harrison writes Secretary of War Dearborn to inform him of the possible travel of Indian chiefs to Washington. Harrison also relays that Clark has sent him a letter saying that all is well (Jackson, 1: 246-47).
July 4, 1805. District of Louisiana made a separate territory; General James Wilkinson is named governor (Clanin, Reel 2, p. xliii).
August 9, 1805. Zebulon Pike, commissioned by Wilkinson, begins expedition to explore the source of the Mississippi River, which was another of Jefferson's priorities.