Main Content
Article
After the Expedition - November 5, 1806 through March 1807
November 5, 1806. Lewis and Clark and their entourage arrive at the Falls of the Ohio (Holmberg, Brother, 117).
November 8, 1806. Jonathan Clark, Lewis, and William Clark attend a family celebration at William Croghan's Locust Grove estate (Holmberg, Timeline).
circa November 11, 1806. Lewis and most of the party, including two Indian delegations, leave Louisville for Washington (Holmberg, Timeline).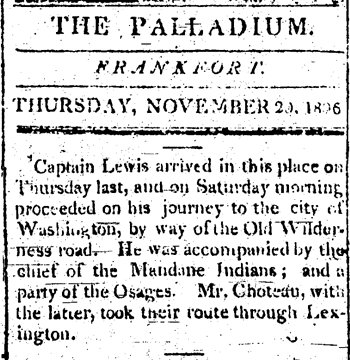 circa November 11, 1806. Lewis and Chouteau with a Mandan chief and a group of Osage chiefs arrived in Frankfort, Ky. November 13. Lewis left for Washington via the Old Wilderness Road November 15. Chouteau headed east through Lexington, Ky.
Frankfort (Ky.) The Palladium, November 20, 1806.
December 2, 1806. Jefferson revises his Annual Message to Congress to report on the return of the Lewis and Clark expedition (Jackson, 1: 352-53).
circa December 15, 1806. Clark, probably with his slave York, leaves Louisville for the East (Holmberg, Timeline). See January 22, 1807 letter.
January 22, 1807. William Clark to Jonathan Clark

"I arived here [Washington] on Sunday evening and Sence that time have been engaged in formal visits to the heads of departments and partakeing of the Sumptious far of maney of the members . . . . my old western friends do not forsake me and appere happy that they have it in their power to pay me much respect which appers to be the general disposition of every member of Congress with whome I have become acquainted. . . . a Commite is appointed to bring in a bill giveing Compensation to the Party on the late Expedition. I think the Comite will report 2 Sects. of Land to Capt. Lewis and my Self each, and half a Section and half pay to the men, the most of the members appear favourable to a liberal appropriation . . . .

. . . I most probably will return to your house in Public Servece, but what Situation I Shall be in is not yet deturmined on" (Holmberg, Brother, 119-20).
February 28, 1807. Jefferson nominates Lewis to be Governor of Louisiana Territory and Clark promoted to Lieutenant Colonel. Clark's promotion is not approved. However, in March, Clark is appointed superintendent of Indian affairs for Louisiana Territory and brigadier-general of militia for the territory (Jackson, 1: 376).
March 3, 1807. Act passes U.S. House and Senate compensating Lewis, Clark, and their men with land and double wages for service on the expedition (Jackson, 2: 377-78).
After March 3, 1807. Eight of the expedition members sign a petition to Congress asking that their warrants be acceptable immediately for land in Indiana Territory or Louisiana Territory where several of them already reside (Jackson, 2: 378-80).