Article
Section
A Passion Becomes a Profession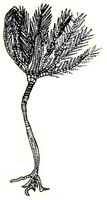 A drawing of a cranoid
From Walter H. Bucher, Elementary Guide to the Fossils and Strata in the Vicinity of Cincinnati. (Cincinnati: The Cincinnati Museum of Natural History, 1945), p. [30].
In 1862, Borden was introduced to geology and paleontology by a Dr. Reid of Salem, who visited New Providence.
He was interested in fossils, and gave me some Actinocrinidae fossils [crinoids], which he had found at Paynter's Hill in Washington county. He explained to me the structure of the creatures, and what the term fossil meant. Seeing that I was much interested, he advised me to buy Dana's Geology. War prices prevailed then, so I paid six dollars for the book. As soon as my day's work was completed, I devoted myself to its perusal. I had no instructor, and soon became involved in a labyrinth of theories and scientific terms. With what I could glean from the pages of this book, I began field work, and studied the rocks and formations (pp. 27-28).
Borden immersed himself in the rich geological resources of southeastern Indiana. His arduous studies, extensive field work, and collaborations with experts who visited the region, brought him recognition.
In 1873, Professor E. T. Cox, the state geologist, asked him to assist in the geological surveys of Clark and Floyd counties. In 1874, he assisted in surveying Jefferson and Scott counties, and, in 1875, Ripley and Jennings counties.