Article
Section
Virgil I. Grissom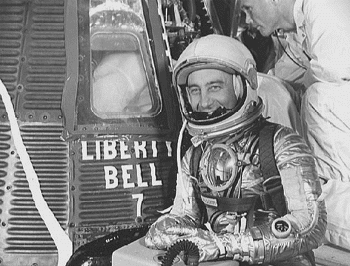 Astronaut Virgil I. Grissom is suited up and ready to climb into the Liberty Bell 7 spacecraft on August 9, 1961 for NASA's Mercury-Redstone 4 mission. Backup pilot John Glenn is in the right corner behind Grissom.
Photograph: National Aeronautics and Space Administration.
Virgil I. Grissom was born April 3, 1926 in Mitchell, Lawrence County, Indiana. He graduated from Purdue University, West Lafayette, Indiana in 1950.
Grissom served in the U.S. Army Air Corps as an aviation cadet in 1944. He reenlisted after college and earned his pilot wings in early 1951. He served in Korea; he was an instructor pilot after the war. In 1957, he became a fighter test pilot. He was selected in 1959 by the National Aeronautics and Space Administration as one of the seven astronauts in the first phase of the U.S. Space Program.
In a speech on May 25, 1961, U.S. President John F. Kennedy pledged to support a program to land a man on the moon by 1970. This program was to be accomplished in a process that included the Mercury, Gemini, and Apollo mission programs.
Grissom flew the second project Mercury sub-orbital mission on July 21, 1961. He flew as the command pilot in the Gemini III flight, March 23, 1965, with John Young. They orbited the earth three times and were the first astronauts to maneuver a spacecraft in orbit.
Grissom, Roger B. Chaffee, and Edward H. White, were chosen to pilot the first Apollo mission, with Grissom as the command pilot. They began training for a planned sixteen-day mission scheduled to launch February 14, 1967. On January 27, 1967 a flash fire in the Apollo 1 capsule killed all three men.
Grissom was buried at Arlington National Cemetery. Bunker Hill Air Force Base, Miami County, Indiana was renamed after him in 1967. There is a memorial with exhibits at Spring Mill State Park, near Mitchell, including Grissom's helmet from the Mercury mission and the Gemini III capsule and space suit.
Source: Historical marker file 47.1966.1, Indiana Historical Bureau. Contact: Indiana Department of Natural Resources for Virgil I. Grissom: Teacher Packet (Indianapolis: Department of Natural Resources, [1987]).