Main Content
Article
George Rogers Clark Memoir
Part one (of nine)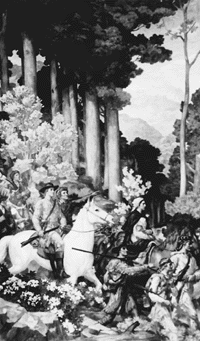 Kentucky: Entering the Great Valley, is one of seven murals by Ezra Winter installed in December 1934 in the George Rogers Clark Memorial in Vincennes. The murals are approximately fifteen by twenty-six feet in size. (Bearss, Edwin C. George Rogers Clark: Vincennes Sites Study and Evaluation, George Rogers Clark National Historic Park, Vincennes, Indiana. Washington, D.C.: Division of History, Office of Archaeology and Historic Preservation, National Park Service, U.S. Department of the Interior, 1967.

Courtesy of the Indiana State Library and George Rogers Clark National Historical Park.

Sections of the memoir have been titled to facilitate navigation within the document.

Part one:

Early Kentucky.
Clark and Mr. John Jones elected to go to the Virginia assembly.
Clark and Jones travel to Virginia.
Clark obtains powder for Kentuckians.
December 7, 1776-Kentucky becomes new Virginia county.
Clark takes powder from Pittsburg to Kentucky.
Beginning of bloody war in Kentucky.
Importance of Kentucky.
CLARK'S MEMOIR.
Early Kentucky.
SIR-In fulfilling the engagement I am under to you, with respect to the wars of Kentucky, I must commence with the first settlement of the district, which had been but partially explored previous to the year 1773, when a considerable number of surveyors and private adventurers passed generally through it. The first settlement attempted in Kentucky was by Colonel James Harrod, with some few followers, at Harrodstown, in the spring of 1774, but this party made but small progression in building, etc., before they were obliged to abandon the country on account of the war with the Shawanoes. They marched through the wilderness and joined Colonel Lewis's army. At the dose of that war they made preparation and again took possession of their town in the spring of 1775.
In the meantime, Colonel Henderson & Company had purchased the country of the Cherokees (the Cherokees had no right to Kentucky), and made an establishment at Boonesborough, opening a land office, etc., but you are too well acquainted with those circumstances to need any information.
It was at this period (1775) that I first had thoughts of paying some attention to the interests of this country (Kentucky). The proprietors, Henderson & Company, took great pains to ingratiate themselves in the favor of the people, but, too soon for their interest, they began to raise the price of their lands, which caused many to complain.
A few gentlemen made some attempts to persuade the people to pay no attention to them. I plainly saw that they would work their own ruin, as the greatest security they had for the country would be that of making it the interest of the people to support their claim, and that by their conduct they would shortly exasperate the people and that would be the time to overset them. I left the country in the fall of 1775, and returned in the spring following. While in Virginia, I found there were various opinions respecting Henderson & Company's claim. Many thought it was good, others doubted whether or not Virginia could, with propriety, have any pretensions to the country. This was what I wanted to know. I immediately fixed on my plans, viz., that of assembling the people-getting them to elect deputies and sending them to treat with the assembly of Virginia respecting the condition of the country. If valuable conditions were procured, we could declare ourselves citizens of the state; otherwise, we might establish an independent government, and, by giving away a great part of the lands, and disposing of the remainder, we would not only gain great numbers of inhabitants, but in a good measure protect them. To carry this scheme into effect, I appointed a general meeting at Harrodstown, on the 6th of June, 1776, and stated that something would be proposed to the people that very much concerned their interest.
Clark and Mr. John Jones elected to go to the Virginia assembly.
The reason I had for not publishing what I wished to be done before the day was, that the people should not get into parties on the subject, and as everyone would wish to know what was to be done, there would be a more general meeting. But, unfortunately, it was late in the evening of that day before I could get to the place. The people had been in some confusion, but at last concluded that the whole design was to send delegates to the assembly of Virginia with a petition praying the assembly to accept them as such-to establish a new country, etc. The polls were opened, and before I had arrived, they had far advanced in the election, and had entered with such spirit into it that I could not get them to change the principle-that of delegates with petitions, to that of deputies under the authority of the people. In short, I did not take much pains. Mr. John Gabriel Jones and myself were elected. The papers were prepared, and, in a few days, we set out for Williamsburg, in the hope of arriving before the assembly then sitting should rise.
Clark and Jones travel to Virginia.
Under great apprehensions that the Indians, under the influence of the British, would shortly make a break upon the country and no time ought to be lost in getting it in a state of defense, and, apprehending no immediate danger in the wilderness road, Mr. Jones and myself attempted to pass, without waiting for other company, but had great cause to regret it. The second day we discovered alarming signs. We were under great apprehensions. On the third day Mr. Jones's horse gave out, and our little put on mine, and in so hilly a country, it was impossible that more than (one) could ride at times. The weather being very rainy, our feet being wet for three or four days and nights without ever being dry, not daring to make fire, we both got what hunters call scald feet, a most shocking complaint; the skin seems to rot on every part of our feet; (in) this condition we traveled in greater torment than I ever before or since experienced. In hopes of getting relief at the station ten or twelve miles from the Cumberland Gap, in Powell's valley, how greatly were we disappointed on our arrival to find the place totally abandoned and part of it burned. My companion, being but little used to such distress, got almost discouraged at the disappointment. I flattered him in the certainty of the people being at Martin's Fort, about eight miles ahead, as I expected the whole had embodied there, although the danger was much greater than we had apprehended; but being now fully apprised of it, I could, without running very great risk, if we could but make out to march through the woods by both of us riding where there was level ground. This we attempted in vain, and were obliged to take the road, for the person on foot could, by no means, bear the torture of traveling through the thick woods. Hearing guns frequently, we were in hopes they were hunters from the station we were aiming at, but, to our surprise on our arrival, found the fort to have been abandoned for a considerable time.
A few human tracks to be seen, which we knew to be Indians', as well as the guns we had heard, our situation now appeared to be deplorable. The nearest inhabitants we now knew to be sixty miles. Not able to travel ourselves, and Indians appeared to be in full possession of the country that we were in, we sat a few minutes viewing each other. I found myself reduced to a perfect desperation. Mr. Jones asked me what we should do. I told him that it (was) impossible for us to make the settlements in the condition that we were in. To hide ourselves in the mountains if the weather was to continue wet, we might probably get worse than better, and perhaps perish; that we knew that within eight or ten days that a party was to follow us from Kentucky; that I knew that oil and ooze made of oak bark would cure our feet in a few days; that I thought that the only plan we could (adopt) would be to get possession of the best cabin in the place, fortify ourselves in it, burn down the rest of the fort; abundance of hogs about the corn-cribs-we (got) a few of them, a barrel of water and some corn; that we probably (could) stand a siege until we were relieved by the party we expected to follow us from Kentucky; that ten or fifteen Indians could not drive us out of the house. I was well acquainted with them, and knew that they would not storm us to a great disadvantage; that we were well armed-a rifle, two cases of good pistols, and a hanger; that I was confident that we could defend ourselves against a greater number of Indians than he had any idea of. He was overjoyed at the proposition, and we fell to work. I sent him to kill a hog by running a sword through it (when) it was eating corn, to prevent noise. A small, strong cabin of Captain Martin's, being a little detached from the rest, and locked, having a table and some other things in it, I climbed up to the top of the chimney, and flung it down until it was so low that I could drop into the house without hurting myself, not being able to support myself with my feet against the logs, and cut the lock of the door loose. By this time my friend had got his hog -he being best able to walk-filled a keg with water, and collecting some wood, getting in some corn, we barred (the) door, knocked out some port-holes, set the table in the middle of the floor, and spread our arms and ammunition in order, and waited with impatience for the wind to shift, that we might set fire to the fort without burning our own castle. Our agreement was, that in case of an attack, that Mr. Jones should continue to load the pieces as I discharged them. Without paying any attention to the enemy, except there was the appearance of a storm, we took some provisions, and meantime dressed our feet with oil and continued to prepare ourselves for defense with diligence until late in the evening, when the wind appeared to die away, we proposed setting fire to the houses, as we intended, but we had no sooner unbarred our door than we heard a horse-bell upon the road, and in a few minutes stop again. We were finally convinced that the enemy was at hand, and immediately secured ourselves as well as possible, determined to execute our first plan, and if they should attempt to burn us out, to knock off the roof of the cabin. We waited in suspense for some time, but at last, to our great joy, found they were white men who had come from the settlement of Clinch river to collect some things they had hid at the time they had left the place. The bell of one of their horses happened unstopped when they got within sight of the fort, when they discovered the smoke of our fire; supposing us to be Indians, they crept round in order to make a full discovery and get the advantage of us. While at this business we had a full view of them, and showed ourselves to them. They appeared to be happy in having it in their power to relieve us. With them we crossed the mountains to the settlement, recruiting ourselves.
We proceeded on our journey as far as Botetourt county, and there learned that we were too late, for the assembly had already risen.
Clark obtains powder for Kentuckians.
We were now at a loss for some time to determine what to do, but concluded that we should wait until the fall session; in the meantime, I should go to Williamsburg and attempt to procure some powder for the Kentuckians and watch their interests. We parted. Mr. Jones returned to Holston to join the forces that were raising, in order to repel the Cherokee Indians (as they had lately commenced hostilities), and myself proceeded to the governor of Virginia.
Mr. Henry, the governor, lay sick at his seat in Hanover, where I waited on him and produced my vouchers. He appeared much disposed to favor the Kentuckians, and wrote, by me, to the council on the subject. I attended them. My application was for five hundred pounds of powder only, to be conveyed to Kentucky as an immediate supply. AIter various questions and consultations, the council agreed to furnish the supply; but, as we were a detached people and not yet united to the state of Virginia, and uncertain until the sitting of the assembly whether we should be or not, they would only lend us the ammunition as friends in distress, but that I must become answerable for it in case the assembly should not receive us as citizens of the state. I informed them that it was out of my power to pay the expense of carriage and guards necessary for those supplies; that the British officers on our frontiers were making use of every effort to engage the Indians in the war; that the people might be destroyed for the want of this small supply, and that I was in hopes they would consider these matters and favor us by sending the ammunition at public expense. They replied that they were really disposed to do everything for us in their power consistent with their office, which I believed. After making use of many arguments to convince me that even what they proposed was a stretch of power, they informed me that "they could venture no further." An order was issued to the keeper of the magazine to deliver me the ammunition. I had for twelve months past reflected so much on the various situation of things respecting ourselves and the continent at large, that my resolution was formed before I left the council chamber. I resolved to return the order I had received and immediately repair to Kentucky, knowing that the people would readily fall into my first plan-as what had passed had almost reduced it to a certainty of success. I wrote to the council and inclosed the order, informing them that I had weighed the matter and found that it was out of my power to convey those stores at my own expense such a distance through an enemy's country; that I was sorry to find we should have to seek protection elsewhere, which I did not doubt of getting; that if a country was not worth protecting it was not worth claiming, etc. What passed on the reception of this letter I can not tell. It was, I suppose, nothing more than what might be expected by a set of gentlemen zealous in welfare of their country and fully apprised of what they might expect to take place in Kentucky. I was sent for. Being a little prejudiced in favor of my mother country, I was willing to meet half way. Orders were immediately issued, dated August 23d, 1776, for conveying those stores to Pittsburg and there to await further orders from me.
Kentucky becomes new Virginia county-December 7, 1776.
Things being amicably settled, I wrote to Kentucky giving information of what I had done, and recommended them to send to Pittsburg and convey the ammunition by water to their own country. This they never received. I waited until the fall session, when I was joined by my colleague, Mr. Jones. We laid our papers before the assembly. They resolved that we could not take our seats as members, but that our business should be attended to. Colonel Henderson, one of the purchasers of the Cherokees, being present, retarded our business much. Colonel Arthur Campbell, one of the members, being also opposed to our having a new county, wished us annexed to the county on the frontiers of which we lay and which he represented. This caused it to be late in the session (December 7, 1776) before we got a complete establishment of a new county by the name of Kentucky.
Clark takes powder from Pittsburg to Kentucky.
Mr. Jones and myself parted at Williamsburg, but, learning that the ammunition was yet at Pittsburg, we resolved to go by that post and take it down the river. We agreed to meet there, but the weather proving severe, it was late in the fall before we could set out, but, however trifling a small quantity of ammunition or the loss or acquisition of a few men may appear in the scale of affairs among people in general, to the Kentuckians the loss of either I knew would be sensibly felt, of course paid every attention possible. I found that the Indians were fully preparing for war in the spring; that those of them who attended Fort Pitt, under the color of friendship, were in fact acting as spies; that they had some idea of our intentions of going down the river, and would attempt to intercept us. Sensible that our safety depended solely on expedition, without waiting to recruit our party, we set out with seven hands only in a small vessel, and, by the most indefatigable labor, made our way good. We passed the Indians in the night, or by some means or other got ahead of them, for the day before we landed near Limestone, we plainly discovered that they were in pursuit of us. We hid our stores in four or five different places and considerable distance apart, and running a few miles lower in our vessel, set it adrift and took by land for Harrodstown in order to get force sufficient and return ourselves for our stores. We parted by the Blue Lick, and the third day from our leaving the river got to Hinkston's cabin, on the west side of Licking creek. While we were resting ourselves four men came to us who had been exploring land in that quarter, and informed us of the situation of affairs in Kentucky; that very little damage had yet been done; that the late Colonel John Todd was with a party somewhere in that part of country; that, if we could find him, we should be strong enough to return to the river, but this was uncertain. As several of our party were much fatigued we agreed that myself and two others should proceed to Harrodstown for the proposed party; that Mr. Jones and the rest should remain in that neighborhood until our return.
In a short time after I had set our, Colonel Todd arrived at the same place, and, after some consultation, concluded that they were able to go to the river and bring on the ammunition and other stores, and accordingly set out with ten men, and between the Blue Lick and the river, on December 25, met the Indians on our trail and got totally routed. Mr. Jones was killed, and three others got killed and taken prisoners. Fortunately for us, the prisoners did not discover our hidden stores to the Indians. The party sent from Harrodstown brought them safe to that place, which gave universal joy.
On the 29th December, a large party of Indians attacked McClellan's fort, on Elkhorn, and killed Mr. McClellan and White and wounded two others, after which the whole moved to Harrodstown. The inhabitants of Kentucky, at this period, consisted only of about ___ men in three stations, Harrodstown, Boonesborough, and Colonel Logan's about this time established. The information I gave sufficiently alarmed them. The people had scarcely time to prepare themselves before a large body of Indians advanced on the 7th of March (on the 5th the militia of the country was embodied), to the attack of Harrodstown. They fired on some boys in the evening five miles from town; held one, the rest made their escape and gave the alarm. A party from the fort advanced to the place. It being late in the evening, they, fortunately, did not fall in with the Indians, as in all probability our party could have been cut to pieces and of course the country lost. The loss of a single man at this time was sensibly felt, and general actions with the enemy ought to be guarded against without an apparent superiority, as the enemy could easily retrieve their losses by recruits from numerous nations, which was an advantage we could not expect to enjoy for some time. In the morning following, the Indians had waylaid the upper part of the town (that had been evacuated the evening before), and a little after daylight set fire to one of the houses. A small party unadvisedly went to see what was the cause and was fired on by the Indians; they were covered by a party from the fort and made good their retreat. In this affair there was a man lost, killed, on each side, and a few wounded. Being the superior officer, we had the country put in as good a state of defense as our situation would admit of, determined, if possible, to stand our ground in hopes of relief, as the governor of Virginia had uniformly appeared to be our friend.
Beginning of bloody war in Kentucky.
From this period we may date the commencement of that bloody war in Kentucky that has continued since with savage fury, in which, on a moderate calculation, upwards of two thousand souls have perished on our soil, and severely felt by the most active Indian nations. To enumerate all the little actions that happened, is impossible. They were continual and severe, when compared to our small forces; the forts were often attacked; policy seemed to have required that the whole should be embodied in one place, but depending on hunting for the greater part of our provisions forbid it. No people could be in a more alarming situation. Detached at least two hundred miles from the nearest settlements of the states, surrounded by numerous nations of Indians, each one far superior to ourselves in numbers and under the influence of the British government and pointedly directed to destroy us, as appeared by instruments of writing left on the back of people killed by them-I was frequently afraid the people would think of making their peace with Detroit and suffer themselves and families to be carried off. Their distress may be easily conceived from our situation, but they yet remained firm in hopes of relief, which they received by the arrival of a company of men under the command of Colonel John Bowman, on the 2d of September.
This reinforcement, though small, added new life to the appearance of things. Encouraged by this, and the stand they had already made, everyone seemed determined to exert himself in strengthening the country by encouraging as many of his friends as possible to move out, which succeeded in the end. After the arrival of Colonel Bowman I left Kentucky, in October, 1777, with a party of young men, who had been detained on the promise of being liberated on the arrival of Colonel Bowman, and returned to Virginia. During the past severe spring and summer our conduct was very uniform. The defense of our forts, the procuring of provisions, and, when possible, suppressing the Indians (which was frequently done), burying the dead and dressing the wounded, seemed to be all our business.
Importance of Kentucky.
The whole of my time when not employed in reflecting on things in general, particularly Kentucky, how it accorded with the interest of the United States, whether it was to their interest to support her, etc. This led me to a long train of thinking, the result of which was to lay aside every private view, engage seriously in the war and have the interest and welfare of the public my only view until the fate of the fall of the continent should be known. Divesting myself of the prejudice and partiality in favor of any particular part of the community, but so pursue what I conceived to be the interest of the whole. This path influenced my conduct through the course of the war and enabled me to better judge of the importance of Kentucky to the Union, situated, as it was, in the center, almost, of the Indians, who had already generally engaged in the Kentucky war, as an impediment in their way to the more interior frontier; that as soon as they should accomplish the destruction of it they would bodily let loose on the frontier; that, instead of the states receiving supplies from them, they would be obliged to keep large bodies of troops for their defense, and almost impossible to move an enemy at so great a distance to attack their towns, if they could find them; and that, by supporting and encouraging the growth of Kentucky, those obstacles would, in a great measure, be removed; for, should the British officers find their policy mistaken in carrying on the war against Kentucky by the Indians, and withdraw them from and bind their whole force against the interior frontier, as a certain mode of destroying the states, we might, with a little assistance, at any time, march from the country with ease to any part of their country we chose (this is the only circumstance that can excuse their conduct). Those ideas caused me to view Kentucky in the most favorable point of view, as a place of the greatest consequence, and ought to meet with every encouragement, and that nothing that I could engage in would be of more general utility than its defense, and as the commandants of the different towns of the Illinois and Wabash, I knew, were busily engaged in exciting the Indians, their reduction became my first object. Expecting, probably, that it might open a field for further action, I sent two young hunters (S. More and B. Linn) to those places as spies, with proper instructions for their conduct, to prevent suspicion. Neither did they, nor anyone in Kentucky, ever know my design until it was ripe for execution. They returned to Harrodstown with all the information I could reasonably have expected. I found from them that they had but little expectation of a visit from us, but that things were kept in good order, the militia trained, etc., that they might, in case of a visit, be prepared; that the greatest pains were taken to inflame the minds of the French inhabitants against the Americans, notwithstanding they could discover traces of affection in some of the inhabitants; that the Indians in that quarter were engaged in the war, etc.