Main Content
Article
Classroom Resources
Purchases may be made via a visit to our office, by telephone (317-232-2535), fax (317-232-3728), or e-mail (ihb @ history.in.gov). More info on purchasing here.
Research Help
Pointers for Research
Hints and instructions for research in a variety of settings and situations, using various types of resources.
paper 8 pp. 1997/$.50/Order No. 6066
Old Schoolhouse Gang: Some Guidelines for School Oral History Projects
Southside Elementary School
How to collect and preserve local history using oral interviews.
paper 16 pp. 1990/$.50/Order No. 6037
Folklore in the Classroom Workbook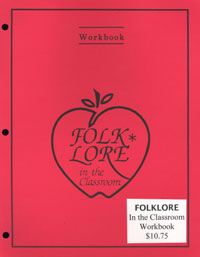 Contains content essays by professional folklorists and reproducible exercises for each chapter:
Introducing Folklore
Defining Folklore, Folklore Genres, Finding Folklore, The Folk Culture Approach: Putting Folklore in Context
Folklore and Subject Areas
Folklore, English, and Language Arts, Folklore, History, and Social Studies, Folklore in Domestic Life, Using Folklore to Teach Mathematics and Science
Folklore and Issues in Education
Making Sense Out of Contemporary Phenomena, Using Local Resources, Cultural Diversity and Folklore
Among the appendices is a handbook on preservation basics: "So, You Want to Preserve History?--Some Things You Should Know."
3-hole punched; sections separately paged; reprint 1997 (1985)
ISBN 1-885323-51-4/$10.75 Order No. 4019
History Resources
BROADSIDES: Indiana, the Early Years
Dani B. Pfaff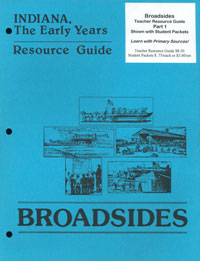 BROADSIDES makes reproductions of primary source materials from Indiana history available for students and teachers to use across the curriculum.
The Resource Guide provides introductions to the period and the subjects covered, including document introductions, activities, maps, timelines, reference materials, various finding aids to help match subject areas with the documents, and two supplemental related documents for each of the twenty-five packet documents.
Document packets each consist of five document reproductions (two views each) and two supplementary sheets in an envelope.
The Indiana Historian has been available as a digital download for some time, and now, you can download BROADSIDES! Click the links below to download this resource (there are 9 files total).
Resource Guide/3 hole punched 424 pp. 1987
Download a digital copy: Teacher Resource Guide, Supplemental Materials, Maps, and Finding Aids
ISBN 1-885323-50-6/$8.50/Order No. 4006
Document Packets
paper 1987/$.75
Commerce, Trade, and Agriculture
(Order No. 6004) Download a digital copy
Daily Life
(Order No. 6005) Download a digital copy
Education
(Order No. 6006) Download a digital copy
Politics
(Order No. 6007) Download a digital copy
Transportation and Communication
(Order No. 6008) Download a digital copy
Document Packet Set
Includes one of each of the five packets.
paper 5 packets 1987/$3.00
Order No. 6009
The Word "Hoosier"
History and theories of the derivations of Indiana's nickname.
paper 2 pp. revised 1984/ OUT OF PRINT (Download Available or Read a digital copy)
Indiana's Road to Statehood
Hubert H. Hawkins, comp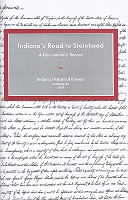 Text of documents important to Indiana statehood.
paper 95 pp. reprint 1997 (1969)/ISBN 1-885323-53-0/$3.50
Order No. 6031
Indiana's Pioneer Heritage and the End of the Twentieth Century
James H. Madison
Considers Indiana's beginnings and those who created it.
paper 8 pp. 1996/$.50/Order No. 6070
Historic Iron Bridges of Indiana
Joseph Saldibar III.
The history, truss types, and photographs of Indiana iron bridges.
paper 8 pp. 1999/ISSN 0019-6649/$.50/Order No. 6074
Covered Bridges in Indiana
Details truss types, photographs, information about numbers of bridges now and in the past. List of existing covered bridges by county.
paper 8 pp. 1998 /ISSN 0019-6649 /$.50/Order No. 6072
Indiana Barns
Images and text describing the many types of barns found in Indiana.
paper 8 pp. 2001/ISSN 0019-6649/$.50/Order No. 8031
Related Issues of The Indiana Historian
paper/ISSN 1071-3301/$1.00 (1-19 copies); $.30 (20 or more copies)
List of all Indiana Historians grouped by topic (many of these issues are on the Web site).
Unlocking the Past--You Hold the Key
Introduction to research in local history with examples and checklist.
paper 16 pp. 1993/$1.00 or $.30 each if 20 or more of any title purchased
Order No. 7019 E-mail the Indiana Historical Bureau with questions or your order.
How to purchase books and other sale items and discount information