Educators
Getting Started
| Know the Facts | Review School's Tobacco-Free Policy | School Resources |
| --- | --- | --- |
| | | |
---
---
Vape-Free School Toolkit
This toolkit provides resources for Indiana school staff, including administrators, teachers and health services staff, who are working to address the use of tobacco products, especially e-cigarettes in schools. This toolkit outlines opportunities for action that can be taken by various school staff with support of community partners.
---
CATCH® My Breath Curriculum Training


CATCH® My Breath is a best-practices youth e-cigarette and JUUL prevention program developed by The University of Texas Health Science Center at Houston (UTHealth) School of Public Health. The program provides up-to-date information to teachers, parents, and health professionals to equip students with the knowledge and skills they need to make informed decisions about the use of E-cigarettes, including JUUL devices. CATCH My Breath utilizes a peer-led teaching approach and meets National and State Health Education Standards.
---
Model Policy and Enforcement
In order for a school campus to be recognized as being tobacco-free, the language of the school's policy must express that:


Tobacco-Free Campus Policy Checklist
possession or use of tobacco products in any form; such as, cigar, cigarette, pipe, chewing tobacco, electronic nicotine delivery devices/electronic cigarettes, etc.; is prohibited
the adopted policy is effective 24 hours a day
school buildings are tobacco free
school grounds are tobacco free
school vehicles are tobacco free
all students are subject to the policy's regulations
all staff are subject to the policy's regulations
all parents and visitors are subject to the policy's regulations
Download Model Tobacco-Free Policy document
Sample Signage
Alternative to Suspension Curriculum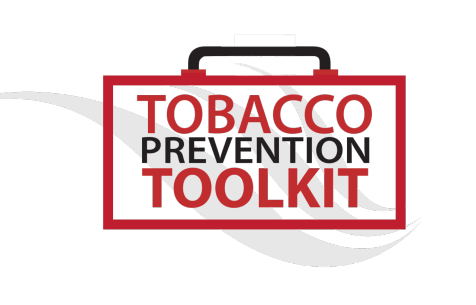 A resource from the Tobacco Prevention Toolkit, Healthy Futures is a suggested 1-session curriculum that educators can use over a 50-minute period. Before using the curriculum, we suggest that educators become familiar with the material.
Educators should go through each unit in the Presenter Guide and download the PowerPoint for class presentation. Educators should also download the accompanying assessment and in-class activities. Speakers' notes are embedded in the PowerPoint. Activities are meant to be printed for students before class begins.
STUDENT COMMERCIAL TOBACCO USE IN SCHOOLS
Alternative Measures
From the Public Health Law Center, this publication provides sample language and ideas for evidence-based solutions and information as to why these alternative measures may be more effective than suspension and expulsion at addressing student tobacco use and nicotine addiction as part of a school's Commercial Tobacco-Free Policy.

Online Course
The Rise of Vaping video is 20 minutes and can be used in classrooms, assemblies, trainings, conferences, summits, and anywhere else as a resource to help prevent youth and teen e-cigarette use. The video is intended mainly for middle and high school audiences.

THE RISE OF VAPING - E-CIGARETTE/JUUL VIDEO COURSE
---
Other Resources

Local Tobacco Control Coalitions are located in several counties across the state and can help with various tobacco prevention and cessation efforts for your school or organization.

Click here to search for tobacco control coalitions in your area.