Quality Management
Welcome to the HIV/STD/Viral Hepatitis Division's (HSVHD) Clinical Quality Management (CQM) page where you will find a repository of resources, training material, and program information including quality improvement (QI) activities. The purpose of this page is for HSVHD to share timely information that promotes stakeholder engagement in the statewide CQM program.

Statewide QI Projects
ISDH has produced the Community Health Improvement Initiative (CHII) as its landmark statewide QI Project. Service populations of focus and related topics are generated as a set curriculum and set of associated activities for subrecipient organizations identified for participation based on their organizational service populations. You will find details on CHII capstone projects over time in the table below.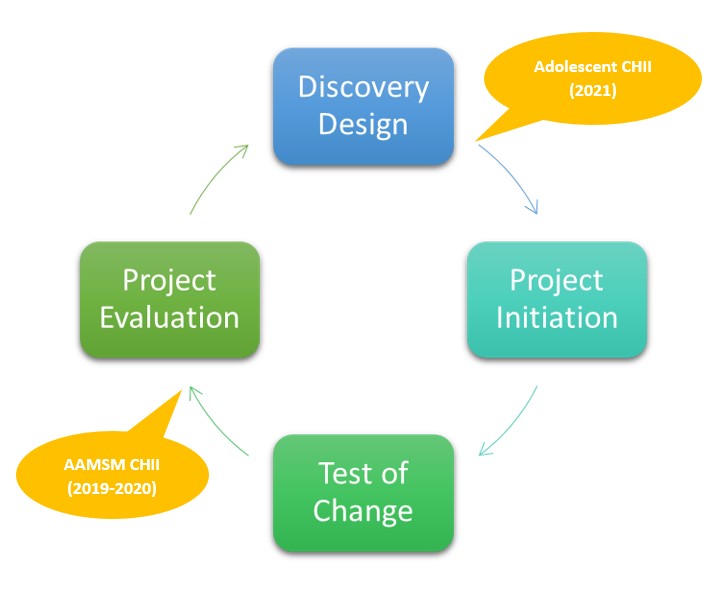 New Recorded Training
Quality Management / Quality Improvment - The Basics with QM/QI
| | | | |
| --- | --- | --- | --- |
| CHII Topic | Active Dates | Description | Final Report |
| | 10/1/2019-9/30/2020 | Executive summary | Coming soon! |
| | 10/1/2020-2/28/2021 | Executive summary | |
Framework for Quality Management
Indiana State Department of Health (ISDH) uses the RWHAP framework for QM seen to the right as the basis for its overall Division-wide QM framework. The Infrastructure for the QM program is rooted in the Division Clinical Quality Management Plan and the Indiana HIV, STD, and Viral Hepatitis Quality Management Committee described below.

CQM Technical Assistance Webinars
| | | | |
| --- | --- | --- | --- |
| Date | Content | Slides | Video |
| 6/3/2020 | CQM Infrastructure Overview | | |
| 6/10/2020 | CQM Performance Measure Overview | | |
| 6/17/2020 | Statewide QI Projects and Reporting | | |
Data Drivers: From Collection to Analysis Webinar Series
| Date | Content | Slides | Video |
| --- | --- | --- | --- |
| 07/20/2021 | Data Drivers: Part 1, Fundamentals of Data Collection and Analysis | Link | Link |
Division Clinical Quality Management Plan
The ISDH HSVHD uses a Division-wide approach to QM. The HSVHD Clinical Quality Management Plan (CQM Plan) provides a statewide framework for QM activities in Indiana. The CQM Plan includes detailed information on the roles and responsibilities of all stakeholders in the overall statewide QM Program. In addition, the CQM Plan includes the breakdown of quality performance measures by Division Program and provides the background on ISDH's overall approach to QI. Download the 2020-2021 IDOH Integrated CQM Plan at this link.

Indiana HIV, STD, and Viral Hepatitis QM Committee
Indiana's HIV, STD, and Viral Hepatitis QM Committee (QM Committee) is a subcommittee of the Indiana HIV/STD Advisory Council (Advisory Council). Membership on the QM Committee is drawn from providers and consumers that represent all funded programs of the Division. Committee members represent diversity in geography, gender, and race. As a subcommittee of the broader Advisory Council, the work of the QM Committee is overseen by the Advisory Council in which all Division sub-recipients of funding are required to participate.



ISDH HSVHD

Internal QM Committee
The ISDH Internal QM Committee is made up of representatives of all Division's Programs and led by CQM staff. The purpose of the internal committee is to align CQM activities and expectations with other Division priorities. The goal is for the Division to communicate expectations in one voice and avoid over-burdening subrecipient agencies with overlapping or contradicting expectations.

ISDH HSVHD QM Resource Center
ISDH has compiled a set of resources for subrecipients that are creating and maintaining their quality management programs. Each subrecipient received a binder of clinical quality management resources. Those resources can be found electronically here:
Resource

Description

CQM Program Guidance

Federal guidance on RWHAP CQM expectations

Evaluation tool for CQM program operational quality

Example that can be adapted by your organization

A checklist of all components that should be covered in a CQM plan

QI Project Tools

Tool to help identify sub-steps to care processes

Tool to help generate change ideas tied to root causes

Tool to assist in QI project planning by step

Template to identify and report QI project progress

Repository of free QI tools!

Repository of free RWHAP tools, including CQM and QI

Tool to assist in creating processes that lead to consist, quality outcomes

Tool to assist in planning, implementing, and evaluating QI projects

Tool to assist in managing QI projects

Tool to concisely collect and report QI activities to ISDH

Other Resources

Final report from the 2019 needs assessment for people living with HIV in Indiana

The Clinical Quality Management Plan that guide's division quality management activities

Accompanies HSVHD CQM Plan

Quick tips for creating effective performance measures

Resource from the Center for Quality Improvement and Innovation with QI/QM educational activities
ISDH CQM Performance Measurement Methods
HSVHD has developed a performance measurement system to chart system progress in quality over time. In this system, ISDH staff relies on data submitted through regular programmatic reporting. ISDH analyzes data internally and then shares back aggregate system data on a regular basis.
Division Clinical Quality Management Contact Information
Have questions about QM or QI as it relates to the work of the Division? Write us at: HIVQuality@isdh.in.gov.