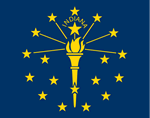 The state banner was adopted by the 1917 Indiana General Assembly as part of the celebration of the state's 1916 centennial, after a competition sponsored by the Daughters of the American Revolution. The prize-winning design was submitted by Paul Hadley of Mooresville, Indiana, a respected Hoosier artist.
The torch in the center stands for liberty and enlightenment; the rays represent their far-reaching influence. The official description in the Indiana Code explains the rest of the symbolism:
"The field of the flag shall be blue with nineteen stars and a flaming torch in gold or buff. Thirteen stars shall be arranged in an outer circle, representing the thirteen original states; five stars shall be arranged in a half circle below the torch and inside the outer circle of stars, representing the states admitted prior to Indiana; and the nineteenth star, appreciably larger than the others and representing Indiana shall be placed above the flame of the torch."