Indiana Imagery
Indiana Geographic Information Office (GIO) - Orthoimagery RFP
Orthoimagery RFP has been awarded. On behalf of the State of Indiana, we are pleased to announce that The Sanborn Map Company, Inc. has been selected for the award of RFP 21-2486 for the Indiana Office of Technology. A copy of the recommendation on this selection can be found at:
https://www.in.gov/idoa/procurement/award-recommendations/
The State of Indiana will be flying a base-level product of 6 inch resolution. Indiana partners will have the option to buy-up to a 3 inch product.
PowerPoint Presentation
Video Presentation
Press Release
Resolution Sample
| 12 Inch Resolution | 6 Inch Resolution | 3 Inch Resolution |
| --- | --- | --- |
| | | |
For more information contact:
Shaun Scholer
sscholer@iot.in.gov
317-414-0889
Statewide Imagery program from the Indiana Geographic Information Office (GIO)
Indiana's imagery data includes two main types, orthophotography (images take from aerial photographs) and lidar imagery (elevation data derived from lasers).
Aerial orthoimagery has been collected via an airplane in order to capture high-resolution photos of the Earth's surface. The imagery has been "orthorectified," or geometrically corrected, to create a uniform scale. Distortion such as from lens and camera tilt has been removed, and the photo is adjusted for topographic relief.

Orthophotography is an aerial photo which can be used as a map to:
Measure Distance
Calculate Area
Determine Shapes of Features

Calculate Directions
Determine GPS Coordinates
Perform Change Detection
The state of Indiana has completed a four-year project to provide a minimum of 1-foot resolution orthophotography and elevation data for the entire state of Indiana. The imagery and elevation data are used by numerous state agencies, and is shared with county governments for use in applications such as tax assessment, property management, economic development and flood control analysis.

Projection Datum: Imagery for the project will be referenced to the appropriate Indiana State Plane Coordinate System Zones expressed in U.S. Survey Feet.
Horizontal Datum: North American Datum of 1983(HARN)
Vertical Datum: North American Vertical Datum of 1988 (NAVD88) with GEOID12B applied to model the elevations
Accuracy Standard:

The 7.5cm (3-inch) orthoimagery will meet the ASPRS 15 cm Horizontal Accuracy Class of 1.2-feet @ 95% confidence level.
The 15cm (6-inch) orthoimagery will meet the ASPRS 30 cm Horizontal Accuracy Class of 2.4-feet @ 95% confidence level.
The 30cm (12-inch) orthoimagery will meet the ASPRS 60 cm Horizontal Accuracy Class of 4.8-feet @ 95% confidence level.
LIDAR
Lida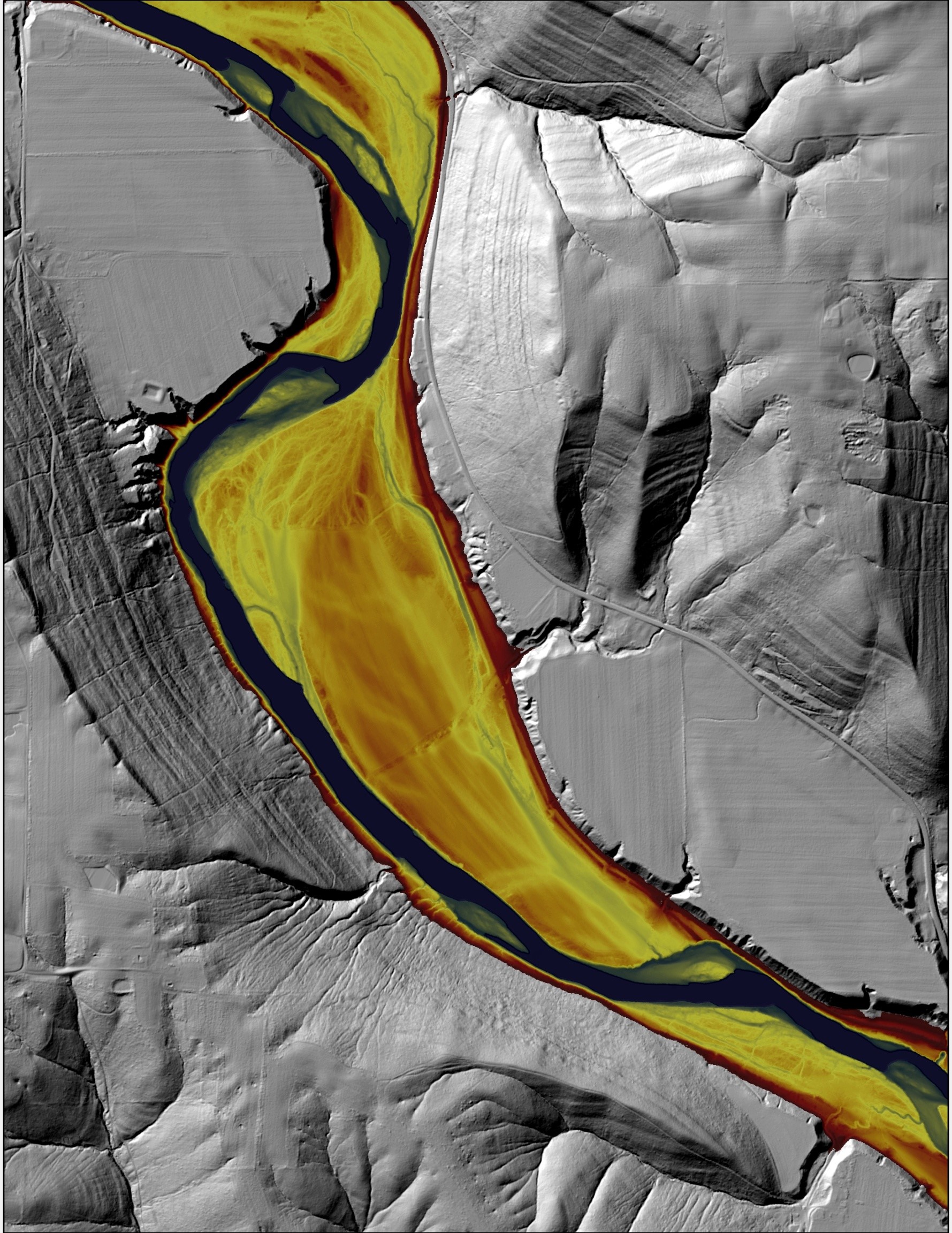 r, which stands for Light Detection and Ranging, is a remote sensing method that uses light in the form of a pulsed laser to measure ranges (variable distances) to the Earth. These light pulses—combined with other data recorded by the airborne system— generate precise, three-dimensional information about the shape of the Earth and its surface characteristics.
LIDAR can be used as a map to:
Watershed Delineation
Floodway Mapping
Mapping Dams and Levees

Mapping Tree Heights in Urban and Forest Areas
Potential Archaeological Sites
How is LIDAR data collected?

When an airborne laser is pointed at a targeted area on the ground, the beam of light is reflected by the surface it encounters. A sensor records this reflected light to measure a range. When laser ranges are combined with position and orientation data generated from integrated GPS and Inertial Measurement Unit systems, scan angles, and calibration data, the result is a dense, detail-rich group of elevation points, called a "point cloud."

Each point in the point cloud has three-dimensional spatial coordinates (latitude, longitude, and height) that correspond to a particular point on the Earth's surface from which a laser pulse was reflected. The point clouds are used to generate other geospatial products, such as digital elevation models, canopy models, building models, and contours.
Digital Elevation Data: Indiana's newest digital elevation data is being collected and started in 2016. All data collected meets USGS QL-2 accuracy standards.
In-depth review of the elevation accuracy for the LiDAR data - Review document
These data are also available to the public:
IndianaMap
https://maps.indiana.edu/layerGallery.html?category=InMapOrthos
Indiana State Government Rest Service
https://imagery.gis.in.gov/arcgis/rest/services
Indiana 2016-2020 Lidar Data
https://lidar.jinha.org/
Indiana Geographic Council Story Map
Indiana Orthophotography and DEM Download Story App
For further information:
Megan R.L. Compton, MPA
Indiana Geographic Information Officer
Indiana Office of Technology
100 North Senate Ave. Suite N551
Indianapolis, IN 46221