Story - A Business Enterprise Program Success Story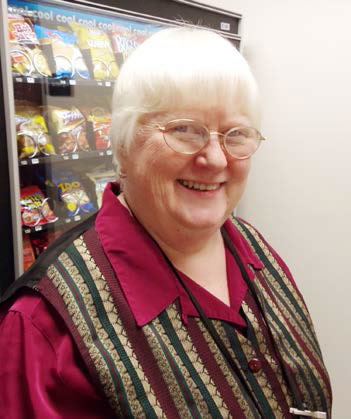 Independent business owner Carol Roe
With a warm smile and a contagious laugh, Carol Roe has come a long way from being the self-described timid person who never knew what she wanted to do with her life when she was younger. Today, Carol is a successful business woman who currently operates the Snack Shop and vending services in the Indiana Government Center (IGC) South building.
Carol was licensed to operate a food service business in 1990 through the Business Enterprise Program (BEP) operated by FSSA's Vocational Rehabilitation Services (VRS). The BEP is a training program where business operators with vision impairments are trained and licensed under the federal Randolph-Sheppard Act.
With no classes offered in Indiana at the time, Carol bravely travelled to Chicago. Alone in a big city for seven and a half months, Carol nearly gave up just weeks from completion because she was mugged on the subway. With her trainer's encouragement, she not only finished the course but has gone on to help train others since the program began being offered in Indianapolis.
"BEP has changed my whole life, and not just monetarily," said Carol. "It took a very shy person and made her into a very independent business woman."
Carol operated businesses in several locations prior to landing in the IGC-South. During Governor Daniels' administration she operated the snack bar at the Indiana Statehouse and made quite an impression. When her snack bar was remodeled, the Governor himself participated in the ribbon cutting ceremony. Later, when Carol left the Statehouse to open another location, the Governor and Lieutenant Governor presented her with an award for her years of service.
When asked to share the secret of her success, Carol again flashed her trademark smile and said, "I think it is important to be business-minded and professional at all times. My customers never know when I'm grumpy. There are days when I get a bit tired, but I still love it!"