Main Content
Article
2018 Golden Hoosier Award
The Golden Hoosier Award was established to acknowledge and recognize outstanding seniors for their lifetime of service to their communities.
Sponsored by Indiana Lieutenant Governor in partnership with the Indiana Family and Social Services Administration, the Golden Hoosier Award is the highest honor bestowed on a senior citizen in Indiana. The 2018 webstream recording is available on line at https://www.youtube.com/watch?v=dk_2oT1DnSM.

Century Award
Pearl Bassett | Marion (Grant County)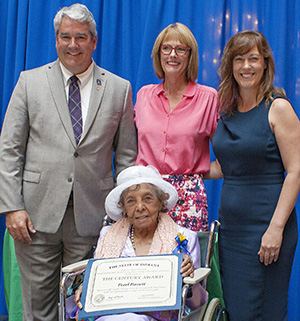 Pearl Bassett continues to make a positive impact on her church and community organizations despite the fact she just turned 107 years young. Pearl lives in Marion and served as a torch bearer in 2016 during the Indiana Bicentennial Torch Relay. Bassett helped establish the local National Association for the Advancement of Colored People (NAACP) and Urban League. She also formed and served as president over the local chapter of Women in the NAACP. She has received numerous awards from the NAACP for social and civic work concerning African-Americans. She still lives alone and cares for herself, while still attending church every Sunday and participating in church and community volunteer efforts.
Golden Hoosier Award
Richard Aeschleman | South Bend (St. Joseph County)
Nominated by Pam Harris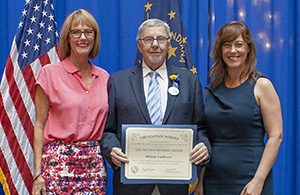 Driven by passion, Richard Aeschleman has spent 33 years volunteering to make his community a better place to live. He has used his organizational leadership and development skills for every position he has held, including three-time chairman for REAL Services, Inc. Community Services Block Grant Advisory Council. Richard has also worked with Camp Raybird, Hope Rescue Mission and Life Treatment Center and was the founding member of Healthy Communities Initiatives of St. Joseph County. He demonstrates his desire for everyone to live a long, happy life by calling on all of his resources to run programs with one focus—the well-being of people. Richard has profoundly affected thousands of citizens in St. Joseph County & has built lasting programs that will continue to serve his community.
Susan Louise Billings | Greenfield (Hancock County)
Nominated by Clarke Mercer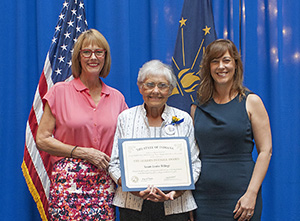 Susan Billings is the perfect example of an engaged community leader. She has spent nearly five decades volunteering for various organizations throughout Hancock County. She is especially recognized for her work with Hancock Regional Hospice. In 2014, she received the Hancock Regional Health Foundation's Bert Curry Healthy Community Award. Her friends and loved ones describe her as a dedicated, compassionate woman who is truly interested in helping others and her community. Despite her own health issues, Susan shares her humor and loving heart and leaves a lasting impact on everyone she meets.
Ray Black | Madison (Jefferson County)
Nominated by Cynthia Demaree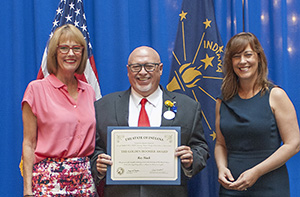 Retired school teacher Ray Black has devoted over 30 years to serving the youth of Jefferson County and positively impacting lives. Ray retired as executive director of Lide White Memorial Boys and Girls Club this year but continues to be a mentor, friend, advocate and coach to three decades of children. Ray's friends and peers describe him as the jack-of-all-trades, reflecting the type of person that makes these children strive to grow up and be like him. He continues to be an upstanding example in teaching ethics, sportsmanship and integrity. Ray has received many awards over the years for his contributions and will continue to be recognized for all that he does for his community.
Martha Byler | South Bend (St. Joseph County)
Nominated by Pamela Harris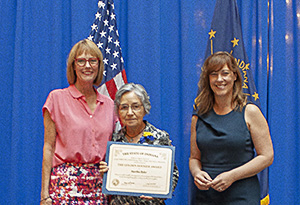 Martha Byler, a retired nurse, has consistently spent over 50 years giving back to her community. She has provided free nursing services and referrals to low-income families for 53 years and counting. Martha is the founder and executive program manager of Life Lessons, an education foundation to help advocate, promote and fund initiatives to enrich learning experiences for public schools in South Bend. Life Lessons supports reading and math programs, professional development for teachers, matching students with mentors and more. Martha is an effective and impactful volunteer because she identifies the need and works diligently to offer education and solutions. Martha's friends say she serves, loves and gives what she has to others.
Steve Dillman | Greenwood (Johnson County)
Nominated by Lyndsay Gilman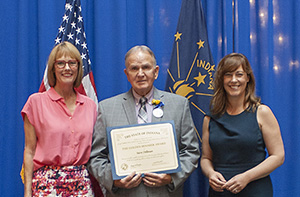 Retired Indianapolis Fire Department fireman Steve Dillman has gone above and beyond for his community's fire department. Steve has served as a board member of the White River Township Fire Protection District, an organization established for the sole purpose of improving the quality of fire service within the district. He is also a cancer mentor at Franciscan St. Francis Health and a trainer for the Firefighter Cancer Support Network, which provides cancer awareness, prevention and treatment support for firefighters worldwide. Steve was made to be a fireman and continues to mentor and foster the next generation of public servants in his community.
Beth Edwards | Muncie (Delaware County)
Nominated by Laura Bray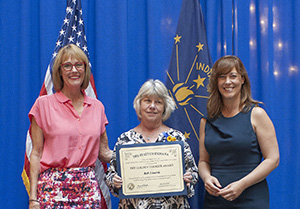 Beth Edwards is a proactive volunteer at LifeStream Services, Inc. and Indiana University Ball Hospital. During the holidays, she serves as an Angel Wish team leader. Angel Wish is a program designed to provide care kits to isolated seniors. Beth also assists with coordinating, delivering and crocheting gifts for those in need. She has spent every Thanksgiving Day for the last 20 years at Central High School preparing meals and passing out food to individuals in need. Beth's friends describe her as "a fierce, determined advocate who strives to serve her community through empowerment and sustained commitment to service." Her passion and devotion have been crucial to enriching the lives of seniors in East Central Indiana.
Marlene Fudge | Rushville (Rush County)
Nominated by Carla Angle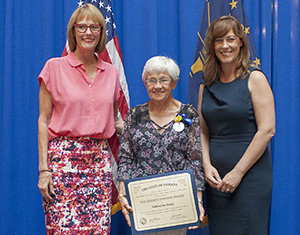 With over 40 years of serving her community, Marlene Fudge always puts the needs of others first. She has contributed a great deal of time and effort into the Big Brothers Big Sisters program, Noble Niters Home Economics Club and New Salem United Methodist Church. Working with these non-profits has allowed Marlene to improve the lives of others, especially the youth. She has been a member of Big Brothers Big Sisters for over 25 years, serving as a lunch buddy, a big sister, treasurer and fundraiser. Marlene has played piano for her church since she was 16 years old and has continued volunteering there her entire adult life. She is very active in every organization she is a member of and generously provides her time and talents to each.
Alice (Gwen) Gass | Lake Station (Lake County)
Nominated by Gary Olund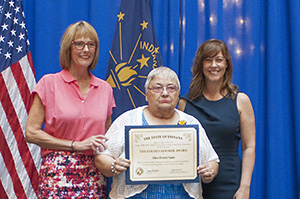 Alice Gass, also known as Gwen, is well-recognized for her commitment to volunteering for seniors as well as youth. She works with the Merrillville and Columbus Park Senior Centers, Lake Station Historical Society and Girl Scouts. Gwen is known for her caring dedication to spreading joy and using intergenerational activities for the greater good. She connects her work with seniors to her scouting background. Throughout the past 40 years, Gwen has proven her devotion to helping others by designing service projects, organizing community activities, hosting events such as the Chronic Disease Self-Management Program and working alongside community leaders to improve opportunities for seniors and youth.
Maureen Hall | Warsaw (Kosciusko County)
Nominated by Michelle Boxell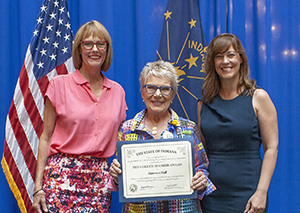 Long-time volunteer and 2001 Kosciusko County Woman of the Year Maureen Hall has touched the lives of countless people in her community and around Indiana. Her current endeavors include working with adults with disabilities through Cardinal Services, delivering food to the less fortunate through Mobile Meals and volunteering with artists at RedBird Art Studio. Maureen has also served as a member of the Board of Directors for the Salvation Army as well as the Kosciusko County Community Foundation. As a friend of hers stated, "she influences the lives of the people she helps, making personal contact with those who may otherwise have very little—or none at all." Maureen Hall exemplifies the qualities of an outstanding citizen by devoting herself to making Warsaw a stronger, happier community.
Duane Hoak | Anderson (Madison County)
Nominated by Mindy Cameron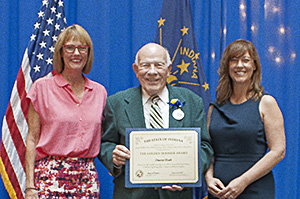 Duane Hoak has been an active volunteer in his community for over 40 years. His dedicated services include working with the Salvation Army, mental health centers, churches, food pantries, Anderson Crime Stoppers and many more organizations. Duane has played a major role in bringing integrated health care to the mentally ill, the homeless and all vulnerable people in Madison County. Members of his community claim that Duane is the go-to person when something needs to be done efficiently and gracefully and he has never been afraid to roll up his sleeves and get the necessary work done. Duane was named Madison County Volunteer of the Year in 2000. He is also focused on training the younger generation in leadership, citizenship and altruism to ensure communities continue to thrive in the future.
Daniel Hogan | Indianapolis (Marion County)
Nominated by Cheri Hogan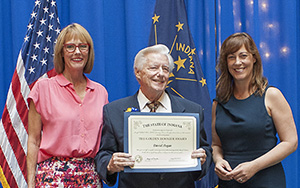 Daniel Hogan has dedicated nearly 60 years volunteering for his community. He works with organizations such as the Red Cross, the Ronald McDonald House, Meals-On-Wheels, Special Olympics and more. Daniel has mentored hundreds of inner-city youth, coached CYO baseball and football, tutored many children and chaired seven committees focused on improving the lives of others. His philosophy for community service is "don't talk service, do it." Daniel has been recognized for his services with the 1990 Silver Beaver Award and the Kentucky Colonel Award, the 2010 Indianapolis Colts Quarterback Award and the 2013 United Way Live United Volunteer of the Year Award.
Nancy Hughes | Evansville (Vanderburgh County)
Nominated by Pam Kirk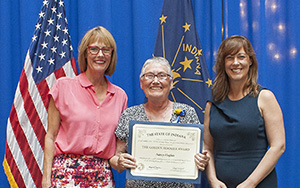 Nancy Hughes' retirement from her day job marked the beginning of her influence as a volunteer. Often referred to as the Easterseals Angel, Nancy has shown unmatched volunteer efforts for the Easterseals Rehabilitation Center in Evansville. For approximately 18 years, Nancy has spent every week (usually Monday through Thursday) performing a variety of tasks and activities without ever receiving a dime for her work. On any given day you might find her stuffing envelopes, counting donations raised by elementary students and even calling donors. Nancy also contributes countless hours organizing and working fundraising events such as the Tribute Dinner, the Easterseals Telethon and Golfing Fore Kids Scramble. Nancy's commitment, dedication and unsurpassed work ethic have made the Easterseals Rehabilitation Center more successful, impacting the entire Southwestern Indiana community.
Dorothy Kessner | Tell City (Perry County)
Nominated by Wendi Rich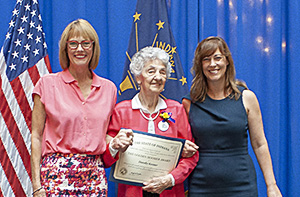 Dorothy Kessner has been an avid supporter of women and other members of her community for over seven decades. She has opened her heart and mind to people of all ages. Dorothy is a pioneer who has blazed new trails for women. In her county she was the first woman precinct committee member and established the first women's and girls' softball leagues. Dorothy has managed phone calls from women in domestic violence situations for many years. Her awards include prestigious honors such as the Distinguished Woman of Perry County Award and the Senior Service Award. Dorothy was also one of only two people to receive the Perry County Chamber of Distinguished Citizenship Award. She has profoundly cultivated a giving spirit in her community that goes above and beyond expectations.
Sandra Rans Rowe | Centerville (Wayne County)
Nominated by Mary Lou Griffey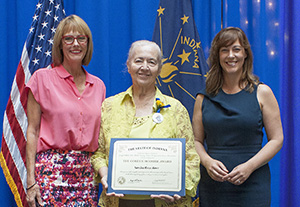 Sandra Rans Rowe has had a role in countless organizations throughout her community and has been serving on the board for many of them. Sandra currently works with the Good News Habitat for Humanity in Richmond and is serving as the secretary of the Richmond High School Alumni Board. Her community involvement includes working with the Wayne County Fair Board, the Wayne County Youth Center, Gingham Gals Extension Homemakers Club and more. Sandra Rowe continues to make a positive impact on Wayne County through her long-term commitment to various organizations and causes.
Frank Roales | Vincennes (Knox County)
Nominated by Patty Dreiman
Military veteran Frank Roales has dedicated over 13 years of service to the Knox County community. Frank spends most his time volunteering at the Indiana Military Museum, where he offers his expertise in developing an admirable museum collection. His work for the museum includes restoring tanks, planes, jet fighters and more. The museum is 100 percent volunteer-operated, and Frank's contributions helps keep the museum open to the public daily. Frank has also served as president of the Community Food Pantry, and you can find Frank and his wife supporting the American Cancer Society Relay for Life each spring. Frank's volunteer efforts have helped countless families in the Vincennes community gain access to food and have helped educate and bring pride to the community around important historical military events.
LeRoy Rothrock | Bloomington (Monroe County)
Nominated by Amy Wardlow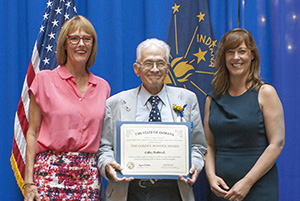 Leroy Rothrock is the type of volunteer who is the first one on site and the last to leave. He has devoted over 60 years to making his community a better place by working with the Hoosier Hills Food Bank, Wheeler Mission, the Hannah Center Crisis Pregnancy Center, Twin Lakes Recreation Center and Clear Creek Christian Church. He assists with operations, does custodial and carpentry work, serves as a greeter on a weekly basis, collects donations, and assists with fundraisers and special events. Leroy's philosophy is that if he sees a job that needs doing and he has the ability to do, it is his job to get it done. One of the most important jobs he does is making visits and phone calls to lonely seniors in his community. He also sends cards to remind vulnerable individuals that someone is thinking of them. Leroy is a great leader by example and inspires those around him every day.
Wilmer Schock | Delphi (Carroll County)
Nominated by Julia Leahy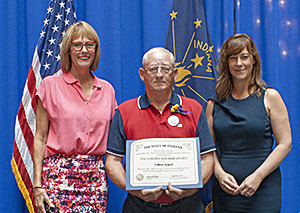 Vietnam veteran Wilmer Schock has been a volunteer fireman since 1964, serving as fire chief for 32 years. Wilmer has had a major impact in teaching children in his community about fire safety and getting the schools involved with fire prevention week to educate students how to escape a fire and encourage their parents to make a fire escape plan. He also volunteers annually at Hoosier Burn Camp Weekend at YMCA Camp Tecumseh, working with young fire victims from around the state. After 50 years of continual community service, Wilmer still does what he can for his community. He has stated, "I still do what I can for the community and this makes it all worthwhile."
Marilyn Skinner | Kokomo (Howard County)
Nominated by Susan Sciame-Giesecke, Ph.D.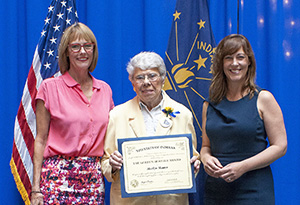 Marilyn Skinner has earned a solid reputation for dedication to civic engagement over the years. Marilyn began educating the public first as a schoolteacher, then a principal and then as the first female assistant superintendent in the Kokomo School Corporation. Marilyn's service has included sitting on the board for organizations such as the Kokomo School Education Foundation, Partners in Education, Urban Outreach Baby University and more. One of her notable achievements was raising $1.8 million as campaign chair for the United Way of Howard County in 2012. As a philanthropist and volunteer, it is safe to say that Marilyn has proven her worth to the Kokomo community and has positively impacted many people around her.
Michael Stephens | Versailles (Ripley County)
Nominated by Tena Brown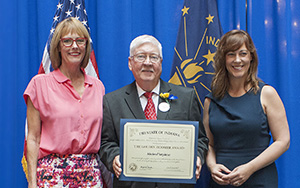 Michael Stephens has dedicated nearly 40 years to the Osgood Volunteer Fire Department, holding positions of president, vice president and grant coordinator. In addition to actively participating in rescue, Michael has worked with trainees, helped facilitate community events and assisted in obtaining funds for operations. Michael has also been working with the Osgood History Museum for five years and is currently serving as president. He embodies the characteristics of a community leader by example. Michael is always willing to help where needed and actively seeks to stay involved with supporting and improving his community.
Frederick Taylor, Jr. | Bloomington (Monroe County)
Nominated by Zachary Taylor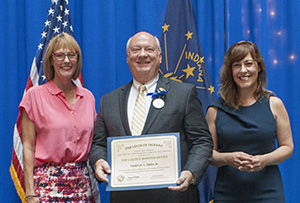 Purple Heart recipient Frederick Taylor, Jr. has volunteered over 10,000 hours selflessly serving veterans and their families both in Indiana and nationally. Frederick spends his time working at VA hospitals and other veteran organizations such as the American Legion, Purple Heart, Combat Infantrymen's Association and more. As recognition for his services, Frederick has been inducted into the Indiana Military Veterans Hall of Fame and has received the James Dean Foundation Humanitarian of the Year and IU Alumnus of the Year Award. Frederick has exemplified strong patriotism and great loyalty to his nation throughout his entire life.
Peggy Wampler | Columbus (Bartholomew County)
Nominated by Kashmira Mehta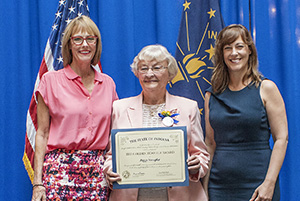 Peggy Wampler has been a selfless volunteer in her community for over 20 years, completing more than 10,000 hours of volunteer work. She offers her time to various organizations such as Thrive Alliance, Columbus Regional Hospital, Mill Race Center and the Salvation Army. For the last several years, Peggy has worked in the emergency department at the hospital every Friday night, helping at the information desk, delivering flowers to patients, tracking down wheelchairs or serving however she is needed. Peggy received the Republic's Woman of the Year Award in 2012 in appreciation for her lifelong contributions to Columbus.