Indiana Adult Education
Basic Skills. High School Equivalency. Short-term Training. Certifications and More.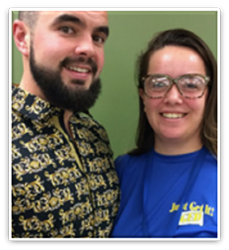 Success Story: Christy and Billy Greene
Christy Greene's formal education ended in the 7th grade and Billy dropped out of high school in the 10th grade. They are parents of two young sons, and both wanted to obtain their HSE. Christy attended classes at the LaPorte County Career and Technical Education Center first so that Billy could watch their kids. They then reversed roles and Billy began classes while he worked nights. Both earned HSEs last year.
Christy is now employed with Michigan City Area Schools as an instructional assistant in the adult education program and plans to enroll in the parapro IET. Billy is a grocery store manager and was appointed by the Mayor to the Michigan City Historic Review Board. He has aspirations to become involved in politics at a local level.
---
Success Story: Larry Taylor
Larry Taylor figured he could make more money by being self-employed doing home and yard maintenance than most people he knew working regular retail or restaurant jobs. So why not be his own boss?
But ultimately, there came a time when he realized he needed to improve himself and earn his high school equivalency. "Since getting my HSE, I have found a job that has the benefits my family needs and with my success at Blue River (Career Center), I have gained the confidence to run for a supervisor position," Taylor said.
---
Success Story: Hannah Silverthorn
After a horrible 9 ½-hour shift at 4 a.m. working in fast food, Silverthorn realized she needed to get out and grow up, so she started looking for other jobs. Without a high school diploma, however, she didn't have many options.
"Thinking the military accepted dropouts (nope), I tried to enlist only to find out I needed a high school diploma or equivalent, so my hunt began for classes," Silverthorn said.
She landed in Versailles taking adult education classes with River Valley Resources. With her HSE, Silverthorn now plans to enlist in a branch of the military and become a police officer.
---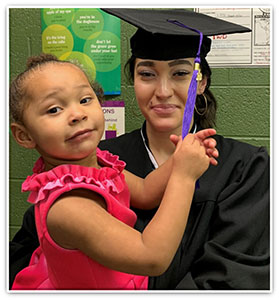 Success Story: Jayana Wolak
Before coming to the Hobart Adult Learning Center, Jayana Wolak was holding down a minimum wage job as she provided for her children. A single mother to a toddler with a baby on the way, she was feeling stuck.
Wolak knew in order to have better options, she would need to finish her education. In two months, Wolak completed every packet given to her and studied online at the library when the center wasn't open. She finished her ParaPro certification completed her HSE. Wolak is now working full-time to continue providing for her children as she continues her path towards a teaching career.
---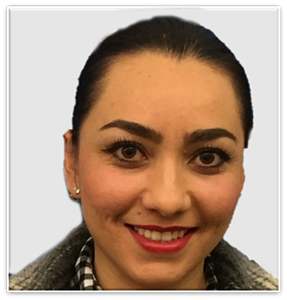 Success Story: Mayra Lopez
After moving to the United States from Mexico, Mayra Fernanda Jimenez Lopez had a vision to begin a new chapter in her life.

Lopez began that new chapter by enrolling in English Language Learner (ELL) classes through the Hammond adult education program. Once her English skills improved, she was encouraged by her husband to pursue an education.
One month after attending HSE preparation classes, Lopez was ready to take the test, and she passed. She plans to continue her education by going to college and getting a job.
---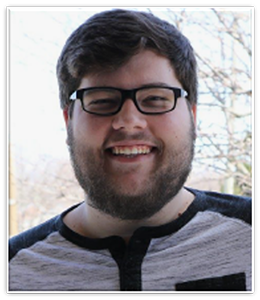 Success Story: Nathan Shook
A few years ago, South Bend resident Nathan Shook was participating in the Jobs for America's Graduates (JAG) program but dropped out to take online classes. He never completed his studies.
Then, while watching the movie "Good Will Hunting" he became inspired. That same day, Nathan called his former JAG teacher, who connected him to WorkOne. He started HSE classes with South Bend adult education and passed the TASC test in about four weeks.
At this point, Nathan started thinking again about a career. When he was in JAG, his teacher encouraged him to find a job using his speaking skills and his love of helping people. He chose real estate because he liked creating business plans.
A career coach arranged a meeting at Polack Realty, where he started an internship. Owner Jocelyn Polack told him that if he completed the internship and agreed to work for her afterward, she would cover his costs for real estate school. Nathan was thrilled.
"The internship is my favorite place to go every day," Nathan said. "I get bored easily, but real estate is different every day. You are going different places; you talk to different people; you can't sell the same way twice."
---
To see additional success stories from the IN Adult Education program check here: Success Story Archives