Main Content
As of January 2014, Indiana has adopted a new High School Equivalency (HSE) test. An expert panel of representatives from the Indiana Department of Correction (DOC), the Indiana Department of Education (DOE) and DWD were involved in evaluating all proposals offered, culminating in the selection of CTB/McGraw-Hill's TASC Test. In addition, Ivy Tech and the Indiana Association of Adult and Continuing Education provided expert analysis of the available testing options.
Free HSE Testing for HIP Plus Members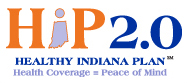 DWD has partnered with Anthem BlueCross BlueShield to provide HIP Plus members with free vouchers that cover the cost of the Indiana HSE test. We encourage you to make an appointment with your local testing center within the next 30 days or sooner. Bring the voucher to your local testing center. You can find a testing center in your area by visiting Indiana.tasctest.com or by calling Anthem Member Services at 1-866-408-6131 (TTY 711). When you go to the testing center you should bring:
The testing center will then enter a voucher code upon registration and Anthem Blue Cross BlueShield HIP Plus will cover all test costs.
Three webinars were held to discuss Anthem HIP and the HSE Vouchers. For detailed information about this initiative, watch any of these webinars through the links below. All three cover the same information, but may address different questions brought about by the participants.
Resources
Training
Please check back here soon for training updates.
Additional Training Resources
HSE Test Coordinators need to view this recording prior to providing HSE Test administrations.
HSE Examinee Registration Platform Training Webinar
DOE Memo and Exit Form for 16 and 17 Year Old Testers
High School Equivalency Form for Alternative Students
Equal Opportunity is the Law. Equal Opportunity Employer/Program Auxiliary aids and services are available upon request to individuals with disabilities.