Main Content
DWD's COVID-19 Information
IMPORTANT NOTICE
As Congress passed the COVID-19 CARES ACT, a major component is the temporary $600 weekly increase and special provisions for self-employed and independent contractor unemployed workers. While plans are being put into place to get the additional relief to impacted Hoosier workers as soon as possible, we are awaiting federal guidance to implement the programs. As soon as the final determinations are made, we will post the information on this page and Unemployment.IN.gov.
DWD closing central office, all WorkOne centers until further notice.
Latest Unemployment Insurance Information from DWD
The Indiana Department of Workforce Development (DWD) is reminding Hoosiers that applying for unemployment insurance benefits is completed electronically. Hoosiers can apply on a computer or smart phone.
For more information on unemployment insurance, visit Unemployment.IN.gov. There, Hoosiers can find the Claimant Handbook, Frequently Asked Questions, a link to online filing and more information. Please visit this site frequently with updated information.
Facebook Live Event Recording
Visit our FB page to find the recording on unemployment insurance & the federal stimulus act. (Additional format coming soon)
UI Basics For Claimants
Click to Download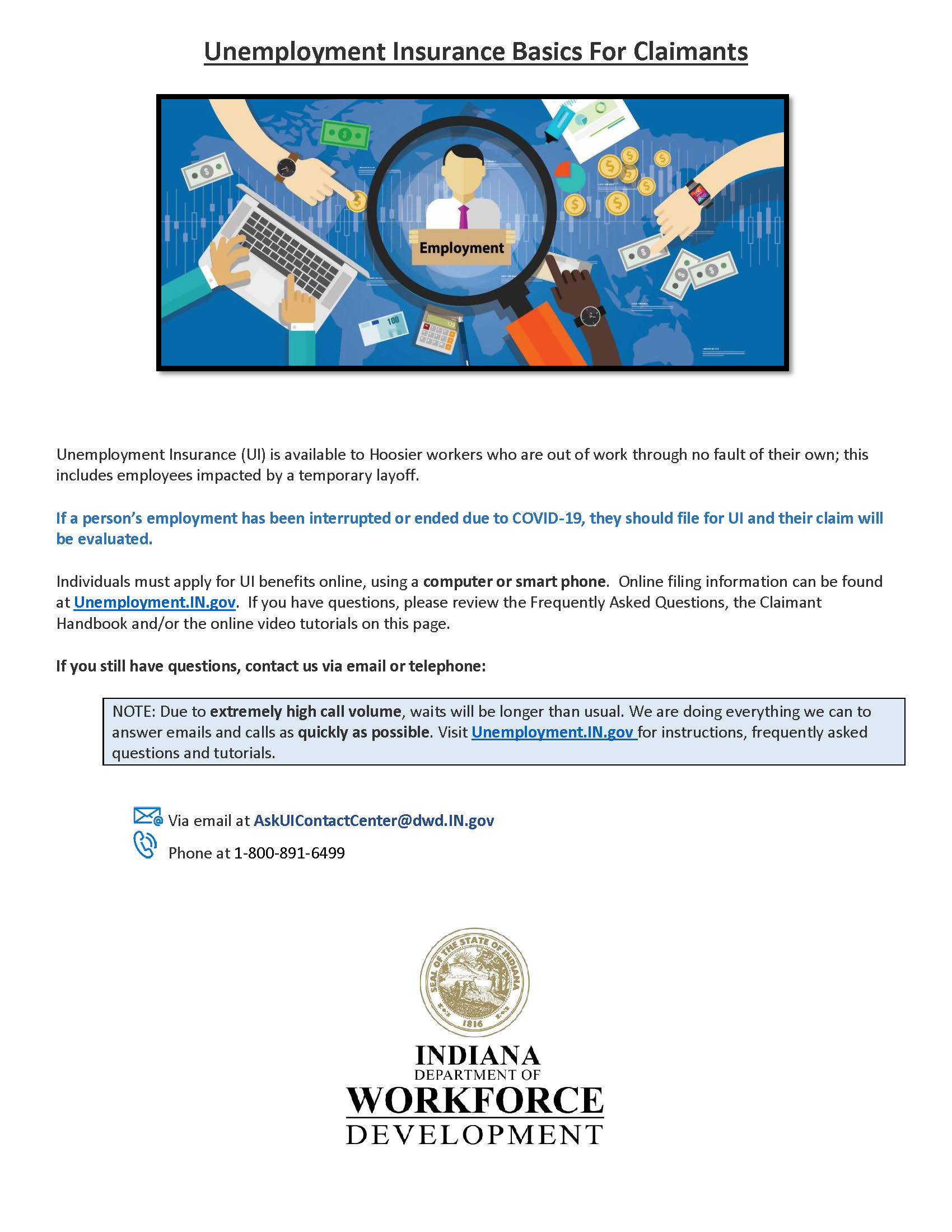 CARES Act Information
News and Events
DWD Affected Programs and Policies
High School Equivalency Testing

In response to the COVID-19 situation, the Department of Workforce Development has decided to waive the 60-day time limit for HSE testing (High School Equivalency Testing, DWD Policy 2019-01). Any candidate who has sat for the HSE test from January 17, 2020 on and has not completed all 5 tests shall have the 60-day time limit waived. This waiver shall remain in effect until further notice.

Indiana HSE candidates must complete the full battery of HSE tests within sixty (60) calendar days from the start of the first subtest. It is not necessary for candidates to pass all subtests during this timeframe. If the full battery of HSE tests remains incomplete on the sixty-first (61st) day, test scores for completed subtests will be invalidated. Candidates whose scores are invalidated must retake the invalidated tests utilizing a different test form. They will then have sixty (60) calendar days to complete the full HSE test battery.

Go to HSE page

.

Office for Career and Technical Schools

COVID-19 (Novel Coronavirus) Accreditation Information

OCTS is charged with insuring that "the premises and conditions under which the students work and study are sanitary, healthful, and safe according to modern standards." (IC 22-4.1-21-23 (6)) Please see the OCTS COVID-19 Memo for additional information. Go to OCTS page.

Adult Education

Grant Information

Due to the COVID-19 school and business closings throughout the state, the Department of Workforce Development/Office of Adult Education has extended the deadline for application submissions. (Continue to check this page and your emails for updates as this situation changes.) Applications for Adult Education and IELCE grant funding are due in our office by Friday, April 10, 2020, 5:00 P.M. EST. Go to Adult Ed Grants & Forms page.

For additional Adult Ed Updates, visit the Program Policy & Guidance page
Resources