Healthcare Worker Safety and Health
Welcome to the gateway for advancing the safety, health and prosperity of the Hoosier healthcare industry. In collaboration with Union Hospital, the Indiana Department of Labor has launched a statewide healthcare worker safety and health initiative. Learn more about this workplace safety and health initiative by watching the onsite media event and exploring this new webpage!

The February 5, 2013, onsite media launch event at Union Hospital in Terre Haute, Indiana, on the Indiana Department of Labor's YouTube Channel by clicking here.
Media Kit: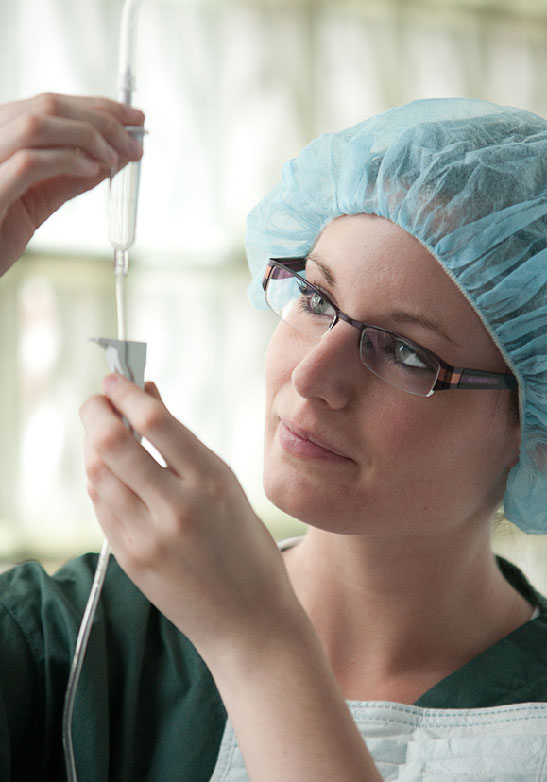 Why a develop an initiative for the healthcare industry? Nationally, the injury and illness rate for healthcare workers has been high while other industries have been successfully improving their health and safety records, and Indiana is no exception to this trend. In Indiana alone, there were more than 16,000 non-fatal work-related injuries and illnesses reported in the Hoosier healthcare industry.
The healthcare and social assistance industry employs more than 350,000 Hoosier workers, making it the state's second largest employer. Healthcare workers can be found in hospitals, clinics, dental offices, out-patient surgery centers, birthing centers as well as nursing homes and other assistance positions.
According to the most recent Bureau of Labor Statistics (BLS) report, the healthcare and social assistance industry now has the second highest injury and illness rate in Indiana. Over the years, the healthcare rate has remained high despite decreases in the injury rates in both manufacturing and construction, which have traditionally been considered industry categories with higher risk for worker injury and illness. In healthcare, an injury or illness leads to an average of five days away from work.
How are our healthcare workers becoming injured or ill on-the-job?
Musculoskeletal disorders
Sprains, strains and tears most commonly affecting the back, neck and shoulder. These injuries are usually caused by improper patient handling/lifting and repetitive stress.
Slip, trip and fall hazards
Most often attributed to patient handling issues and during facility cleaning and maintenance.
Workplace violence
Defined as threats of violence or physical violence against an employee by a patient, visitor or another employee.
Exposure to blood borne pathogens and other potentially infectious materials
Accidental needle sticks and cuts by medical instruments. Also, exposure to human blood and waste products.
Exposure to drug resistant diseases
Hospitals and extended care facilities have higher rates of exposure to MRSA and other multi-drug resistant infections.
Exposure to Tuberculosis (TB)
Tuberculosis is significantly more common in nursing homes and extended care facilities. Workers in those environments are much more likely to contract the disease.
Chemical and material safety issue
Exposure to strong disinfectants and cleaners.
The Key to Workplace Safety and Health: Be Proactive!
A Hoosier healthcare organization that embraced safe patient handling to reduce employee exposure to hazards associated with manually lifting, moving and transporting patients and residents was Union Hospital, Inc. By embracing safe patient handling Union Hospital was able to cut injuries nearly in half. Read more about their efforts here.
More information about Union Hospital, Inc. may be found online at http://www.myunionhospital.org/
Resources for Healthcare Worker Safety and Health
Blog
Current Blog Topic: Ergonomics Part 2 - Management commitment is critical to success.
A written program starts with a well-defined purpose, program goals, management leadership roles and employee involvement. Additional elements of the written program include: (More)
Free for the Taking! Download Free Workplace Safety and Health Signage
Please feel free to download, customize and print any applicable worker safety and health sign below. All the signage is available in Microsoft Word format. Your organization is welcome to customize any signage to fit your location as needed. This safety signage was provided by Union Hospital.
Needle Stick Safety
Ergonomic Safety - Sitting
Ergonomic Safety - Standing
Ergonomic Safety - Wrist Position
Ergonomic Safety - Lighting
Ergonomic Safety - Workstation Position
Stretching Program
Top 10 Causes for Incidents
Pulling a Patient up in Bed
Winter Weather
Safe Lifting Practices
7 Deadly Sins of Lifting
Safety Suggestions
Safety Culture
Beware of Routines
What can Employers do to reduce worker injury and illness?
Creating a safe and healthy working environment makes good business sense. Businesses which prioritize health and safety in the workplace are often rewarded with some of the following:
Lower workers compensation costs
Lower insurance costs
Fewer lost work days
Lower risk of OSHA fines and penalties
Higher employee retention
Higher employee productivity
Higher employee morale and
Better public relations with the community
To succeed in developing and implementing a workplace safety and health management system, employers must place an emphasis on developing policies and procedures focused on incident prevention. This means creating an actively engaged safety and health management program. Core components of an effective system include: management commitment, active and meaningful employee involvement, worksite analysis, hazard prevention and control as well as providingoccupational safety and health training for all levels of employees-managers, supervisors and front-line employees.

Working together, employers and employees in the healthcare industry can make an impact to reduce or eliminate many common health and safety hazards.
Specifically, what are some things employers can do to help?
Fostering a culture of workplace safety and health by providing the appropriate resources and assigning responsibility and authority for the development and implementation of policies and procedures. Providing financial resources for the procurement of safety and health equipment and personal protective equipment is critical.
Most injuries in healthcare are cause by unsafe patient handling. Ensure mechanical lift assistance is readily available to help employees move patients whenever possible.
Stock equipment with safety design features, like safety syringes to minimize the possibility of accidental needle sticks.
Investigate reports of near misses, find the root cause of the near miss and fix the issue.
Educate employees about the best ways to stay safe and the potential long term consequences of unsafe behaviors and acts.
Contact INSafe for technical assistance, guidance or free onsite OSHA consultation services.
Remember
Section 5(a)(1) of the Occupational Safety and Health Act (OSH Act) and Indiana Code 22-8-1.1, Section 2, known as the General Duty Clause, requires employers to provide employees with a workplace that is free of recognized hazards likely to cause death or serious physical harm.
Protecting your employees makes financial sense, it's the right thing to do and it's the law.
What can Employees do?
Workplace safety and health is as much the employee's responsibility as it is the employer's. To ensure a healthy and safe working environment, employees must follow all employer workplace safety and health policies and procedures. By working together, both employers and employees in the healthcare industry can make a real impact to reduce and eliminate many common occupational safety and health hazards.
What specifically can employees do to help ensure a safe and healthy workplace?
Always use lift assistance when moving a patient.
Keep all lift equipment charged and ready at all times.
Always use safety sharps (needles and scalpels designed to be safer for the user) when they are available. If safety sharps are not available, do not hesitate to make a request to your administrative services.
Report near-miss incidents immediately to prevent the incident from occurring again in the future.
Report workplace safety and health hazards immediately to your manager or supervisor.
Speak up! Make suggestions for workplace safety and health improvements. If you have a better, safer idea–share it with your manager or supervisor.
Ask for help when you need it–including training.
Follow all employer-developed safety and health policies and procedures.
Learn about Workplace Safety and Health Standards
The Occupational Safety and Health Administration (OSHA) requirements for healthcare facilities are addressed in specific standards for the general industry. Highlighted OSHA standards for healthcare facilities include:
The standards referenced above do not make up a comprehensive list. Additional OSHA standards may apply to your workplace. Be sure to review OSHA's general industry standards - 29 CFR 1910 for other requirements.

In addition, section 5(a)(1) of the Occupational Safety and Health Act (OSH Act) and Indiana Code 22-8-1.1, Section 2 , known as the General Duty Clause, requires employers to provide employees with a workplace that is free of recognized hazards likely to cause death or serious physical harm. A listing of federal OSHA's most frequently cited standards for healthcare is available by clicking here. Also, be sure to review the "Employer Resources" section at the bottom of this page for additional assistance and access to OSHA eTools, online tutorials, training, etc.
Additional Resources
The Indiana Department of Labor's INSafe division provides free, confidential and onsite OSHA consultation to Hoosier employers. Employers who proactively contact INSafe will not receive citations or be penalized with fines for safety and health hazards identified by INSafe Safety and Health Consultants. Rather, INSafe Consultants proactively work with employers and employees to identify and correct these hazards. Requests for onsite OSHA consultation will not initiate an IOSHA inspection. INSafe will not make information from the consultation available to IOSHA, provided the employer agrees to correct all serious hazards identified during the INSafe consultation within reasonably-discussed correction due dates.
For more information about INSafe, please visit the division's website by clicking here. Employers may complete and submit a request for free onsite OSHA consultation online at www.in.gov/dol/insafeconsultation.

Other helpful websites, resources and online training tools may be found below.