Indiana Dunes State Park receives over one million visitors annually. The vast majority of these visitors utilize one of the three main parking lots within the park. The lot that we refer to as the "pavilion lot" is generally the first to fill, with visitors then parking in the west lot, then finally the auxiliary lot as their third option.
On September 13, 2008, after receiving four days of continuous rainfall totaling nearly 16 inches, a 20,000-square-foot collapse occurred in the northeast corner of the pavilion lot. This was due to massive amounts of sheet runoff, which washed away the beach sand adjacent to the north edge of the parking lot. The hydraulic action undermined the parking lot, fully exposing a large section, ultimately resulting in the collapse. This north side erosion regularly occurs during normal rain events and a significant amount of labor is used to rectify this situation.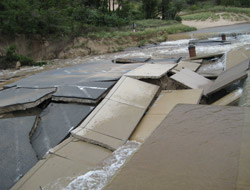 Indiana Dunes Daylighting Project
Pavilion Lot flooding
Dunes Creek is channeled under the pavilion lot in a gunnited 84-inch culvert pipe. There was previously a parking lot to the southeast of the main lot that also had a culvert containing Dunes Creek under it. Due to the condition of the lot and infrequent usage, the old lot was removed in 2006 and the native stream and wetland were restored. This "daylighting" project received multiple accolades for the ecological improvements to the area, including the Governor's Award for Environmental Excellence, the Association of Conservation Engineers award, and the EPA / Chicago Wilderness Conservation and Native Landscaping Award.
The solution to prevent this from happening again is to daylight the remaining portion of the stream under the pavilion lot, from the existing headwall to the north edge of the lot. After leaving the existing pipe, Dunes Creek currently flows from the lot, across the beach to Lake Michigan. We would like to connect the two open channels of the stream.
The recent collapse highlights the vulnerability of the area due to forcing the stream into a pipe. The damage would have been greater had the previous daylighting project not occurred because the restored wetland impounded a massive amount of the water before it breached the headwall and started flowing over the pavement. The breach would have occurred earlier and the collapse would have compounded and been more substantial without the wetland.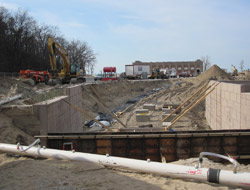 Indiana Dunes Daylighting Project
Creek Walls
The benefits of such a project are operational as well as ecological. It will mitigate further damage that could occur during floods, will reduce maintenance following normal rainfalls, will reduce the amount of E coli flowing into Lake Michigan (several sampling projects have shown the E coli count to be higher after leaving the pipe than at the entry of the pipe), will create additional fish habitat, and will be a natural restoration project that is "the right thing to do" environmentally. It will also potentially reduce the amount of beach closures due to E coli exceedences.