Article
Section
Division of Reclamation Awards
2015 Mid-Continent Regional Award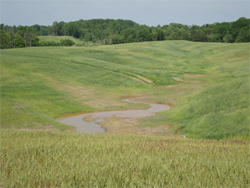 The Indiana Department of Natural Resources Division of Reclamation earned national recognition for its work to eliminate the Minnehaha slurry pond in Sullivan County.
The project was done at Abandoned Mines Land (AML) Site 2052, east of Dugger. It addressed urgent safety and environmental dangers posed by a weakened levee that was holding back the abandoned slurry pond. A sudden failure would have caused a massive discharge of water and slurry downstream, damaging property and threatening public health and safety.
The project repaired the levee, reclaimed the coal refuse, and remediated the acid mine drainage.
The honor, the 2015 Mid-Continent Regional Award, is from the U.S. Department of the Interior's Office of Surface Mining, Reclamation and Enforcement (OSMRE). It recognizes an exemplary reclamation project that emphasizes the elimination of dangerous health, safety and environmental problems resulting from abandoned mine lands within OSMRE's mid-continent region.