Article
Section
2011 Staff Awards
The Division of Reclamation is widely recognized as one of the most effective programs in the nation. It is a blend of seasoned veterans and energetic youth. Each brings an array of academic and technical certifications or professional licenses in the natural sciences, engineering, cultural and historical resources and the qualities of management and leadership.

Continuous and lifelong learning keeps staff abreast of the latest advances in technology and science. These collections of skill sets and expertise complement the lessons and experience of more than 25 years of practical experience as the division focuses upon its core mission: "protecting the health and safety of the citizens and environment of the State of Indiana."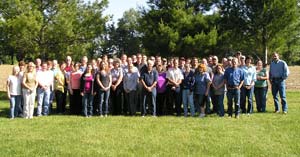 Once each year, the division pauses to acknowledge the contributions of staff, both as teams and as individuals. Following is a quick look at those staff that has made exceptional contributions to the success of the Indiana program.
Reclamationist of the Year – 2011
This is the highest honor awarded by the Division. This selection is made from all Outstanding Achievement (OA) Award nominees. Additional OA nominees follow.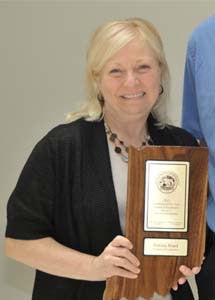 Patricia Beard
Dedication, innovation and a penchant for service were honored recently by the Indiana Department of Natural Resources. Those traits and more recently earned Ms. Patricia "Patty" Beard employee of the year honors in the IDNR-Division of Reclamation. As "Reclamationist of the Year", she qualified for even higher honors and has been selected for the 2011 Award of Excellence as the outstanding staffer for the entire IDNR-Bureau of Resource Management. Ms. Beard is a File Clerk in Reclamation's Jasonville Office. That is an office of nearly 60 staff while the Bureau consists of five divisions, including Reclamation, spreading Statewide and encompassing several hundred professional, technical and clerical staff. Division Director Bruce Stevens notes her level of achievement and is first to acknowledge her special and spirited qualifications for such tall honors.
"Patty has allowed us to make significant strides in managing our paper volume and embracing the electronic initiative of scanning both past and present paperwork. Not only does she now file documents, but she stamps all documents with an incoming stamp, electronically scans a majority of the documents, enters data into the Mine Database, and prints reports for several types of documents. She orders all office supplies, deals with many information requests via telephone, e-mail, and in person, creates paper copies of maps, creates DVD's of scanned images, and handles the telephone and front desk in the receptionist's absence" explains Stevens. "She has been critical to helping us move from paper to electronic format with new materials, and retrieving years of hard copy backlog. This is incredibly important as we embrace delivering services electronically. The old and the new must be coordinated and brought forward simultaneously to be credible and useful and Patty's efforts allow us to do all those things."
Bureau Director Ron McAhron is quick to point out more contributions. "Ms. Beard's efforts in advancing the Division of Reclamation's mobile computing effort and how these efforts in effect make any Division document accessible to staff regardless if they are near the Ohio River or north of Terre Haute. Ms. Beard's pleasant and helpful mannerism is gratefully appreciated and is enhanced by her knowledge of coal mine application documents and the organization of the file system, a great asset considering the complexity of coal mine permit applications. Ms. Beard is often the initial contact for the public to view files and she performs this task in a manner that provides them the information they are seeking in a timely and professional manner."

She has taken on projects, some of which have been languishing for years, and others which are brand new processes, to accomplish literally "rooms" worth of improvements. The following list gives some examples.
The supply room – The supply room has been thoroughly reorganized and supplies are efficiently ordered in a timely manner.
The legal library annex – the legal library annex was home to a large amount of dead files and many boxes of files which had already been to archives, but returned to Jasonville for specific requests. Patty took on the challenge of getting the old boxes back to Indianapolis, purchasing of the updated cartons for new archive submittals, filling the boxes, and even delivering them herself to Indianapolis.
The file room – She has reorganized the file room, provided space for the new large map scanner to reside there, searched at surplus, or ordered new items such as rolling carts, computer stands, work tables, and bookshelves to help aid all staff in using equipment or viewing the files in a helpful manner. She has removed and is still in process of archiving many dead files, pulling the final affected area maps and scanning them for posterity.
Her office – Patty streamlined her office to aid in the processing of water data entry, to scan incoming files for the file room, to print reports for nonsigs, to order supplies, and to simply be organized to handle all the multitude of tasks required of the file clerk position.

Outstanding Achievement Award Recipients – 2011
Ray Brumfiel – Project Manager Supervisor, Restoration Section
Nomination Summary - Ray has displayed an exceptional ability to handle any additional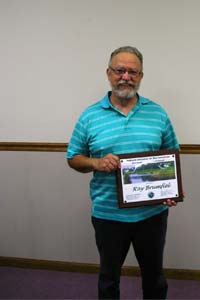 workload thrown at him. Each project manager and many other people rely on Ray to coordinate multiple activities and be at many events. This leads to Ray's workload increasing almost exponentially (i.e. if five project managers get one additional task, Ray gets 5 additional tasks).

Despite the multitude of opportunities Ray has to display a cynical or jaded attitude, he continues to be incredibly helpful and open-minded with his coworkers. You can always count on Ray to have the answer or insight to move forward and accomplish the results we would all like to see. He may wish we counted on him less, but we would never hear it from him.

The AML Program funding has increased significantly over the last few years. The construction budget has essentially tripled and accordingly both the number and types of projects have also increased. Ray's duties as the Supervisor of the AML Program Project Managers require him to oversee the management and construction progress on an array of project types. These can range from fairly straight forward, but numerous, tree planting sites, subsidence fill projects and general construction site maintenance to the more complex issues inherent with mine void grout stabilization activities.

Through it all Ray manages his group extremely well. He has the respect of his coworkers. He has the respect of the AML construction project contractors. He is fair, thoughtful and insightful. He is an asset to the AML program in more ways than simply as the Project Manager Supervisor. His institutional knowledge is extremely valuable. His familiarity and knowledge of historic components of the program are regularly called upon by all staff through his willingness to assist others.

Ray is also well versed in the Public Works contracting processes. This too was an asset over the past year when the need arose for Ray to play a larger role than typically necessary. Ray also voluntarily assumed the duties associated with processing AML construction project pay requests for a period last year. This allowed the requests to continue to flow through the State payment system and ensure the contractors received their payments in a timely manner.

Ray Brumfiel is consistent. He can always be relied upon to complete all tasks. Every year he performs in an outstanding manner. Ray Brumfiel is deserving of recognition for his Outstanding Achievement.
Brad Loveless - Inspector, Inspection and Enforcement Section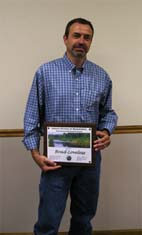 Brad demonstrates substantial knowledge and skill in his job-related areas, all the while keeping current with and effectively applying new work methods, skills, and technologies to complete his work. He has taken ownership for his own self-development, as evidenced by his acquisition of technological resources to help him do his work more effectively. Brad embraces and uses new practices or technologies to accomplish goals and solve problems.

Brad understands customers' expectations and he always delivers excellent customer service. He puts the wants and needs of others ahead of his own, and he shows interest in, anticipates, and responds timely to customer needs. Brad is good at maintaining personal accountability and ownership in the customer service he delivers. Brad spends the bulk of his time in the mines, working closely with operators to assist them in fulfilling their mining and reclamation responsibilities.

Brad identifies the sequence of tasks and the resources needed to achieve a goal, and he prioritizes key action steps. During this evaluation period, Brad achieved every statutory and program goal regarding permitting, inspections, and bond releases. He can consistently do this because he creates realistic schedules for meeting organizational goals.

Brad volunteers for additional assignments beyond his job description to further the Department's mission and outreach efforts. He continues to lead a team that awards the Division's annual excellence in mining award. He can be found on a routine basis at the Knox County public library, updating and maintaining the coal mine files.

Brad responds positively to new assignments. When asked to respond to OSM's request for detailed bond information at a particular site, he had the knowledge and skill to go online to access and utilize a bond calculation tool demonstrating that Division bond calculations are sufficient to ensure proper reclamation. Brad can always be counted upon to help out when needed.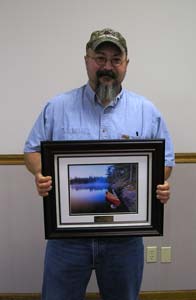 "ESPRIT DE CORPS" Winner 2011
Todd Huff – Hydrogeologist, Technical Services Section.

Nomination Summary - Todd Huff typically arrives around 7:00 and is one of the last to depart each day. He is quick to offer his help on anything from a water related problem to moving office furniture to cooking for the masses. He often sets appointments in the evening to meet a landowner's schedule rather than his own and, although his workload is huge, he does all of this consistently and with a cheerful attitude. He has developed an excellent relationship with those submitting permit applications and spends much time in conversation explaining rationale or requirements that helps them to comply with permit and performance requirements. He maintains a witty sense of humor throughout it all and exemplifies the qualities of an individual attaining an Esprit de Corps award.
Meritorious Service Recognition
30 Years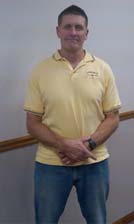 Jerry Heltsley, Program Coordinator – Technical Services Section.

One of the pioneers of the Division is still around. Jerry helped develop the office and trained many of the original inspectors. He is a great source of Division history.
25 Years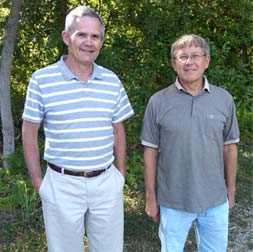 Greg Kraus (left), Mine Inspector, Inspection and Enforcement Section (far left), and Eric Langer, Permitting Section Head, Technical Services Section.

Two more great contributors to the Division and fine people.
20 Years
Scott Yoho, Survey Crew – Restoration Section.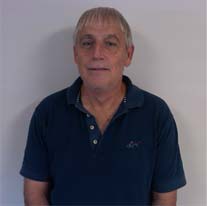 As the head of surveying for the Division, Scott has trained many assistants over the years while maintaining multiple and complex survey duties. His role has changed during the last 20 years and Scott been able to make the changes necessary ensuring that the Indiana Division of Reclamation is, and remains one of the best in the country.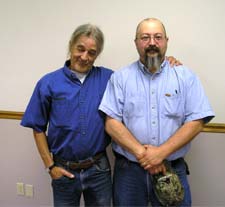 10 Years
Todd Huff, Hydrogeologist, and Tim Wright, Archaeologist.
Two members of Technical Services, two real characters, and two wonderful people.