Article
Section
2010 Awards
The Division of Reclamation is widely recognized as one of the most effective programs in the Nation. It is a blend of seasoned veterans and energetic youth. Each brings an array of academic and technical certifications in the natural sciences, engineering, cultural and historical resources, and the qualities of management and leadership. Continuous and lifelong learning keeps staff abreast of the latest advances in technology and science. These collections of skill sets and expertise complement the lessons and experience of more than 25 years of practical experience as the Division focuses upon its core mission: "protecting the health and safety of the citizens and environment of the State of Indiana."
Once each year the Division pauses to acknowledge the contributions of staff, both as teams and as individuals. Following is a quick look at those staff that has made exceptional contributions to the success of the Indiana program. For nomination criteria click here.
Reclamationist of the Year – 2010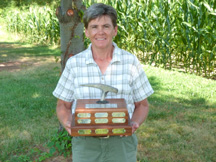 This is the highest honor awarded by the Division. This selection is made from all Outstanding Achievement (OA) Award nominees. Additional OA nominees follow.
Phyllis Hart, Blasting Specialist – Technical Services Section.
Nomination Summary - Phyllis Hart consistently accomplished the quarterly inspection of each coal mine assigned during the year 2010 and conducted partial inspections above and beyond those required. The extra inspections allowed her to remain current on blasting issues unique to each mine and allowed the identification and addressing of potential problems associated with blasting before they became issues. In addition to proactively avoiding blasting related problems, the extra effort made it possible to address citizen complaints concerning blasting operations, a relatively common occurrence when homes are located close to a coal mine, more efficiently and effectively. She acted on complaints in a professional and quick manner.
The major accomplishment in 2010 I want to call attention to is that Phyllis took on double duty during the absence of the other individual in her section for an extended period. This required much more office and field work and numerous additional permit related reviews. She did so without complaint. As a result, she had to quickly familiarize herself with the permitting requirements for specific operations and the operations themselves concerning mines she was not accustomed to being present at. She did so without issue.
Phyllis assists in providing an excellent training course to ensure adequate knowledge to industry personnel prior to their taking the test to become an Indiana Certified Blaster. This course emphasizes safety aspects and she understands consequences that could occur should inadequately trained individuals conduct blasting operations. She played an active role in organizing continuing education programs for certified Indiana coal mine blasters at ISMR and through the Tri-State Chapter of the International Society of Explosive Engineers. Continuing education is a requirement to maintain certification as a blaster in Indiana. This certification program is administered by the Division of Reclamation and has been carried out without incident and with total accuracy.
Phyllis was the lead staff member in two administrative appeals, one of which the decision was appealed and appealed again. She did an admirable job educating legal staff with the Department and with the Attorney Generals Office on the complex discipline of blasting and played the major role in discovery and responses resultant of discovery. Phyllis was very focused and calculating in the strategies employed in these proceedings.
Lastly, blasting is easily the most visible and volatile issue related to surface coal mining and brings about difficult matters and oftentimes quite passionate individuals. The term "self directed" is tossed around loosely in some circles these days. Phyllis is truly self directed and can be counted upon to fulfill her duties and obligations in a professional and exemplary manner. The Division of Reclamation is fortunate to have an individual of her quality.
Outstanding Achievement Award Recipients – 2010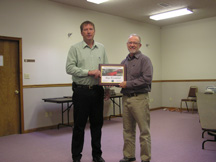 Ray Brumfiel – Project Manager Supervisor, Restoration Section.
Nomination Summary - AML construction activities in 2010 took on a whole new level of activity with the beginning of mine void grouting/stabilization projects. This new type of construction required that Ray become familiar with new construction tasks, new sets of problems, new and different levels of coordination between the contractor and the Division. Ray found the time in his schedule to learn the necessary facets of this type project, became familiar with the progress measurements and overall adapted to this new contract type in very short order.
Ray also was confronted during the construction season with a contractor who decided to challenge the adequacy of his contract payments for work claimed to be in great excess of the original contract requirements. Ray responded admirably to this task by completing a thorough review of the contract requirements, performing a field evaluation of the work actually completed, and negotiating an amiable conclusion to the contractor's issues.
Ray also worked with multiple individuals in DNR and the Division of Public Works to get payments to the subcontractors and suppliers of a contractor that defaulted on his contract. Also within this time period Ray completed a re-write of the procedures manual for the Project Managers activities.
This type of outstanding performance has almost become expected from one of the long term AML program employees, but still constitutes a level of outstanding achievement worthy of recognition.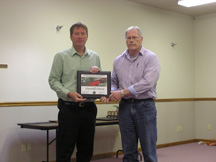 Darrell L. Davis - Inspector, Inspection and Enforcement Section.
Nomination Summary - In the past year Mr. Davis has completed inspection duties on numerous active mine sites including Peabody, Corning mine; Solar, Cannelburg and Midway; and the Peabody, Farmersburg mine. Active coal ash placement at locations he inspects in addition to vast areas of reclamation activities keep Darrell busy. Although many of his larger mine sites require much of his time, a new, smaller site near the office has required considerable attention in the past year.
The new operation has presented many challenges for Darrell. The initial permitting process was very in depth, requiring several attempts by the operator to provide an approvable plan. Each revision required Darrell's review and attention to ensure a final plan which was sound. With numerous landowner dealings and operator initiatives to obtain approval a plan was finalized.
With an approved permit in hand Darrell faced more challenges with initial startup. Drainage controls needed to be in place, however, the Army Corp. of Engineers stood in the way with their review of the mine plan. Without COE approval Darrell worked with the operator to implement temporary drainage control measures allowing initial start-up of operations. Once final COE approval was obtained more permanent drainage controls were implemented. As indicated, landowner concerns were present throughout the initial phases of the operation and remain an issue which Darrell continues to address. Due to this mine's location on a former fish and wildlife area, the public had many concerns as to the future use of the area. Darrell was able to wade through multiple and varied issues allowing operations to continue and respond to questions from the public. Through his continued efforts, Darrell is ensuring that this operation will continue to become a viable addition to Indiana's coal mining industry.

Robert Clay Dayson - Inspector, Inspection and Enforcement Section.
Nomination Summary - The key term to describing Robert Clay Dayson is extraordinary dedication. A Division staff member since January, 1990, Robert is always willing to aid other staff in completing inspections in their absence which motivates them to also help others. He typically aids the public when in the field when the need arises. He has stopped to aid motorists on numerous occasions in changing flat tires or assisted them with engine troubles. The public notices and remembers when a DNR employee takes the time to help. His mentoring does not stop with staff. In the past year Robert has given presentations on Geology and mining to the Oakland City, IN, boy scout troop and to the girl scout troop. He has given presentations to school children concerning the importance of his job and the DNR to the State of Indiana. In addition, he has given presentations to high school students on the importance of Geology, coal, oil and the DNR.
Mr. Dayson has championed the I-69 project on the areas it crosses numerous mines. He has worked through bond release processes and land use changes needed to ensure the forward movement of this project as it relates to areas currently permitted. This has greatly aided the mining companies, contractors, and associated landowners, as well as the State of Indiana in obtaining their goals for the I-69 project. Robert's innate problem solving ability and great knowledge of coal mining reflects in his solid judgment concerning requirements which must be met to move forward.
Robert has attended several public meetings concerning proposed and active coal mining operations in order to provide the public and operators with information necessary to allow for continuing this important industry in the State of Indiana. Many of these meetings, as well as presentations he has made, are conducted after normal work hours and on weekends. He is always available to conduct business with mine operators and the public any time day or night. All of his mine operators and local citizens have his cell number and typically call him after hours and on weekends to address issues at hand. The public can rest easier when they have answers to their questions when they need them.
Mark Bredehoft, Hydraulic Engineer, and Nick Lorenzo, AML Emergency Coordinator: Restoration Section.
Nomination Summary - The May 2010 subsidence of the four-lane SR-62 bridge over Stollberg Ditch on the west side of Chandler in Warrick County resulted in a vertical displacement of almost 24 inches to the road surface. This subsidence resulted in an unstable structure needing to be closed to traffic until temporary repairs could be made by INDOT. Once the temporary repairs were made, a longer term permanent solution was needed to guarantee the safety of motorists on this busy highway. Mark and Nick were asked to do whatever was necessary to facilitate the needed stabilization of this critical structure in as short a time period as possible.
Mark and Nick worked together with the geotechnical engineers from INDOT to develop an investigative drilling program. Utilizing an existing INDOT contract, and AML emergency program funding, the investigation was designed, implemented and completed within three months.
The results of the investigation were then used by Mark and Nick to design a mine stabilization project that included drilling and grout injection beneath the bridge and associated approach ramps. Critical engineering factors such as angle of draw, depth of unconsolidated materials, fracturing of the bedrock, and vertical movement of the mine void space were all included in the design developed for this reclamation site.
Approval was obtained from OSM to utilize more than $1.5M in emergency program supplemental funds to stabilize this bridge. Approval was obtained from the Department of Administration to contract this as an emergency project. Reclamation construction was begun in mid-September and completed in December. The excellent teamwork between Mark as the design engineer, and Nick as the on-site Project Manager, allowed for on-the-fly changes to the design and implementation as new information was discovered. Both employees worked closely with the contractor to determine how best to accomplish the goals of the project while being mindful of the budget established.
The completion of this very dangerous and technically challenging emergency project in such a short time period is remarkable by itself. What makes it a truly outstanding effort on the part of both Mark and Nick was the fact this was the very first mine stabilization/grouting project ever undertaken by the AML program.
Tim Corn - Inspector, Inspection and Enforcement Section.
Nomination Summary - Perhaps Tim's strongest suit is his commitment to quality customer service. He clearly understands customers' expectations, and he shows interest in, anticipates, and responds timely to customer needs.
Tim always provides excellent customer service while promptly responding to all customer requests. He maintains personal accountability and ownership in the customer service rendered. Tim routinely goes beyond basic service expectations to help customers implement solutions to enforcement and permitting issues. To make sure all stakeholders know what to expect, Tim provides customers with status reports and progress updates.
One particular situation occurred this past year that highlights Tim's commitment to outstanding customer service and furthering the Department's mission. It involved a flooded highway issue alongside an active coal mining operation. Tim's participation was to act more as a coordinator who occasionally had to move and shake (not to hard) to keep everything going in one direction.
Tim had noticed the dramatic expansion of the reclaimed watershed that drained into a mine pond that discharged towards a highway culvert. Tim coordinated efforts with Department personnel, the Warrick County Sheriff's office, the Indiana Department of Transportation, and the mining company to examine the site, determine causation, and implement an acceptable solution that worked for everybody and that didn't leave some feeling their perspective wasn't considered.
It is for all the above reasons that Tim Corn is recognized for Outstanding Achievement.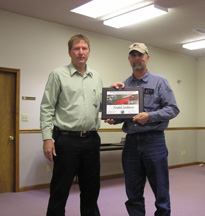 Todd Sellers - Inspector, Inspection and Enforcement Section.
Nomination Summary - Todd conducted all meetings as required in a professional manner. Requests for information and assistance are addressed in an appropriate, forthright, and timely manner. Todd maintains an open, approachable manner, and treats others fairly and respectfully. He strives to understand the data, the people, and their views before making decisions and taking action. He broaches sensitive issues in ways that allows rational and open discussion. Todd does a great job focusing on issues and interests instead of people or positions. He seeks to find common ground and preserve relationships.
Too has a knack for understanding customers' expectations. He shows genuine interest in customer concerns, and he will anticipate and responds timely to customer needs. Todd maintains personal accountability and ownership in his customer service rendered. He focuses on the customer's needs rather than his own. He goes beyond basic service expectations to help customers implement complete solutions to enforcement issues and problems. Todd recognizes adverse customer reactions and develops appropriate responses. Todd always provides excellent customer service.
Todd's exceptional customer service was on display in 2010 when he coordinated a meeting between EPA and industry representatives. The folks at the regional EPA office had never seen a coal mine before. Todd organized an inspection at the Bear Run Mine so the EPA folks could speak with the mine representatives and view for the first time in their lives an active slurry impoundment, sediment ponds, and a variety of other drainage control structures. The mine tour Todd organized allowed the EPA staffers to see first- hand an actual NPDES discharge point. This was the first time anyone took the initiative to provide a real visual aid for the EPA staff so they could have that image to take back with them and relate it to all the paperwork they process. For this and so many other reasons, Todd Sellers is a wonderful Ambassador for the Division of Reclamation.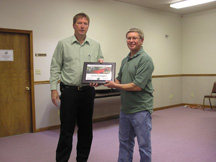 Eric R Langer – Permit Coordinator, Technical Services Section.
Nomination Summary - The position of Permit Coordinator is critical to the Title V permitting process. Mr. Langer is required to coordinate, lead, resolve issues and maintain records involved in the process. While this past year has been his first in this position, Eric has been with the Division for more than 24 years, and brings a wealth of experience to his new duties. This knowledge allows Eric to understand the role of every other position with the Division to better assist all of our customers in successfully negotiating the intricacies of I-SMCRA. Eric is excellent at anticipating upcoming issues and devising a means to involve the appropriate staff in the solution. The background he has with the agency gives him insight into the coordinated permitting process internally and with any and all external agencies and citizens.
Mr. Langer has an understanding of the needs and expectations of agency customers that is based on years of direct exposure. He deals with customers directly, professionally and truthfully. He takes ownership of inquires and is able to build good working relationships with different parties even when the applicable laws do not provide the answer customers may wish for. Eric is the primary point of contact for the submittal of new mining permit applications and for public and agency comments. He is constantly faced with requests that are out of the norm and technical situations that are particular to a specific geographical area and has shown an open minded approach to problem resolution and an ability to be creative in meeting the standards set by the agency.
Eric Langer has stepped into the position of Permit Coordinator with confidence and is a quick learner in regards to new or revised procedures and the maintenance of the mine data base and I am proud to acknowledge his "Outstanding Achievement.
Marvin Ellis – Field Operations Coordinator, Restoration Section.
Nomination Summary - Marvin has performed in an outstanding manner within the Division throughout the past year.
He always assumes a high level of responsibility in work tasks, handles the more difficult assignments, works on special projects, and makes significant contributions to the accomplishment of the work group goals and objectives. Marvin is an employee who has superb expertise and a reputation for excellence in his job. He can be relied upon to accomplish an endeavor. Marvin exhibits a good and sincere attitude toward others, demonstrates willingness to assist others, and contributes to the overall success of the Division.
The AML program's construction budget has more than tripled over the past several years and is very close to its peak. While every AML program employee has stepped up and taken on their share of the increased workload, there are a couple of areas where tasks cannot be spread over a group of a few people. One of these areas is construction contract administration which is handled by the Field Operations Coordinator, Marvin Ellis.
Marvin touches every project that gets bid. He is also involved with each project from design to completion. Either he does it or the AML construction program fails. Letting projects is one of the more difficult assignments in the AML program. The bidding and construction administration processes are very complex. Projects are let through the Department of Administration, Public Works Division through IDNR Division of Engineering. To let a project Marvin must deal with both. He has continually worked with them on improving process and building a great rapport with them. After the projects are let and before a contract and purchase order can be received, the projects are reviewed by other State agencies and he has to work with them as well. The AML program planned on bidding its first grouting project in 2010 with construction in 2011. Since it was the first one, a consultant was hired to design so AML program staff could learn about grouting. Marvin went through the process of hiring the consultant. Marvin also had to line-up contractor's to perform the work since there was only one pre-qualified in concrete grouting and pumping in the State. Three contractors are needed to bid a project. Marvin made contact with contractors and we now have 5 pre-qualified. A State highway bridge on SR 62 just west of Chandler was affected by a subsidence event. After AML staff coordinated with the Indiana Department of Transportation, Marvin quickly secured an emergency contract for the project. Marvin can be relied on to accomplish an endeavor.
In conclusion, these are just a few of the examples that show Marvin is outstanding. He does it year in and year out. He is constantly looking at the way things are done and how they can be improved. Marvin is an asset to the AML program, the Division of Reclamation, the Department of Natural Resources, and the State of Indiana.
"ESPRIT DE CORPS" Winner 2010
Vanessa Peterson – Administrative Assistant.
Nomination Summary - Few have made the positive impact to the Division as quickly as Vanessa Peterson. She brought with her knowledge and expertise in job duties and quickly made adjustment to DOR processes. She is extremely helpful to all needing her assistance be it on a payroll, travel, personnel, human resource related issue, or other endeavor beyond her typical job duties. Her demeanor and treatment of people is excellent. She makes all effort to ensure any staff member's issue is dealt with quickly and with professional mannerism. For these qualities Vanessa is an excellent candidate for the Esprit de Corps Award.

Meritorious Service Recognition
15 Years
Marcia Petty - Assistant Director, Administrative Services
20 Years
Forrest Brown, GIS Coordinator, Technical Services Section
Todd Sellers, Inspector, Inspections and Enforcement Section
Keith Swihart, Inspector, Inspections and Enforcement Section
Robert Clay Dayson, Inspector, Inspections and Enforcement Section
Tim Corn, Inspector, Inspections and Enforcement Section
Rick Grossman, Blasting Specialist, Technical Services Section
25 Years
Mark Stacy, Environmental Specialist, Restoration Section
Bob Jones, Staff Agronomist
Nick Lorenzo, AML Emergency Coordinator, Restoration Section