Article
Section
2012 Staff Awards
The Division of Reclamation is widely recognized as one of the most effective programs in the nation. It is a blend of seasoned veterans and energetic youth. Each brings an array of academic and technical certifications or professional licenses in the natural sciences, engineering, cultural and historical resources and the qualities of management and leadership.

Continuous and lifelong learning keeps staff abreast of the latest advances in technology and science. These collections of skill sets and expertise complement the lessons and experience of more than 25 years of practical experience as the division focuses upon its core mission: "protecting the health and safety of the citizens and environment of the State of Indiana."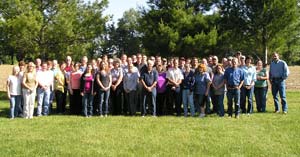 Once each year, the division pauses to acknowledge the contributions of staff, both as teams and as individuals. Following is a quick look at those staff that has made exceptional contributions to the success of the Indiana program.
2012 Bureau Employee of the Year
Bureau of Resource Management
Elizabeth (Betsy) Phillips
Elizabeth (Betsy) Phillips has been the driving force in a recent initiative that has saved the Division of Reclamation significant time and money and has allowed for enhanced job performance. The Division of Reclamation has voluminous mine permit files dating back to 1982. At this time, there have been nearly 500 permits issued since commencement of the program and these permit files often take up several feet of file space. There was no off-site protection of these documents in the event of disaster and there was no way for staff in the field to access information which necessitated their travel to the office quite often to gain necessary information in these files.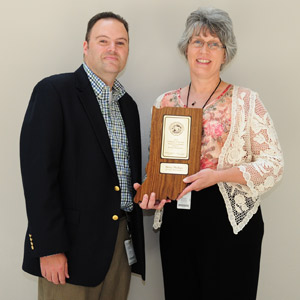 Bureau Chief Chris Smith presents the
Bureau Employee of the Year Award
to Elizabeth "Betsy" Phillips.
Ms. Phillips initiated the creation of an initiative to develop electronic files for these documents. This was through a major scanning program. First, Ms. Phillips had to determine proper electronic filing nomenclature for the effort, which she did. Thereafter, intern efforts were overseen by Ms. Phillips. At one time there were as many as six interns working at the Division of Reclamation to scan files. Ms. Phillips had to obtain and maintain all their necessary equipment, including computers and small scanners, as well as schedule and maintain large map scanners. The result was the eventual total scanning of the coal mine permitting files including permits themselves, permit revisions, water monitoring, bonding and bond release files, correspondence files, enforcement action files, etc… It has been a huge effort and Ms. Phillips has had to work very smart to ensure so much information being entered at one time was being done properly and going to the right locations, all the while troubleshooting issues, and maintaining her routine work. Today the Division of Reclamation has files backed up off-site in an electronic manner. The coal region exists in southwestern Indiana and mine inspectors from the Ohio River to north of Terre Haute can now simply link to these files via a mobile computing effort using lap tops, again all of which was figured out by Ms. Phillips. This has saved huge amounts of mileage on vehicles as inspectors can now electronically access what they had to previously come to the office to obtain. Moreover, it has allowed inspectors to spend more time in the field rather than in the office which allows them to maintain a better oversight of mining operations and to head off issues before they become problematic. It also allows Division of Reclamation to maintain less inspection staff because of these efficiencies. Although a dollar figure cannot easily be assessed to the enhancement of the Division of Reclamation by this initiative, it is no doubt in the six figure range per year. Should disaster (fire, tornado, etc…) have struck and these files have been destroyed then they could not have been replaced. From that perspective, no dollar figure can be put on Ms. Phillips' effort. Due to the tremendous effort performed along with the enhancements to the Division of Reclamation field staff as a result of the effort, I am pleased to nominate Elizabeth (Betsy) Phillips as the Employee of the Year for the Bureau of Resource Management.
2012 Reclamationist of the Year
This is the highest honor awarded by the Division.
This selection is made from all Outstanding Achievement (OA) Award nominees.
Additional OA nominees follow.
Steve Weinzapfel, Project Manager, Restoration Section.
Over the last year Steve Weinzapfel had an unusually heavy workload that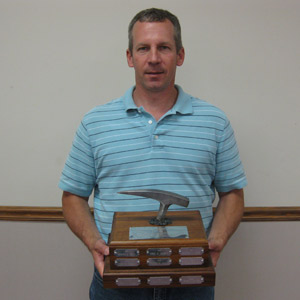 included some complex and high profile reclamation projects. In addition to meeting the challenges on these larger projects he completed all other assignments with excellent results.

During 2012 Steve managed 3 large construction projects (7.8 million dollars) and represented the Division on the Nevins Township water supply project (4.9 million dollars). When Craig Wolfe retired, Steve took on the Minnehaha Slurry project just before it went to bid. This project is over $ 6 million and is the largest single reclamation project of its kind bid by the Indiana AML program. He managed this very large project exceptionally well, meeting every challenge and achieving outstanding results. Minnehaha was completed ahead of the scheduled completion dates.

Steve also managed the Green Valley Bioreactor, CR 400 South, and numerous smaller unit priced contract projects in 2012. In each of his projects he managed changes and problems to bring about favorable outcomes and achieve outstanding results.

Steve met several challenges in 2012 while performing all other assignments in an outstanding manner. For his excellent effort in meeting these challenges and achieving outstanding results Steve Weinzapfel is recognized as the 2012 Reclamationist of the Year.
2012 Outstanding Achievement Award Recipients
Tim Corn – Inspector, Enforcement and Inspection Section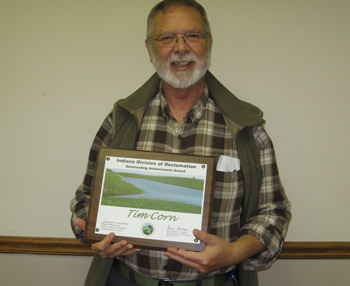 Tim possesses exceptional job knowledge and he puts that knowledge to use in working with coal operators to solve problems. For example, Tim convinced his operators that deep-ripping subsoil prior to topsoil replacement improves moisture retention and provides a better contact surface for laying topsoil. Tim's involvement in day to day operations at the mines has led to better communication and on the ground results. Once he convinces operators to run their dozers up and down the slope to leave cleat tracks to minimize erosion before and after seeding, Tim may realize his dream of erosion free slopes.
Tim has progressed beyond what we routinely consider good customer service. He responds promptly to all inquiries and he works very well with co-workers and other agency personnel. But what sets Tim apart is his genuine interest and diplomacy in handling others and difficult situations. Case in point, we received an e-mail from a citizen who on the surface seemed to be concerned with an operation mining within a road right-of-way. Tim took charge of the investigation and discovered the situation was more than it seemed. The citizen had anxiety issues and the sheer sight of an open pit so close to a road was unnerving. In fact, the citizen would drive miles out of his way just to avoid being near the operation. Tim was very empathetic, and he took substantial time with the citizen to describe the safety measures that were in place and Tim laid out a timeline for when mining and subsequent backfilling and grading would occur. After the initial response, Tim kept in contact with the citizen to keep him informed on how the operation was proceeding. This type of commitment to serving others is what sets Tim apart from the crowd.
Tim also found himself in an interesting situation that required his assistance. Someone had apparently taken a chainsaw to a slurry line in an attempt at environmental terrorism. Tim availed himself to law enforcement agencies, IDEM, and the mine operator in their efforts to investigate the sabotage and address clean up operations. Although not directly involved with the investigation and clean up, Tim was there to ensure the interests of the DOR were addressed. Tim could have easily left everything up to the mining company and the other agencies, but his commitment to seeing a job done property with positive outcomes underscores his belief in the Division's mission.
Todd Huff – Hydrogeologist, Technical Services Section

Mr. Huff has been the Division of Reclamation's surface and groundwater hydrologist for nearly ten years and served as a mine inspector prior to that. Mr. Huff's workload is as heavy as anyone in the entire Division yet he meets all required timeframes and meets all timeframes as put forth in the Division of Reclamation goal/objective documents.

Mr. Huff is one of the most committed individuals with his typical day starting around 7:00 a.m. and not ending until nearly 5:00 p.m. He is not on an alternative work schedule. He puts in these hours nearly every day yet never asks to be compensated for his time. He has incredible attention to detail. His supervisors have absolute certainty that upon a decision document being provided to them on a mine related permitting issue, it will be accurate and meet all of the requirements of the statute and regulations.

Mr. Huff is also known as the chef of the Division of Reclamation. He takes it upon himself to marinate the meats for any Division carry-in and then performs the cooking. It pleases him greatly to please others yet he downplays any appreciation put forth to him. He is also the first to volunteer to help others with moving items, cleaning up a mess, unloading supplies, etc… He is known as someone who will drop what they are doing to assist others. He also has a sense of humor that puts others at ease during times of difficulty.

Mr. Huff is also the Division of Reclamation staff member that responds to alleged damage to water wells via coal mining activities. Oftentimes this necessitates the need to meet these individuals in the evenings as many work through the day. Regardless, if it is at 7 p.m. or on a Saturday or Sunday, Mr. Huff accommodates their schedule and interacts in a very professional manner with them. He has done this several times in the past year alone.

Individuals of Todd Huff's character and work ethic are rare. Ownership of one's duties and decisions are something that puts him at a high level. The Department is fortunate to have an individual of Todd Huff's caliber, not only in a highly technical and complex scientific discipline, but also in regard to his teamwork and interpersonal relations with others.
Greg Kraus – Inspector, Inspection and Enforcement Section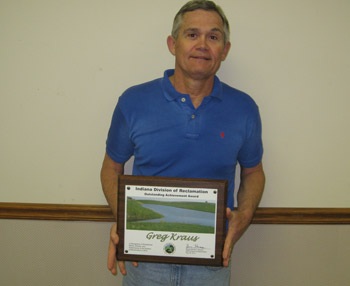 Year after year, Greg sets the bar high when it comes to meeting program targets. And year after year, Greg achieves 100% of his permitting, bond release and inspection deadlines. He can be counted upon to get the job done, not only on time, but thoroughly and with considerable forethought.

But it's not what Greg does within his normal scope of work that justifies this nomination for Outstanding Achievement. Greg enjoys furthering the Division's mission by volunteering his own time to get involved with local schools. He is a valued science fair judge for several of the local elementary schools. He participated in the Vigo County Soil and Water Conservation District's Fifth Grade Conservation/Environmental Field Days. This program is an excellent opportunity for students to learn about agriculture, the environment, and conservation. Greg does a presentation on geology and incorporates his work as a reclamation inspector. He also performs the same role for the Vermillion County Conservation Field Day for 6th graders. Maybe Greg is sowing the seeds for the next crop of inspectors.

I know Greg doesn't do this for the free donuts or the occasional lunch at Stoll's. He does this because he loves what he does. And who can deny Greg makes the best elderberry and plum wines many of us enjoy around the holidays.
Darrell L. Davis – Inspector, Inspection and Enforcement Section

Darrell Davis continues to be an extremely hard working and valuable employee with the Division. In the past year Darrell exhibited a level of commitment to the goals of the Division which is second to none. He can always be relied upon to go above and beyond that which is required in his field inspections and completes them with great detail and professionalism.

In the past year Darrell has completed all assignments ahead of schedule and has spent a considerable amount of time with operators on site outlining potential progress. Over the past year, Darrell has worked on numerous projects which have taken an extreme effort on his part.

A bond release at the Peabody Farmersburg mine, S-287, was conducted by Darrell this past year which included 852 acres grading and 496 acres revegetation. Bond releases of this size are very time consuming and attention to detail is a must to insure all requirements are met. Darrell performed this task without complaint. In addition, at the Farmersburg mine Darrell continued his efforts with Peabody staff to establish a timetable for reclamation efforts to complete the final reclamation of the site.

In addition, the Peabody, Corning Mine, S-308 refuse disposal efforts were in full force this past year. Darrell spent much time in correcting issues with the disposal efforts on site and working with Peabody personnel to insure that operators were conducted in accordance with approved plans.

Darrell also worked this year to correct water quality issues in the Aikman Creek drainage at the Solar Sources, Cannelburg Mine. Diversion DD13JS-1 was reconstructed to the natural standards required by their DOA-404 permit. This allows for proper function of the stream channel and has increased the water quality in the area.

Corrective measures were initiated at the Lilly, Landree mine dealing with drainage and sediment controls, water quality, basin construction, and coal refuse disposal. Over the past year this operation has been in constant turmoil with availability of finances, operational issues and personnel issues all of which Darrell has dealt with in order to maintain compliance with the approved plans and regulations.

It is clear that Darrell has been involved with many challenges in the past year and has met them with a continued positive outlook. Darrell is very deserving of Outstanding Achievement within the Division.
2012 Espirit de Corps Recipient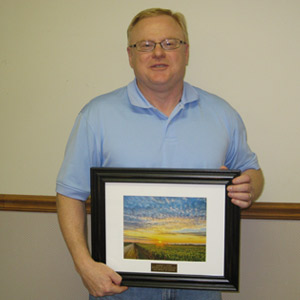 Bob Jones

Bob Jones is an individual that exemplifies the qualities of a staff member who provides counsel on issues be they soils, bond release, or performance standard related. Bob has had a very busy year with significant changes to his duties. Bob has been the Division's Soil Scientist and Agronomist the past several years. Upon the Bond Coordinator's retirement, Bob assumed his duties in combination with his current duties. He has since pulled double duty and has worked to update processes in the bond release areas and makes himself available to review areas in question and to coordinate with questions that arise as a result of OSM inspections. Bob's professional attitude and sound judgment make him a well respected individual within the office and within industry and the other agencies he deals with. Bob is a leader in the Soils/Prime Farmland Team that continues to provide informational field learning opportunities and publications to landowners owning and farmers producing crops on reclaimed farmland. Bob is a friend to all and is an excellent nominee for Esprit de Corps.
Meritorious Service Recognition
30 Years

(L-R) David Phillips – Assistant Director for Technical Services;
Kim Loveless, Records Manager, Technical Services Section; and,
Alan Johnson, Structural Engineer, Technical Services Section.

25 Years



Darrell Davis – Inspector, Inspection and Enforcement Section.

20 Years




(L-R) Kent Harting, Project Manager, Restoration Section;
Brock Mayes, Assistant Director for Inspections and Enforcement;
Colleen Baughman, AVS/Education Specialist, Technical Services Section; and,
Brad Loveless, Inspector, Inspection and Enforcement Section.
15 Years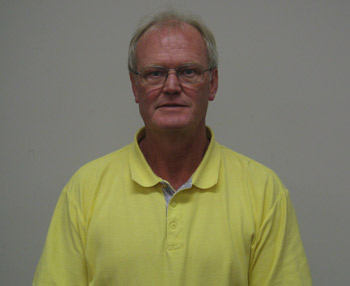 Marvin Ellis, Field Operations Coordinator, Restoration Section
5 Years




Kit Turpin, Project Manager, Restoration Section.