Article
Section
Finances
The Division of Reclamation receives funds from several sources. Each source is specified by state or federal legislation, and directed to specific program areas.
Reclamation Fund
This is the operating account for the overall administrative costs for the Division. The funding sources are primarily federal funds and non-general funds dedicated to the Division of Reclamation. Overall, approximately 65 percent of the Division of Reclamation operating budget is derived from federal funds.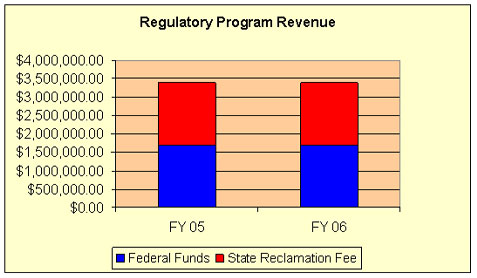 Regulatory Program
Federal dollars provide 50 percent of the funding for the Regulatory Program. The remaining 50 percent of the Regulatory Program is funded by fee revenues on each ton of coal mined in the State of Indiana with a fee much like the federal system. Operators are assessed $.05 1/2/ton surface and $0.03/ton underground for coal extracted in Indiana. This money is dedicated specifically to the Indiana DNR-Division of Reclamation and intended exclusively for the operation of the Indiana reclamation program.
There are several accounts dedicated to reclamation of mined lands as part of the Indiana Regulatory Program.
Bond Forfeiture Account
Mine operators are required by law to maintain performance bond for their operations. If they fail to comply with the surface mining laws, the permit is revoked and the bond is forfeited. This money must be used to restore the site to permit specific standards. All bond forfeiture money is site specific. If any funds remain after the site has been restored, the balance must be returned to the surety provider.
Post-77 Abandoned Mine Lands (AML) Account
The Post-77 AML Fund consists primarily of civil penalties assessed against operators and interest accrued over time. This money is used to restore abandoned coal mine sites that are not eligible for federal funds.
Bond Pool Account
The Bond Pool Fund is an alternative bonding system provided by state statute. In effect, the operator must maintain bond for grading purposes while the bond pool ensures adequate bond is always available for the full cost of remaining reclamation. This includes any remaining re-vegetation and financial obligations to restore the land to pre-mining productivity standards. The bond pool can only legally use funds paid by operators and deposited into the bond pool to restore those sites that are insured.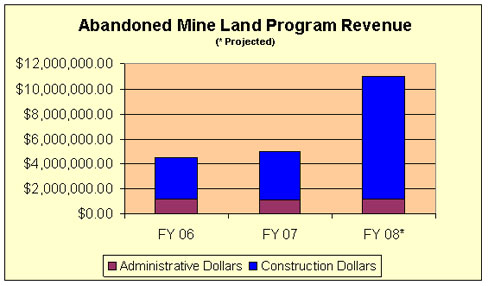 Cash Bond Account
This is site-specific cash bond from the operator that was deposited with the state in lieu of bond through a surety agency. Legally, it can only be held, returned upon restoration of the site, or forfeited and used to restore the specific bonded site. This money is held as collateral, but is not the property of the state.
Abandoned Mine Land Fund
This fund is used specifically to pay contractors for cleaning up coal mine sites abandoned prior to August 3, 1977. These funds are annual grants from the U.S. Department of Interior, Office of Surface Mining (OSMRE), resultant of a nationwide fee on each ton of coal mined. It is collected by the federal Office of Surface Mining. Every operator pays a fee on every ton of coal mined - $0.31 1/2/ton of surface mined; $0.13 1/2/ton of underground mined; and $0.09/ton of lignite. Indiana does not have any lignite deposits, but does have significant surface and underground reserves. The funds are collected by OSMRE and remain dedicated to the state from which the material was removed. It remains dedicated to the state entity responsible for the mining and restoration activities in that state. Indiana has received nearly $5 million dollars annually since implementation in 1982. This funding will increase to approximately $11 million annually beginning in 2008. With exception of the administrative portion of this grant, all other dollars literally go into the ground improving the condition of abandoned mine sites; restoring productivity; and, eliminating hazardous public safety, and environmentally degrading conditions.
Set Aside Fund
For many years federal law allowed 10 percent of federal Abandoned Mine Land Reclamation construction money to be deposited by the state into a Set Aside Fund as part of the annual federal grant. Federal grant requirements typically mandate that funds are used and the grant closed within three years of execution. The "set aside" allowed states to save for future unforeseeable and unpredictable events resulting from abandoned mine sites after the AML program has expired and funds for such work are no longer available. Congressional changes in 2006 modified federal law removing the 10 percent set aside provisions, although Indiana will maintain the money already set aside for these potential health and safety needs.
Acid Mine Drainage Abatement Fund
Recent changes to federal law now allows up to 30 percent of funds placed in an account that may be used solely for the purpose of acid mine drainage abatement. In accordance with federal law, these funds can only be used for allowable Abandoned Mine Land Program purposes.