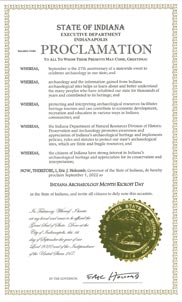 September is Archaeology Month in Indiana. The Division of Historic Preservation & Archaeology (DHPA) coordinates the event to encourage learning about Indiana archaeology. Universities, museums, organizations and individuals throughout the state host a variety of programs. These include archaeological laboratory open houses, artifact identifications, lectures on archaeological topics, archaeological excavations, and stewardship and avocational certification sessions.
Archaeology Month helps Hoosiers learn more about the discipline of archaeology, Indiana archaeological sites, and laws protecting those sites. A goal of this month is to increase public awareness and to minimize the myths and misconceptions commonly associated with the discipline. Learn more about this year's theme and how archaeology has played an important role in understanding Hoosier spirits.
Archaeology Month Poster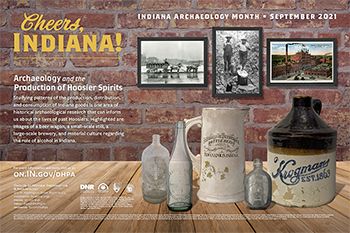 The 2021 Indiana Archaeology Month poster focuses on archaeology and the production of Hoosier spirits. Studying patterns of the production, distribution, and consumption of Indiana goods is one area of historical archaeological research that can inform us about the lives of past Hoosiers. Highlighted are images of a beer wagon, a small-scale still, a large-scale brewery, and material cultural regarding the role of alcohol in Indiana. We will not be having a printed poster this year, but the digital version is available. Cheers, Indiana!
2021 poster details

The 2021 Indiana Archaeology Month poster focuses on archaeology and the production of Hoosier spirits. Studying patterns of the production, distribution, and consumption of Indiana goods is one area of historical archaeological research that can inform us about the lives of past Hoosiers. Highlighted are the following images:

Beer wagon (upper left): This 1942 photograph shows a loaded wagon of the Indianapolis Brewing Company, Inc., and painted on the wagon is encouragement for the public to buy war bonds and stamps. In the background is the War Memorial Plaza and Indianapolis Marion County Public Library. Image courtesy of the Bass Photo Co. Collection, Indiana Historical Society.
Still (upper middle): Game Warden Oliver Neal (right) and his son Fred Neal are shown in 1926 at a still discovered in Brown County, Indiana. According to an obituary for him, Oliver Neal was born in Brown County in 1875 and served as State Park [Brown County] Superintendent and Game Warden when the park opened. Photographer Frank M. Hohenberger took the image, and his journal described the discovery of the still, an arrest, and court case which resulted. Hohenberger, also a newspaperman, spent forty-seven years recording the life, customs, and scenes of the hills of Brown County. From the Frank M. Hohenberger Photograph Collection, courtesy of The Lilly Library, Indiana University, Bloomington, Indiana.
Historical postcard (upper right): Shown is the Thieme & Wagner Brewery in Lafayette, Indiana. The brewery was founded in 1863 by Frederick August Thieme and John Wagner, both of whom were immigrants from Germany. Information from the Tippecanoe County Historical Association states that this was considered to be a state-of-the-art brewing factory in the 1800s and early 1900s. Image courtesy of Indiana Album, Shirley and Mike Benham Collection.

Artifacts (not to scale) shown left to right:

This whole glass bottle from Rich Lieber & Co., Indianapolis, was found during archaeological investigations at site 12Ma979 in downtown Indianapolis. This business appeared in the city directories from 1899-1905 and was described as manufacturers of mineral water and importers of wines, champagnes and whiskies. The bottle probably contained mineral water, which could be mixed in alcoholic drinks. Image courtesy of Tammy Seiter and Leeanne Mahoney, AECOM.
This glass bottle is from the Indianapolis Brewing Company. The company began in the late 1880s with the merger of three breweries in the city, and it closed in 1948. Image courtesy of the Indiana Historical Society. Also from the Indianapolis Brewing Company is the great beer pitcher, ca. 1900-1918. The brewery closed in 1918 because of Prohibition but reopened in 1933. The pitcher is in the collection of the Indiana State Museum and Historic Sites.
This glass bottle was discovered during archaeological investigations at 12Mo1083 in Indiana's Morgan-Monroe State Forest. It was manufactured in 1935 and used for "Old Quaker" brand rye whiskey. Old Quaker was manufactured at a distillery in Lawrenceburg, IN. The artifact was found during a Ball State University project funded in part by a grant from the National Park Service's Historic Preservation Fund Program, which is administered in Indiana by the DNR-DHPA. Photograph by Rachel Wonders, Applied Anthropology Laboratories, Ball State University.
The Krogmans stoneware whiskey jug was found in Evansville, Indiana during archaeological investigations by Cultural Resource Analysts, Inc. at site 12Vg1357. August Krogman established his distillery in Tell City, Indiana, as stated on the jug itself, in 1863, and the business closed by the advent of Prohibition. Image courtesy of Cultural Resource Analysts, Inc.
Information for Event Hosts
The Division of Historic Preservation and Archaeology will produce and distribute a press release regarding Indiana Archaeology Month. Other avenues of publicity utilized by the DHPA include: our archaeology e-newsletter, e-mail, the DHPA and DNR Facebook pages, and Eavesdropping - DHPA's e-newsletter.
The DHPA Calendar of Event webpage will post the complete calendar of events taking place around the state. Event hosts may refer the public to this page for information about the Month.
Event hosts are encouraged to cultivate as much local publicity for their events as possible. We suggest contacting local papers, radio stations, etc. for possible advertising options.
The DHPA has many educational materials available free of charge. If event hosts wish to have any of these items to help with publicity, or to hand out during the event, feel free to download as many as you like. Postage costs will be charged if physical copies are needed. Payment must be received prior to mailing any items.
If possible, we request that after Archaeology Month, event hosts provide the Division with summary information regarding their events. Information such as attendance numbers, comments regarding activities, suggestions for future events, etc. is very helpful for the Division staff to learn about and improve upon the continuing successes of Indiana Archaeology Month and public archaeology outreach.