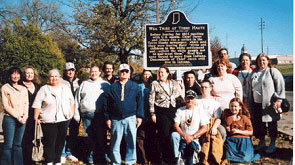 Descendents of Jacco Godfroy attended the 2004 dedication of the Wea Tribe at Terre Haute historical marker (photo courtesy of the Indiana Historical Bureau).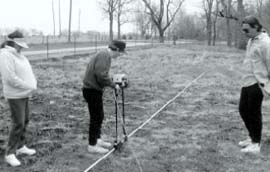 Dr. Mark Schurr, a University of Notre Dame Archaeologist, demonstrates the use of non-invasive technology on an archaeological site to Native Americans in the Prophetstown State Park area.
Indiana was the historic homeland of many Native American tribes including the Shawnee, Miami, Wea, Potawatomi, Delaware, Wyandot, Kickapoo, Piankashaw, Chickasaw and others. These tribes were removed from the state through a series of treaties in the late 18th and early 19th centuries. Several of these tribes still maintain a strong presence in Indiana:
* The Tribal Historic Preservation Office (THPO) for the Miami Tribe of Oklahoma is located in Fort Wayne. For more information on the Miami Tribe of Oklahoma you can visit the Myaamia Nation website.

* The Pokagon Band of Potawatomi have service areas and a casino in South Bend. More information on the Pokagon Band can be found on the Pokégnek Bodéwadmik Nation website.

* The Miami Nation of Indiana are not federally recognized but have a long tradition in Indiana. Today, they have a tribal headquarters in Peru, Indiana. You can learn much more about the Miami Nation of Indians of the State of Indiana by visiting their website.

Citizens from more than 100 different tribes and cultural groups live in Indiana today. They have vibrant cultures, traditions, and languages (some web resources about Native American languages: Miami, and Potawatomi.)
To learn about Native Americans throughout the United States and Canada, visit the American Indian Library Association, an affiliate of the American Library Association, for bibliographies, oral history projects, and other programs. The American Indian Resources page provides links to resources about Native Americans, both past and present.
While the DHPA currently does not have an active program promoting or researching present day Native Americans living in Indiana, one of our partners in preservation, the Indiana Historical Bureau, provides information on its website regarding Native Americans living in our state. Along with the Historical Bureau, the State of Indiana also has the Indiana Native American/Indian Affairs Commission, which studies and makes recommendations to appropriate federal, state and local governmental agencies in areas of concern to our state's native and non-native people and communities.
At the federal level, the Bureau of Indian Affairs offers information about services available from the federal government, programs, and resources for and about Native Americans.
Various Indiana museums discuss the history and impact that Native Americans have had not only on Indiana, but also United States history.
* Indiana State Museum – Indianapolis
* Eiteljorg Museum – Indianapolis
* Historic Forks of the Wabash – Huntington
* Fort Wayne History Center – Fort Wayne
* National Center for Great Lakes Native American Culture – Portland
* Native American Museum – Terre Haute