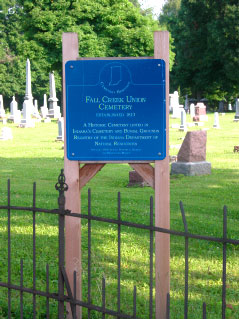 The Cemetery Heritage Sign Initiative helps highlight cemeteries in Indiana with identifiable signs due to increased public interest to mark these important cultural sites. The Cemetery Heritage Sign Initiative reinforces the importance of cemeteries as a resource for interpretation of Indiana's history, brings attention to Indiana's remaining cemeteries with a visual reminder of their importance, and raises awareness of the people and groups working to preserve and maintain Indiana's cemeteries.

The cost of each sign is $170 which includes the delivery of the sign. Applicants are responsible for the installation of the sign.

To learn how to obtain a Cemetery Heritage Sign, contact the DHPA at 317-232-1646 or DHPA@dnr.IN.gov.
Other Cemetery Resources