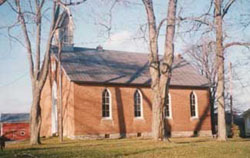 St. Johns School
Dillsboro, IN
Features to Look For:
Picturesque design, steep gabled roofs
Pointed arches for doors, windows, or proches
Lacey tracery work in wood, bargeboards, and other English Gothic elements
Porches and bay windows are more common than on previous styles
Several English architects and critics advocated Gothic (medieval) designs as being more natural than those of the classical era during the 1800's, creating a trend toward Gothic Revival architecture. It was the first 19th century architectural movement to rely heavily on Medieval rather than classical forms. Americans responded to the English lead by publishing house patterns advocating informal Gothic cottages such as A.J. Downing's The Architecture of Country Houses (1850). The Early Gothic Revival style was introduced to Indiana around 1840 and was popular until about 1860 in Indiana. Although not as popular as the Greek Revival style, this mode was quite common for churches. Congregations often chose Gothic Revival designs long after it ceased to be popular for houses.
Designers of this style favored the picturesque and irregular above all. Details were inspired by European (especially English) Gothic architecture. Builders used pointed arches and lace-like tracery, borrowed from Gothic architecture. Carpenters reproduced these elements in wood and applied them to windows, doors, gables, porches, and bay windows. Floor plans were irregular, and steeply pitched gable roofs were common. Materials ranged from frame cottages with vertical wood siding (called board-and-batten) to brick and stone structures. The applied, lacy detailing of this style gives Gothic Revival buildings a delicate appearance.
Examples of Early Gothic Revival Style
Click to enlarge