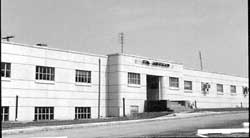 Sullivan High School
Vocational Arts Building
Sullivan, IN
Art Deco - Features To Look For:
Simple building form, flat roofs
Traditional details are abstracted
Geometrical details, stylized floral motifs
Stepped back upper stories
Art Moderne - Features To Look For:
Bold, simple, flat roofed building forms, curved corners
Use of steel panels, simple metal railings, and other non-traditional materials
Streamlined look, horizontal lines or elements
In the early 1920s, designers and artists attempted to create a method of design that would reflect the needs and aspirations of 20th century society without relying on past styles, while retaining a decorative tendency. The Exposition des Arts Decoratifs of 1925 in Paris set the trend for these styles (Hence the name Art Deco). Buildings took on simple forms with flat roofs. Taller buildings often had upper floors which were stepped back, giving the impression of an Aztec pyramid. Architects applied stylized floral or geometric ornamentation in striking patterns on Art Deco buildings. Designers abstracted traditional building features. Developers applied the Art Deco mode to many different building types, including tall office buildings, apartments, and occasionally, residences.
Art Moderne style buildings were similar to Art Deco in appearance, but were even more austere and functional. Architects gave Art Moderne buildings a strong horizontal emphasis, often accented by horizontal banding, or "streamlining." Although Indiana has few examples of Art Deco and Art Moderne, most large cities have at least one building to represent these modem styles. Most Art Deco or Art Moderne structures in Indiana were built between 1925 and 1940.
Examples of Art Deco and Art Moderne Styles


Leeson's Building


Leeson's Building

Home in Reeveston Place H.D.