Subscribe to the Preservation at the Crossroads newsletter
August 2022 Issue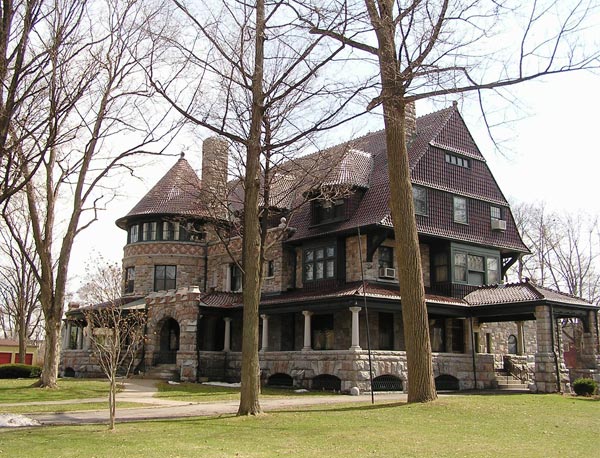 Oliver Mansion, West Washington Street Historic District, South Bend
Indiana Archaeology Month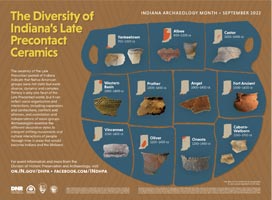 September will be the 27th annual celebration of archaeology in our state and the return of our printed commemorative posters. The 2022 design focuses on late Pre-contact pottery styles. The ceramics of the Late Pre-contact period of Indiana indicate that Native American groups were not static but were diverse, dynamic, and complex. We celebrate the diversity present in these unique artifacts.

If you would like a poster, stop by the DHPA office at 402 W. Washington Street, Room W274 in Indianapolis. You can also visit DHPA archaeologists at one of our Archaeology Month events, where we will have posters and other handouts (including printed copies of Early Peoples of Indiana), or you may contact our office to request a poster.

For more information on Archaeology Month, visit our website. We hope you will be able to attend some of the events that will take place, and we encourage you to follow our office and DNR on Facebook, where we will post more information about archaeology in Indiana and our theme for 2022.
We look forward to celebrating with you!
Cisterns—Water, Water, Everywhere!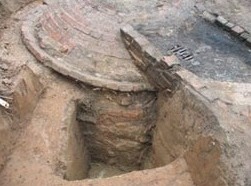 Water is an essential part of life. The human body is made up of about 60% of water. Domestically, it is crucial for drinking, cooking, cleaning, bathing, and watering gardens. Industrially, water is used for cleaning, cooling machinery, diluting solvents, making paper, pumping oil, and generating power, just to mention a few. Water is also used to put out fires.
Obtaining and storing water to satisfy our needs is an important part of our society. Before modern plumbing, cisterns were a common way to collect and store water for later use. However, not all cisterns were made the same. Human ingenuity can be seen archaeologically in how cisterns were constructed.
This article will explore a few examples of cisterns found at archaeological sites in Indianapolis.
Indiana State Library Display

The DHPA invites you to visit our two display cases at the Indiana State Library in Indianapolis. The exhibits are in honor of Indiana Archaeology Month and will be on display until late October. One case represents our Archaeology Month theme of Pre-contact Ceramics, and the other will offer a glimpse of the types of artifacts found in Indiana.
The cases are on the second floor in the Grand Hall (on the east side of the building). Archaeology team member and research archaeologist Rachel Sharkey put together this exhibit.
The image shows one of the cases from the 2021 display.
A Popular Tiny Toy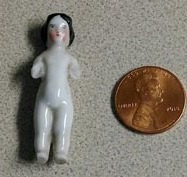 Toys provide insights into the lives of children and can be some of the most poignant, and interesting items found at archaeological sites. As they do today, toys in the past varied in size, and a diminutive form of doll made during the period of roughly 1850-1920 was very popular during those years.
Produced originally in Germany, the affordable, molded porcelain dolls had rigid arms and legs and came in sizes generally ranging from 1 to 18 inches tall. In the 19th century the smaller of these were known as "penny" dolls because of their price. Regardless of social class, children in many American homes could have had access to these toys, given their inexpensive cost and wide availability during the Victorian and early Edwardian periods.
This article will review these dolls referred to as "Frozen Charlottes".
Historic Preservation Fund (HPF) Grant Round for 2023

Application packets are available on the DHPA website for the Fiscal Year 2023 HPF Matching Grant Program at: https://www.in.gov/dnr/historic-preservation/help-for-owners/financial-assistance/grants/. This program assists certain types of local preservation projects conducted by municipal and county governments, not-for-profit organizations, and colleges and universities. This year's grant application deadline is Friday, Oct. 7 at 5 p.m. Projects selected for funding can begin around June 1, 2023, and must be completed within 24 months.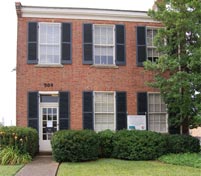 Eligible Projects: There are three project categories, and each one has its own application packet.
The Architectural & Historical Category assists preparation of nominations to the National Register of Historic Places for identified historic districts, design guidelines for use by local preservation commissions, local historic preservation plans, and plans and specifications to guide future rehabilitation of historic buildings that are listed in the National Register of Historic Places.
The Archaeological Category assists surveys to identify and document archaeology sites on DNR properties.
The Development Category assists rehabilitation of historic buildings that are listed in the National Register of Historic Places. Rehabilitated buildings must accept a protective covenant for a period of five, 10 or 15 years.
Match Requirements: HPF grant awards are made using federal funds from the National Park Service. Local matching funds are required from any nonfederal source. Most projects require a dollar-for-dollar local match for a 50:50 grant-to-match ratio; however, projects undertaken by Certified Local Government communities qualify for a 60:40 funding ratio, while applicants undertaking archaeological survey projects qualify for a 70:30 funding ratio. Applicants must document that they have all required nonfederal matching funds available at the time of application.

More information about the HPF Matching Grant Program can be found on the DHPA's website. For additional help or guidance, please contact the DHPA Grant Staff: Malia Vanaman at mvanaman@dnr.IN.gov or 317-232-1648, or Steve Kennedy at skennedy@dnr.IN.gov or 317-232-6981.
Historic Preservation Fund Archaeology Grants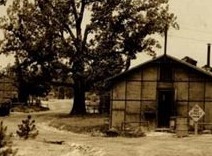 As described by the National Park Service ". . . the Historic Preservation Fund (HPF) is the funding source of the preservation awards to the States, Tribes, local governments, and non-profits… and the funding is provided by Outer Continental Shelf oil lease revenues, not tax dollars. The HPF uses revenues of a nonrenewable resource to benefit the preservation of other irreplaceable resources."
Each year, the Division of Historic Preservation & Archaeology receives funding under the HPF program administered by the U.S. Department of the Interior, National Park Service. The HPF program promotes historic preservation and archaeology in Indiana and benefits the State in meeting its goals for cultural resource management.
Read more about HPF archaeology grants here.
Preserving Historic Places: Indiana's Statewide Historic Preservation Conference will be held in South Bend, Sept. 27-30.
The conference will bring approximately 250 attendees from around the state, including historic preservation professionals and advocates, architects, realtors, and urban planners, to explore many of the adaptive reuse projects preserving South Bend's industrial and manufacturing legacy for the 21st century. Education and plenary sessions will take place at the Scottish Rite in downtown South Bend and at the University of Notre Dame.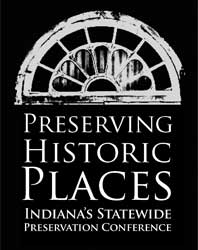 Tours and other events will highlight the West Washington Street Historic District, Tippecanoe Place, Palais Royale, and the Lauber Kitchen & Bar, a 19th century sheet metal company transformed into a restaurant.

Section 106 training and a CAMP workshop will take place on Tuesday, Sept. 27 for preservation professionals. A Saving Sacred Spaces workshop Tuesday afternoon will discuss practical guidance to help congregations harness their places for outreach and growth.

Wednesday, Sept. 28 and Thursday, Sept. 29 will focus on educational sessions at the Scottish Rite. A field session Wednesday morning will travel to Michigan for an in-depth tour of Fort St. Joseph, used 1691–1781, first as a major French commercial center focused on the fur trade and later as a British outpost during the American Revolution.

Mayor James Mueller is scheduled to welcome conference attendees at noon on Sept. 28 at the Scottish Rite. After lunch, Andrew Beckman, archivist at the Studebaker National Museum and photographer Louis Sabo will present a pictorial tour of South Bend. The dinner plenary features Aaron Perri, Executive Director of the City of South Bend Venues Parks & Arts, who will explain how reinvestment and restoration in the city's parks and mountains and long-range planning inspires residents and visitors.

Francesca Ammon, author of Bulldozer: Demolition and Clearance of the Postwar Landscape will present the Thursday, Sept. 29 plenary, sponsored by Indiana University's Cornelius O'Brien lecture series that is free and open to the public. She will discuss how the bulldozer helped win World War II but went on to create a "culture of clearance" in the U.S., removing swaths of historic buildings for suburban development and interstate highways.

On Friday, Sept. 30, the conference moves to the University of Notre Dame with a plenary talk from 9 to 10 a.m. on preservation's role in promoting sustainability by Steven Semes, director of the Michael Christopher Duda Center for Preservation, Resilience, and Sustainability. After the talk, attendees may wrap up their conference experience by enjoying a tour of the Basilica of the Sacred Heart, taking an in-depth look at its religious, historic, and architectural significance.

The conference is open to the public. Registration is $200 per person and $125 per student after Aug. 1 and includes all education sessions, a reception, a luncheon, and two dinners. Register and see the full conference schedule at: indianalandmarks.org/preserving-historic-places-conference.

The conference offers continuing education credits for architects, planners, and realtors for certain sessions and workshops, with certification by AIA Indiana, American Planning Association, and Indiana Professional Licensing Agency.

Preserving Historic Places: Indiana's Statewide Historic Preservation Conference is staged by the Indiana Department of Natural Resources, Division of Historic Preservation and Archaeology (DHPA), Indiana Landmarks, and Indiana University with support from the Saint Joseph County Council and the City of South Bend.
Recent Listings on the National Register
Between May and June 2022, Indiana added nine listings to the National Register of Historic Places. These listings—houses, a barn, a residential and commercial district, a bridge, a depot, a student center, and a parish district—have added approximately 103 historic resources to the National and State Registers.
Get information on Indiana properties listed in the National Register of Historic Places and the Indiana Register of Historic Sites and Structures.
Headstone Collection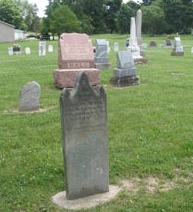 The DNR Division of Historic Preservation and Archaeology (DHPA) maintains the Indiana Cemetery and Burial Ground Registry, under Indiana law IC 4-21-1-13.5. This program, started in 2001, aims at locating and documenting every cemetery and burial ground in the state.
Due to the vast amount of information, the cemetery registry was included as part of DHPA's searchable SHAARD database. Cemetery information can also be accessed through the Indiana Historic Buildings, Bridges and Cemeteries (IHBBC) Map. Because there are about 20,000 cemeteries and burial grounds in Indiana, it is not possible at this time to document each grave marker, inscription, and name.
Recently, the Indiana Geological and Water Survey (IGWS) published information in E-GeoNews on its program documenting headstones from 189 cemeteries in Indiana. The information is housed in the IGWS digital assessment management system, ResourceSpace.
This is a wonderful resource for headstone research and especially for whetstone markers.
Listen to and Reading about History, Archaeology, and Historic Preservation
The DHPA staff loves podcasts, social media, and resources related to history, archaeology, and historic preservation. So, we're sharing our favorite finds. Each newsletter issue, we'll highlight something we've found or use.

The Preservation Technology Podcast is produced by the National Park Service and the National Center for Preservation Technology and Training. The series is "about the people and projects that are bringing innovation to preservation" and covers topics from technical advice, disaster planning, job hunting tips, cemeteries, international preservation, documenting disappearing resources, museum studies, oral history, cultural landscapes, and advocating and interpreting underrepresented communities. There are more than 100 podcast episodes, most averaging between 10 and 20 minutes. You can download episodes from the website (ncptt.nps.gov/articles/podcast/) or subscribe via iTunes/Apple Podcasts. If you aren't a podcast person, transcripts are also available online.

Are you on Instagram? Malia Vanaman, DHPA Grant Manager, recommends following: @restoringyourhistorichouse (if before and after pictures make you giddy, this one is for you!) and @historichousedogs (because combining adorable pups and cool historic houses is just brilliant).
What archaeology, architecture, or preservation pages do you follow? We want to know. Please send to: DHPAConnect@dnr.IN.gov.
Follow DHPA on Facebook
The Division of Historic Preservation & Archaeology is on Facebook. Follow us at www.facebook.com/INdhpa to find out about upcoming events, participate in trivia, find out about things to see and do throughout the state, and learn interesting facts about preservation in Indiana. If you have suggestions for topics or questions for future discussions let us know at DPHACoonnect@dnr.IN.gov.
DHPA Staff Programs
Staff from the DHPA offer free programs around the state on a variety of topics, including archaeology, Underground Railroad, cemeteries, and preservation. If you would like to learn more about these topics, check out the Calendar of Events and find the talk closest to you. Or, if your organization is looking for a speaker, contact the DHPA for potential speakers and topics.
Tell us what you think
We are always interested in your ideas. If there is a topic you would like to see in an upcoming issue of Preservation at the Crossroads, send us an e-mail at DHPAConnect@dnr.IN.gov.