Eavesdropping newsletter
Subscribe to the Eavesdropping newsletter
July 2021 Issue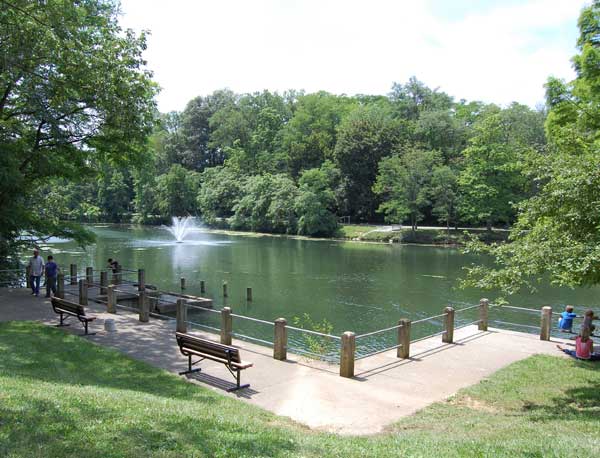 Glen Miller Park, Wayne County
Preservation Conference Moves Online
Preserving Historic Places, Indiana's Statewide Preservation Conference, offers inspiring lectures, educational sessions, tours, and networking opportunities. Indiana Landmarks, Indiana Division of Historic Preservation and Archaeology, and Indiana University join in sponsoring the annual conference, hosted virtually in 2021 with plans for South Bend in 2022.
Historic Preservation Fund FY2022 Grant Applications
The Division of Historic Preservation and Archaeology announces that Historic Preservation Fund (HPF) grant application packets for FY 2022 will be available online in early August. The application packets will be posted on the DHPA website.
There are three categories of projects: Architectural & Historical, Archaeological, and Acquisition & Development (rehabilitation). Please download the appropriate application packet and read all instructions carefully. Projects cannot begin until June 1, 2022 and must be completed by June 30, 2023. See an overview of the HPF program.
Applicants are encouraged to contact the DHPA grant staff: Malia Vanaman at 317-232-1648 or mvanaman@dnr.IN.gov; or Steve Kennedy at 317-232-6981 or skennedy@dnr.IN.gov to discuss potential projects and confirm eligibility of the applicant, activity, and property.
The deadline for proposals is Friday, October 8, 2020 at 5:00 p.m. This is not a postmark deadline; all proposals must be received at the DHPA by the deadline.

Indiana Archaeology Month
September will be the 26th annual statewide celebration of archaeology in our state. There will be events which the public can attend to learn more about archaeology.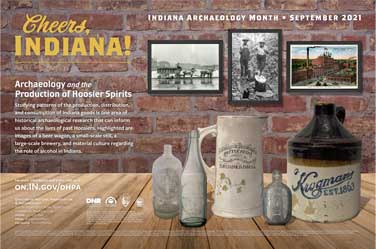 The 2021 Indiana Archaeology Month poster focuses on archaeology and the production of Hoosier spirits. Studying patterns of the production, distribution, and consumption of Indiana goods is one area of historical archaeological research that can inform us about the lives of past Hoosiers. Highlighted are images of a beer wagon, a small-scale still, a large-scale brewery, and material cultural regarding the role of alcohol in Indiana. We will not be having a printed poster this year, but the digital version. Cheers, Indiana!
Host an Archaeology Month Event
If your organization is planning on hosting an Indiana Archaeology Month event this year, please complete and submit the event host form. Hosting an event during Indiana Archaeology Month can be a creative and exciting activity. Past activities have included: archaeology lectures, exhibits with specifically developed handouts, mock excavations, archaeology laboratory open houses, archaeology children's activities, artifact identifications and more.
The benefits of participating in Indiana Archaeology Month and promoting archaeology can include, but are not limited to:
archaeological resources facilitate heritage tourism and contribute to economic development in various ways in Indiana communities
archaeology promotes community involvement and provides information on our individual and collective histories, assisting in enhancing and planning our futures
the information gained from archaeological sites gives Hoosiers an enhanced appreciation, interpretation and awareness of the importance of archaeological resources and their role in understanding past cultures and historic events in our state, as well as promotes knowledge of the contributions of cultural diversity to our state's development and heritage
archaeology can contribute to young people's understanding of the past and its importance


Recent Listings on the National Register
From November 2020, through May 2021, Indiana added 33 listings to the National Register of Historic Places. These listings—houses; commercial and residential districts; religious buildings; cemeteries; a farmstead; bridges; a depot; industrial buildings; a school; government buildings; a state park; and a drive-in movie theater—have added approximately 739 historic resources to the National and State Registers.
Get information on Indiana properties listed in the National Register of Historic Places and the Indiana Register of Historic Sites and Structures here. Read those recently listed here.
Tell us what you think!
We are always interested in your ideas. If there is a topic you would like to see in an upcoming issue of Eavesdropping, send us an e-mail.