Subscribe to the Preservation at the Crossroads newsletter
DHPA Awards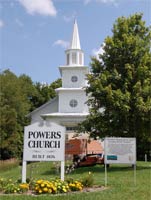 The DNR Division of Historic Preservation & Archaeology (DHPA) presents awards annually to recognize outstanding efforts in historic preservation and archaeology. This year, the DHPA recognizes three individuals or entities for their archaeological and preservation efforts. Cheryl Munson is receiving the Indiana Archaeology Award, the Powers Church and Cemetery Association is receiving the Indiana Historic Preservation Award for Outstanding Grant-Assisted Rehabilitation, and the Garfield Park Neighbors Beautification and Walkability Committee is receiving the Indiana Historic Preservation Award for Efforts to Preserve the Garfield Drive Historic District.

The awards will be presented by Beth McCord, the director of the DHPA, and the rest of the division's staff at local award ceremonies this fall.
Read more about the recipients.
PHP Conference Wrap-Up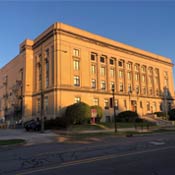 It took three years, but we finally made it to South Bend for the Preserving Historic Places Conference, hosted in partnership with Indiana Landmarks and Indiana University! Over 260 attendees participated in over 20 educational and plenary sessions, CAMP and Section 106 training.
We lucked out with beautiful fall weather for the field session at Fort St. Joseph in Michigan, the West Washington Street Open Houses tour, and the morning walk through the University of Notre Dame's campus to explore the Basilica of the Sacred Heart. We are fortunate to have been able to visit some of the fantastic venues South Bend has to offer, including the Palais Royale, the Scottish Rite Masonic Temple, and the Tippecanoe Place Restaurant. Many thanks to the attendees, speakers, staff, and the City of South Bend who made this year's conference a success.

Save the Date for the Preserving Historic Places Conference in Muncie, September 19-22, 2023!

A call for session proposals will open in December 2022.
Not Just Another Brick in the Wall: An Overview to Proper Maintenance of Historic Masonry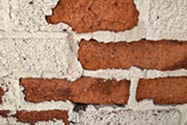 One of the challenges that the DHPA staff encounters in our work are buildings that have unfortunately received improper maintenance in the past, resulting in damage that has often led to further preservation issues. We frequently see this with historic masonry that has not been maintained or has suffered inappropriate rehabilitation methods that create or exacerbate water infiltration problems. This article will cover some common issues with historic masonry and provide links to resources that owners of historic properties should reference when planning work on their brick buildings or foundations.

When starting a masonry project, one of the best practices is to require a test area be completed before releasing the contractor to do the entirety of the building. Testing of any masonry repair or cleaning in a small, inconspicuous area of the building allows the building owner to make sure that the proposed work will not damage the masonry. This applies to everything from a gentle cleaning to complete repointing of the mortar joints.
French Vernacular Architectural Design and Construction Methods in Colonial North America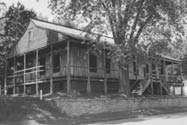 While DHPA archaeologist Wade Tharp began working on his master's thesis, he examined published and unpublished historical archaeological research, historical documents research, and datable extant buildings to develop a temporal and geographic sequence of French colonial architectural designs and construction methods, particularly the poteau-en-terre (posts-in-ground) and poteaux-sur-solle (posts-on-sill) elements in vernacular buildings, from the Western Great Lakes region to Louisiana, dating from 1690 to 1850.
DHPA Staff Updates

Since the summer, there have been a few staffing updates and changes here at DHPA. In June, we said goodbye to Director of Special Initiatives Jeannie Regan-Dinius after 21 years of employment. Her adventures in preservation continue as she is now the Director of Historic Preservation at Crown Hill Cemetery in Indianapolis.

Danielle Kauffmann, formerly the Historic Structures Team Lead in the Environmental Review Section of DHPA is now the Director of Engagement at DHPA. Since August, she now handles many of Jeannie's former duties, including planning the annual Preserving Historic Places Conference, maintaining and updating DHPA's Facebook page, website, and Qualified Professionals Roster, and acting as the SHAARD administrator. She also will run special initiatives in the office, including Green Book sites, Indian Boarding School sites, Jewish History, and Underground Railroad.

In September, Research Archaeologist Rachel Sharkey, accepted a new position as the Director of Public Archaeology within The Archaeological Research Institute in Lawrenceburg, Indiana. Rachel worked at DHPA for 11 years and will be missed!

In October, Toni Giffin returned to DHPA as the new Historic Structures Team Lead in the Environmental Review Section of DHPA. Many of you might recall that Toni worked at DHPA previously as a structures reviewer, primarily conducting INDOT reviews. Since then, she has worked in the environmental review field focusing on Section 106 and NEPA at INDOT, FDOT, and in the private sector. Welcome back Toni!

By the next issue of Preservation at the Crossroads, we hope to announce a new archaeologist and a cemetery coordinator.
Recent Listings on the National Register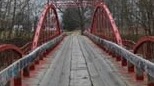 In August 2022, Indiana added 10 listings to the National Register of Historic Places. These listings—houses; public libraries; bridges; and a factory building—have added approximately 16 historic resources to the national and state registers.
For information on Indiana properties listed in the National Register of Historic Places and the Indiana Register of Historic Sites and Structures, go to https://secure.in.gov/apps/dnr/shaard/welcome.html.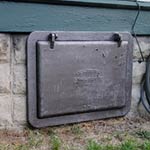 Old House Systems

Do you live in an old home? Often, there are remnants of older systems used for heat, lighting, plumbing, and hot water that once were essential to the comfort of occupants and functionality of the home.
Read more about some clues and see some example "artifacts" that can explain how your old home once worked.
Listening to and Reading about History, Archaeology, and Historic Preservation
The DHPA staff loves podcasts, social media, and resources related to history, archaeology, and historic preservation. So, we thought we'd share with you our favorite finds. Each newsletter issue, we'll highlight something we've found or use.

If you enjoyed following Malia's recommendation of @historichousedogs, here's one for you cat people. Take a peek at @historichousecats.

November is Native American Heritage Month. You can join the conversation on social media by using #IndigenousHeritageMonth or #NativeAmericanHeritageMonth. Learn more at https://nativeamericanheritagemonth.gov/ and https://www.nps.gov/subjects/npscelebrates/native-american-heritage-month.htm.

What archaeology, architecture, or preservation pages do you follow? We want to know at DHPAConnect@dnr.IN.gov.
Follow DHPA on Facebook
The Division of Historic Preservation & Archaeology is on Facebook! Follow us at www.facebook.com/INdhpa to find out about upcoming events, participate in trivia, find out about things to see and do throughout the state, and learn interesting facts about preservation and archaeology in Indiana.

If you have suggestions for topics or questions for future discussions let us know at dhpaconnect@dnr.IN.gov.
Tell us what you think
We are always interested in your ideas. If there is a topic you would like to see in an upcoming issue of Preservation at the Crossroads, e-mail us at DHPAConnect@dnr.IN.gov.