Proposed Treatment Areas for 2020
May caterpillar treatment area
Two treatments per area.
County
Area
Proposed Product
Maps
Huntington
Huntington Btk 20
2x Btk
Porter
Westville Btk 20
2x Btk
Street
Aerial
June mating disruption area
One treatment per area.
County
Area
Proposed Product
Maps
Marshall
Green Twp MD 20
SPLAT GM-Organic
Street
Aerial
Huntington
Huntington MD 20
SPLAT GM-Organic
Street
Aerial
Maps of proposed treatment areas for 2020
Interactive map
Select the image below to open the map in a new browser window. Enter an address in the search bar on the top left of the map to find a location's proximity to the proposed treatment areas.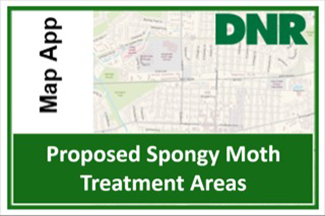 Public meetings
Representatives from the Division of Entomology & Plant Pathology will be seeking public input and answering questions at the following public meetings:
County
Date
Location
Time
Huntington
Wednesday,
Jan. 29
Huntington City/Township Public Library
255 West Park Drive, Huntington
6 p.m. ET
Marshall
Thursday,
Jan. 30
Argos Public Library
142 N. Michigan Street, Argos
6 p.m. ET
Porter
Wednesday,
Feb. 5
Valparaiso Public Library
103 Jefferson Street, Valparaiso
6 p.m. CT
Public comment
If unable to attend a meeting, view the information below:
The public can also mail questions and comments on the proposed treatments to the address below. The comment period ends Friday, March 6, 2020 at 4:30 p.m.
Mail to:
Gypsy Moth 2020
Indiana DNR, Division of Entomology & Plant Pathology
402 W. Washington St., W-290
Indianapolis, IN 46204-2739
Phone: 317-232-4120
Toll Free Number: 866-NO-EXOTIC (866-663-9684)
E-mail: DEPP@dnr.IN.gov
Website: gypsymoth.IN.gov
Gypsy Moth treatment product labels & SDS sheets
Mating disruption information
Larval treatment information
Cooperative Slow the Spread Gypsy Moth Project