Outdoor Indiana - May/June 2020 - Reader Photos
Each issue, Outdoor Indiana staff will select reader submitted photos to feature in the magazine. If you would like the chance to be featured, please submit your photo, along with your name and phone number to:
Please, only submit original photography that you have taken. Do not send files over 9 MB in size. JPG format is preferred.
May/June 2020
(Select image to enlarge it)
MICHELE CARY
Sullivan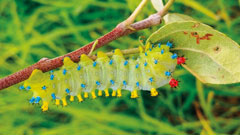 This cecropia moth was crawling on one of Michele's apple trees on her 7-acre farm, where she looks for new species to teach her children about. Cecropia moths are a rare native species to Indiana. If you see one, leave it be and don't spray pesticides in that area.
LEONDIA WALCHLE
Decatur, Adams County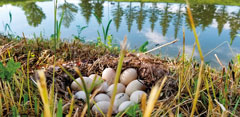 Leondia waited for weeks for the mallard at this nest to leave so she could get a photo. She finally got her chance, shooting while operating her mowing business. She said watching the ducklings grow made her look forward to going to the property every week to mow.