Outdoor Indiana - July/August 2020 - Featured Stories
From the Director
LOOK UP, HOOSIERS
INDIANA'S NATIONAL PARK
HEALTHY RIVERS INITIATIVE
From the Director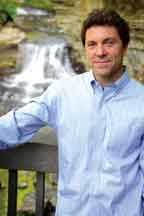 10-YEAR ANNIVERSARY OF RIVER PROTECTION
Thousands of Hoosiers are out enjoying Indiana's waterways this summer.
This issue of OI includes a feature on the Healthy Rivers INitiative (HRI). The article is a reflection on a decade of conservation and a look ahead to continued success through strong partnerships.
HRI enhances areas of land along the Wabash River, the Muscatatuck River and Sugar Creek. From its inception, HRI has provided a model that balances forests, farmed lands and natural resources conservation. It connects separated parcels of public land and protects important rest areas for migratory birds and wildlife habitats.
Investing in natural resources not only provides more hospitable habitat for wildlife like the bald eagles that now soar over Terre Haute and nest at Wabashiki Fish & Wildlife Area, but also creates a more hospitable place for all of us to call home. Surrounding communities have benefited from the establishment of nature tourism areas and opening of land to the public for recreational activities such as fishing, hunting, trapping, hiking, canoeing, birdwatching and boating. For landowners downstream, HRI also provides clean water and protection from flooding.
Thanks to all of the conservation partners that continue to make HRI so successful. I also would like to specifically thank all of the conservation-minded landowners who have participated in this highly successful program. Together we are continuing to create a major conservation and recreation destination for this and future generations.
LOOK UP, HOOSIERS
Indiana's night sky provides attractions for the masses
By Scott Roberts, OI Staff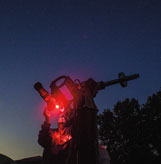 Vincent Van Gogh wrote a letter to his younger brother Theo in 1888, saying: "For my part I know nothing with any certainty, but the sight of the stars makes me dream."
"Starry Night," one of the post-impressionist painter's most famous works, encapsulates those dreams. It depicts an idealized village just before sunrise, stars on the horizon about to give way to daylight.
Perhaps one of the reasons the painting became so well known is that so many people can relate to Van Gogh's vision and dreams. His is but one of countless works of art, poems, and stories inspired by the night sky, through which we can see our own visions. Astronomers and various other observers have created shapes in the stars, called constellations. Examples are a bull, an archer and a spoon.
Stars also have a more practical use. They have been used for navigation for centuries. Ancient Polynesian cultures could tell which way their boat was heading and how to stay on course by the position of different celestial objects. Even with today's technology, voyagers still use the position of the stars to check their direction.
Whether you're searching for answers in the stars or just want to enjoy them, Indiana is rich with opportunities.
Cutline: John Coulston prepares to photograph the night sky during the Indiana Family Star Party.
To read the rest of this article subscribe to Outdoor Indiana or pick up a copy at most Barnes and Noble bookstores, and state park inns. To subscribe, click here or call (317) 233-3046.
INDIANA'S NATIONAL PARK
Hoosier attraction finally gains long-sought status
By Scott Roberts, OI staff
Photography by Frank Oliver, OI staff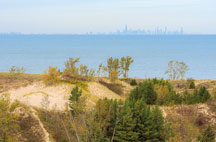 Sometimes one word makes a big difference.
Feb. 15, 2019, when Indiana Dunes National Lakeshore was finally able to change the last word in its name to "park", is a prime example.
That's when legislation to designate the lakeshore a national park passed the U.S. House of Representatives, as part of an appropriations bill, and the state's first and country's 61st national park was born.
Newfound fame and prestige followed, as did crowds. To be clear, the lakeshore was already popular; the year before, combined with bordering Indiana Dunes State Park, the area received 3.6 million visitors. That figure would place the area just behind Yellowstone National Park in visitation, according to Dustin Ritchea, promotions director for Dunes Tourism.
Cutline: The Chicago skyline along the shore of Lake Michigan as seen from atop a dune along Paul H. Douglas Trail.
To read the rest of this article subscribe to Outdoor Indiana or pick up a copy at most Barnes and Noble bookstores, and state park inns. To subscribe, click here or call (317) 233-3046.
HEALTHY RIVERS INITIATIVE
After 10 years, the huge conservation undertaking is paying dividends
By Scott Roberts, OI staff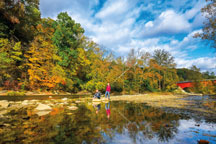 The idea for the largest state-managed conservation project in Indiana history was hatched aboard a fixed-wing aircraft in 2009.
Mark Reiter, then director of the DNR Division of Fish & Wildlife, and Joe Tutterrow and Larry Clemens of The Nature Conservancy (TNC), were flying over the Wabash River basin in western Indiana, discussing ways to preserve the area's fragile wildlife and wetlands.
As they took photos, Clemens thought aloud that protecting Sugar Creek, from Shades State Park to its confluence with the Wabash, was possible, with sufficient funding. He thought the same of another area in southeast Indiana along the Muscatatuck River.
Both would be big projects, no doubt. But Indiana had just completed the creation of Goose Pond Fish & Wildlife Area, a 9,000-acre bird and wildlife sanctuary in Greene County. Given that success, then-Governor Mitch Daniels wanted more.
"That really got my appetite up," Daniels said in a Terre Haute Tribune-Star article in January. "And we said, 'OK ... what else we got?' "
Reiter told Daniels' team about Clemens' idea, which was exactly the kind of project Daniels sought.
The new project, dubbed the Healthy Rivers INitiative (HRI), was launched in June 2010.
Cutline: Boys enjoy the splendor of fall along Sugar Creek at Shades State Park.
To read the rest of this article subscribe to Outdoor Indiana or pick up a copy at most Barnes and Noble bookstores, and state park inns. To subscribe, click here or call (317) 233-3046.