Outdoor Indiana - January/February 2021 - Reader Photos
Each issue, Outdoor Indiana staff will select reader submitted photos to feature in the magazine. If you would like the chance to be featured, please submit your photo, along with your name and phone number to:
Please, only submit original photography that you have taken. Do not send files over 9 MB in size. JPG format is preferred.
January/February 2021
(Select image to enlarge it)
DENNIS TOOMEY
Crawfordsville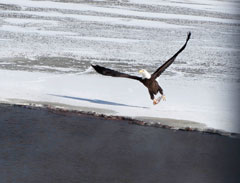 Dennis used some sneaky tactics to take this photo from his backyard at Lake Holiday. He walked out his back door, hid behind his shed, then moved the camera itself around the corner to use the view screen to find this bald eagle with its gizzard shad lunch.
ALAN DAUGHERTY
Bluffton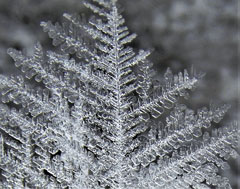 Alan snapped this photo in his backyard pond. Afterward, pads of ice were frozen to his knees from getting the proper angle, but he says it was worth it. Alan is a retired art teacher who does history research for the Friends of Ouabache State Park.