Main Content
Article
Outdoor Indiana - January/February 2019 - Featured Stories
From the Director
HELPING THE HELLBENDER
YOUNGER CONSUMERS DRIVE RV REVIVAL
WANT TO PRESERVE LAND?
From the Director
HOW TO HELP GIVE ADVENTURE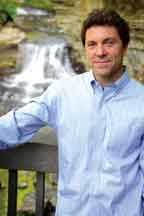 Last issue's cover article on bald eagles got me thinking. Before 1985, we couldn't have run that photo essay. It would have been tough to get even one current photo.
Indiana's bald eagle restoration program started that year. It was so successful that now calls to us from people who just saw one have died down. Not that the thrill is gone or the eagles are hiding, but sightings in some areas are nearly routine.
That didn't happen naturally. It took money, expertise and some luck. Much of the funding came from the Indiana Nongame Wildlife Fund, which is used exclusively for nongame and endangered species conservation, and relies entirely on donations.
Bald eagles remain a symbol of the fund's success, but the focus has switched to other species that don't have the cache of our national symbol, but still are important to our ecosystem—like the hellbender, Indiana's rare, giant salamander (above).
But recent annual donations have been the lowest since the fund began in 1982. One reason for decline may be that, for years, the program thrived from money given by a check-off on paper State tax forms. Use of electronic forms has complicated giving through that route.
You can still use that method, but why wait? You can donate any time, and the need is always there. Every $5 you donate is matched by $9 from federal funds. Why not start a New Year's tradition by remembering our endangered wildlife?
Help write Indiana's next conservation success story. Learn more at endangeredwildlife.IN.gov.
HELPING THE HELLBENDER
Biologists try to restore the giant salamander in Indiana's Blue River
By Nick Werner, former OI staff
Photos by John Maxwell, OI staff
Dressed in a tight-fitting neoprene shirt and surfer-style board shorts, Nick Burgmeier hiked toward the water.
This, however, was no day at the beach.

Burgmeier, a Purdue Extension wildlife specialist and research biologist, is one of the scientists attempting to restore Eastern hellbender salamander populations in southern Indiana's Blue River. The giant salamander is struggling to exist throughout much of its range, after being knocked down by decades of declining water quality, habitat degradation and human persecution. The species is listed as endangered by the State of Indiana.
The hellbender, which spends its entire life in water, is also called snot otter, devil dog and "old lasagna sides." It is the largest salamander in North America, growing to about 2 feet long. While the species is harmless to humans, its eerie name reflects what many believe to be its ugliness. With beady eyes, wrinkly skin, stubby legs and an eel-like tail, hellbenders, some have said, look like "they crawled from hell and are bent on going back."
Burgmeier, however, gives little thought to appearances.
"It's an ancient animal with a unique life history," he said. "And it's in trouble."
Cutline: Indiana DNR and Purdue University staff and volunteers pass buckets, holding soon-to-be-released hellbenders, across the Blue River in November 2017.
To read the rest of this article subscribe to Outdoor Indiana or pick up a copy at most Barnes and Noble bookstores, and state park inns. To subscribe, click here or call (317) 233-3046.
YOUNGER CONSUMERS DRIVE RV REVIVAL
Northern Indiana leads world in producing campers and motor homes
By Nick Werner, former OI staff & Marty Benson, OI staff
Photos by Frank Oliver, OI staff
Jeff and Kara Kennedy used to camp in a tent on a regular basis.

Before having children.
With the arrival of their two sons, Lucas, now 7 years old, and Liam, now 4, the couple quit what had been a favorite pastime. Just the mere idea of setting up a tent—potentially in the rain and cold—while keeping an eye on youngsters was enough of a hurdle to discourage them from venturing to a campground.
Then, two years ago, the Kennedys bought a new 20-foot, ultralight camper. They now spend about 15 to 20 days a year living out of it at sites in central Indiana and western Michigan. Having the creature comforts of a camper versus a tent has helped the family connect with the outdoors and each other, Jeff said.

"We wanted to have something that would allow the kids to make memories and look back on them fondly," Jeff said.
The Kennedy family represents one reason why the recreational vehicle (RV) industry has been skyrocketing lately. While many other forms of outdoor leisure have struggled to recruit younger members, camping—especially RV camping—has thrived, according to Derald Bontrager, CEO of Jayco, a leading manufacturer of RVs based in the Elkhart County community of Middlebury.
Cutline: Boys throw a Frisbee outside the family RV at the campground at Pokagon State Park in Angola. Pokagon's campground is just steps away from the swimming beach at Lake James, providing a cooling-off spot for after such play.
To read the rest of this article subscribe to Outdoor Indiana or pick up a copy at most Barnes and Noble bookstores, and state park inns. To subscribe, click here or call (317) 233-3046.
WANT TO PRESERVE LAND?
Here's a Trusty way
By Marty Benson, OI staff
Greg Etzel is a retired environmental/civil engineer who owns several farms in Montgomery County, near Yountsville.
Collectively, they are called Bluff Creek Farms, a name his mother, Barbara, bestowed when she and her husband, Jim, bought the land that Greg would later call the family's "south farm" in the early 1970s. After moving to Indiana from their native Pennsylvania for her husband's work as a Purdue University professor, Barbara dreamed of owning such a place. The name Bluff Creek Farms refers to the high bluffs overlooking Sugar Creek along the eastern edge of the original farm.
In the 1980s, when Barbara was still alive, 213 additional acres of nearby farmland became available when the son of the former owner inherited it. It later became the Etzels' north farm.
During about the same time period, the DNR Division of Nature Preserves was busy acquiring and restoring some of Indiana's important conservation areas next door to Bluff Creek Farms. Working with local landowners, the Nature Preserves staff aimed to preserve the area's diverse wetland habitats and restore the surrounding oak uplands, much of which had a history of grazing, dumping, and neglect.

In 2014, after DNR Nature Preserves purchased 87 acres from his neighbor and started restoring the property, Greg watched as what had been the neighborhood eyesore—trash, junk cars, and old house trailers—was transformed into oak woodlands and prairie. And became a nature preserve.
"They did such a good job that I was impressed," Etzel said.
He considered a similar plan for his north farm.
Cutline: Spotted Joe Pye weed and swamp thistle combine to decorate part of the diverse Spring Creek Seeps Nature Preserve in Montgomery County.
To read the rest of this article subscribe to Outdoor Indiana or pick up a copy at most Barnes and Noble bookstores, and state park inns. To subscribe, click here or call (317) 233-3046.