Article
Section
Outdoor Indiana - March/April 2018 - Featured Stories
From the Director
GOLD IN 'THEM THAR' MARSHES
HATCHING before CATCHING
HAND-HEWN HISTORY
From the Director
GET HEALTHY, GET OUTDOORS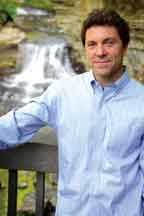 If this column were being written in 1900, its message would be unnecessary, but today it is needed.

At the start of the 20th century, less than 14 percent of the world's population lived in urban settings. Today, half do. That figure is expected to increase to two-thirds by 2050. Indiana is no exception.
One side effect of such change is less quality time outdoors as urban green space is too often in short supply. In addition, our children and too many adults squander hours daily with electronic gadgetry. This is a problem.
Study upon study links a healthy mind, body and soul with outdoor activity. Scientists are finding exposure to nature has benefits not only for human health but also emotional well-being, cognitive functioning and social behavior. Researchers have expanded their understanding of the positive link between health and outdoor recreation. A researcher in one report I read put it best: nature is a multivitamin.
And the benefits spill over into the classroom. Research by the Children & Nature Network shows children who spend significant time in nature exhibit better academic performance, enhanced attention, increased engagement and enthusiasm, and improved behavior.
Fortunately, Indiana has many places for outdoor recreation, and there's one near you. Our recently published 2018 Outdoor Recreation Guide lists all of them that fall under the DNR banner, and all the activities you can do at each. Grab a free copy at many sites across the state or go to dnr.IN.gov.
Here's to your health.
GOLD IN 'THEM THAR' MARSHES
Goose Pond Fish & Wildlife Area proves the value of wetland restoration
By Nick Werner, OI staff
Before he died in the late 1800s, Old Man McCarty buried his gold in Goose Pond, according to Greene County lore.
Details about Thomas John McCarty are scarce, except that he was a wealthy lender to neighboring families. His loans arrived in the form of gold coins, but no one knew where he kept his gold, or where it ended up.
If the legend is true, McCarty hid his fortune incredibly well.
Goose Pond must be one of the most excavated areas in the state. Treasure hunters dug a few holes and even drilled into McCarty's grave with an auger. But their efforts paled compared to those of farmers, who dug miles of open ditches and back-filled trenches for drainage tiles. The treasure they sought wasn't in the ground, though. It was the ground itself. They wanted to drain the massive wetland to make its rich, black soils suitable for agriculture.
Like McCarty's gold, dependable cropland never materialized.
"It was a constant battle to keep it dried out and keep it drained," said lifelong area resident Bryan Correll.
For most of Greene County's history, Goose Pond was a vexing piece of land that never lived up to its potential, disappointing everyone who stuck a shovel or plow in the ground. Farming in the marsh ended in 1999, when a Tampa Bay real estate mogul abandoned hope of turning a profit. In doing so, he set in motion a chain of events that transformed his personal misfortune into an invaluable community asset.
Cutline: Sunrise at Beehunter Marsh in Goose Pond Fish & Wildlife Area last summer. (Photo by John Maxwell)
To read the rest of this article subscribe to Outdoor Indiana or pick up a copy at most Barnes and Noble bookstores, and state park inns. To subscribe, click here or call (317) 233-3046.
HATCHING before CATCHING
RAISING SPORT FISH IS A BIG-NUMBERS GAME
By Marty Benson, OI staff
The eggs have eyes.
That may sound like the title of a horror movie, but it's not—it's the stage after green eggs.
If you thought the words "and ham" should come next, you've been reading too much Dr. Seuss.
But, to nudge the connection to the famous children's author further, our topic is more closely related to another of his works. That's "One Fish, Two Fish ..." except the numbers are higher.
Try 24.8 million.
That's how many fish Indiana's seven state hatcheries produced last year. And while Seuss's numbers were low—some of these finned creatures will indeed be called "red fish" and "blue fish," or at least have those colors as part of their common name.
Hatcheries raise fish to stock them. Fisheries staff stock hatchery fish to improve fishing in a given area. More specifically, they stock to rebuild fisheries after draining lakes, after doing renovation projects, or to repopulate after fish kills. Two other reasons for stocking are to supplement natural reproduction and provide new fishing opportunities.
You can visit the state hatcheries, but at some, it's tough to truly get behind the scenes of what happens before these fish are stocked.
Until now.
Cutline: Josh Goff releases an adult Skamania steelhead that was collected from Trail Creek as part of routine trapping and monitoring.
To read the rest of this article subscribe to Outdoor Indiana or pick up a copy at most Barnes and Noble bookstores, and state park inns. To subscribe, click here or call (317) 233-3046.
HAND-HEWN HISTORY
Pioneer cabins show us a vanished way of life
By Nick Werner, OI staff
Photography by Frank Oliver
In 1823, Solomon and Hannah Dickinson arrived in Richmond from Pennsylvania and built a log cabin.
The two-story structure encompassed 800 square feet. The couple raised seven sons and two daughters in the modest home.
The city of Richmond exhumed the home by accident in the 1960s. The community was razing downtown buildings for a new city hall. As a wrecking crew peeled off aluminum siding on a duplex, they discovered half the structure was a log cabin.
The city disassembled the cabin and moved it seven blocks east to the grounds of the Wayne County Historical Museum in 1967. Each year about 14,000 people visit the museum, including 4,000 children, and almost all peek inside the cabin. The cherry trundle bed the Dickinsons brought with them in a covered wagon sits in a corner on the first floor.
"The kids have to think about how all this activity was done in this one room," museum director Jim Harlan said.
The Dickinson cabin demonstrates how integral log cabins were to Indiana's history. When pioneers first moved into the region, abundant hardwood forests provided a steady supply of timber for building. In those early days, log cabins prevailed, prized for their ease of construction, simplicity, sturdiness and warmth.
In Indiana, log cabins were more than buildings. They were essential to Hoosier identity and a symbol of traditional values.
Cutline: The Kinzer Homestead in Carmel is on the National Register of Historic Places. A legend claims George Ketchum, an American Indian, buried gold coins on the Kinzer property, but they have never been found.
To read the rest of this article subscribe to Outdoor Indiana or pick up a copy at most Barnes and Noble bookstores, and state park inns. To subscribe, click here or call (317) 233-3046.