Main Content
Article
Outdoor Indiana - January/February 2018 - Featured Stories
From the Director
GOING AROUND IN CIRCLES—ON PURPOSE
WAITING FOR LAND PAYS OFF FOR TRUSTS
UPBEAT, FRIENDLY, PRODUCTIVE AND UNPAID
From the Director
HEAD OUTDOORS NEW YEAR'S DAY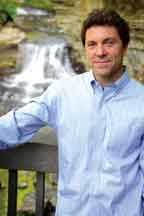 Celebrating New Year's Day takes an annual backseat to celebrating New Year's Eve. No song asks, "What are you doing New Year's Day?"
But the nation's state parks started a movement that bucks that tradition. The result is putting the first day of each year in its rightful place beside the night before as a time for celebration. Outdoors. And a little fresh air on the 1st is a great way to start a new year's resolution.
First Day Hikes started more than 20 years ago in Massachusetts. Indiana State Parks' first hike was in 2012, fittingly at McCormick's Creek, our first state park.
Now, the hikes are hosted every Jan. 1 by staff and volunteers at Indiana's 32 state park properties and are part of a nationwide program promoted by the non-profit organization America's State Parks. Last year, 2,341 people attended a First Day Hike in Indiana.
Hikes range in length from a half-mile to 4 miles. The types of hikes vary, too. In the past, parks have hosted nighttime luminary hikes, hikes with oxen and donkeys, and Tippecanoe River State Park hosts a horseback ride instead of a hike.
Admission for most state parks properties this time of year is free. All of the hikes are free. Information on times and locations for First Day Hikes at Indiana State Parks properties is at calendar.dnr.IN.gov.
So, let me ask you—minus the music—what are you doing New Year's Day? Make the answer "taking a hike." Making a habit of hitting the trails will be a big step toward having a happy 2018.
GOING AROUND IN CIRCLES—ON PURPOSE
Saving Indiana's last round barns
By Nick Werner, OI staff
Frank Littleton would not be outdone.

An Indianapolis attorney and state lawmaker, Littleton owned a 360-acre farm in the McCordsville area in Hancock County. In 1901, colleague and fellow attorney Wymond Beckett built a round barn on his Dearborn County farm. It measured 100 feet in diameter, making it the largest building of its kind in the state.
Two years later, Littleton hired the same builder to erect a round barn 103 feet across and 103 feet tall.
These two barns are noteworthy not only because of their size but also because they remain upright and in remarkable shape. Only 73 round or polygonal barns are left in Indiana.
Round barns and their architectural predecessor, polygonal barns, have always been rare, even in their heyday. In researching his 1993 book, "A Round Indiana, Round Barns in the Hoosier State," author John T. Hanou verified the construction of 226 such barns in Indiana between 1874 and 1936. While only a fraction of Hoosier farmers owned one, Indiana boasted more than any other state, according to Hanou.
Round and polygonal barns continue to disappear.
This year, non-profit historic preservation group Indiana Landmarks named round and polygonal barns on its "10 Most Endangered" list of at-risk buildings in the state.
Cutline: The Strauther Pleak barn near Greensburg has a central silo topped by a cupola.
To read the rest of this article subscribe to Outdoor Indiana or pick up a copy at most Barnes and Noble bookstores, and state park inns. To subscribe, click here or call (317) 233-3046.
WAITING FOR LAND PAYS OFF FOR TRUSTS
Another successful year for real estate conservation
By Marty Benson, OI staff
It's been said that good things come to those who wait. One of the highlight properties acquired by the DNR through the Bicentennial Nature Trust (BNT) last year serves as testament to that adage.
In 2007, DNR Forestry's assistant director, Dan Ernst, was training a new forester. Part of that regimen is creating a management plan for forestland enrolled in Indiana's Classified Forest program. One such parcel was owned by Gary and Ann Dillon, who live near Pierceton, in Kosciusko County.
The 423 acres in Miami County lies about 4 miles from Frances Slocum State Forest, as the crow flies. The Dillons bought it in 1998 to preserve the existing woods and plant trees on what had been farmed.
"It's almost like being down in southern Indiana," Gary Dillon said. "You just don't see much terrain like that around northern Indiana."
Ernst was impressed, too. Over the years, he kept in touch with Dillon.
Eventually, discussions between the two yielded the idea of DNR acquiring the land outright.
BNT and the President Benjamin Harrison Conservation Trust (HCT), both managed by the DNR Division of Land Acquisition, were created for such situations.
HCT's goal for the state is virtually the same as the one the Dillons had for their property—to preserve land for conservation and recreation and protect it from development. HCT is the rebranded, slightly revamped land-acquisition funding source for the DNR. Until last year, it was called Indiana Heritage Trust.
Cutline: Spotted jewelweed, aka touch-me-not, at the 170-acre Lydick Bog in St. Joseph County.
To read the rest of this article subscribe to Outdoor Indiana or pick up a copy at most Barnes and Noble bookstores, and state park inns. To subscribe, click here or call (317) 233-3046.
UPBEAT, FRIENDLY, PRODUCTIVE AND UNPAID
Why DNR volunteers donate their time
By Nick Werner, OI staff
Even late in the growing season, the butterfly garden at Salamonie Lake exploded with color.

In September, tall orange Mexican sunflowers bloomed at their peak. Closer to the ground, the blue-green blossoms of sedum had turned an almost mahogany red. And a swath of zinnias as big as a basketball court's free-throw lane appeared to represent nearly every Crayola color.

Kay Lilie of Huntington said the garden had been even better two weeks ago. Her tone was almost apologetic, but the scene was beautiful.
And it existed largely because of volunteers.
In 2016, in state parks alone, 9,750 volunteers performed 104,000 hours of work at an estimated value of $2.4 million, according to state parks volunteer coordinator Jody Heaston.

Volunteers gain confidence, learn new skills, immerse themselves in their communities, meet new people and have fun. Studies have established a relationship between doing volunteer work and health. Overall, volunteers for DNR and beyond show lower mortality rates, greater functional ability, and lower rates of depression.
Cutline: DNR's Ben Clark, left, and honorary historian Bill Dallman walk through a restricted area of Versailles State Park where remnants of Civil War era homes remain.
To read the rest of this article subscribe to Outdoor Indiana or pick up a copy at most Barnes and Noble bookstores, and state park inns. To subscribe, click here or call (317) 233-3046.